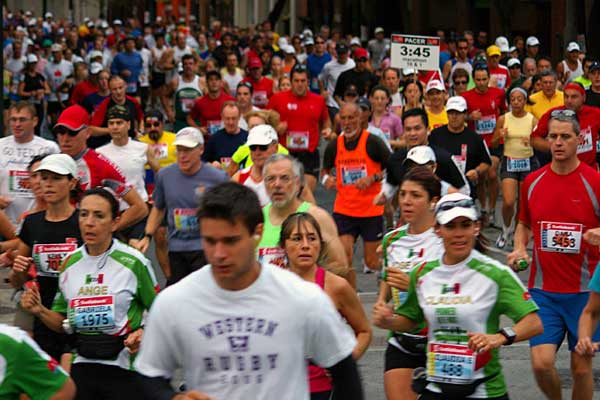 Celebrating 300 marathons
Dentistry students, dean, join professor for epoch event
When U of T Dentistry professor Richard Rayman laces up his shoes to run in the Scotiabank Toronto Waterfront Marathon on October 20, he'll be just one of more than 20,000 competitors in the event. But for Rayman, the event will mark a major milestone – it'll be the 300th time he's run a marathon.
A marathon race course is 42.195 kilometres. Three hundred of them equals 12,658.5 kilometres, or almost one-third of the Earth's circumference. That's a lot of running, and Rayman's colleagues and students – including Dentistry Dean Daniel Haas and dental student society president Jeff Lam – are going to celebrate the achievement by running with him and raising money to support the dental clinic at Princess Margaret Hospital.
"I'm very touched and almost embarrassed by the support from the students and faculty," Rayman says. "It's very generous of them."
Rayman heads Dentistry's Comprehensive Care Program, which is the dental students' primary clinical program involving the treatment of their patients. A U of T dental graduate himself, Rayman has been practising dentistry for over 40 years and running marathons for 35 years. This year alone he's run 19 of the gruelling races. Two weeks after the Scotiabank Waterfront event he'll be running in the Hamilton Marathon. And though he's going to ease off next year (he's only planning to enter 12 races), he's still as active as ever. He holds the Canadian record for the longest consecutive-day running streak – since 1978 he's run every day for at least 30 minutes regardless of weather, sickness, or holidays.
After 35 years and 300 marathons, two events in particular stand out for Rayman – the New York marathon ("the energy, the excitement, being in that city – at mile 10 you reach Manhattan and there are a million and a half people; the noise is deafening!") and the Boone, North Carolina marathon ("it's a complete contrast from New York; there are only 300 runners and it includes a brutal 4,300-foot incline").
His worst marathon was the Limberlost Challenge north of Huntsville, which he ran earlier this year. The race course went along trails that were mostly mud, rocks and trees.
"I had to walk the last 28 kilometres. It took me nine hours to finish, but my wife was still waiting for me at the finish line."
It's the support of his wife, his two children and his grandchildren that keeps him going, Rayman says. They'll be there again on October 20 as he, his colleagues and students pound the pavement in aid of the Prince Margaret Hospital dental clinic.
"Rick's accomplishment is truly impressive," says Haas, who will be running the race alongside his colleague. "He is a dedicated faculty member always looking out for the students' best interests. In fact you could consider him a role model for dedication and self-discipline, as can be seen by his relentless pursuit of marathons."
Running is also a passion for the dean, though he says he's not on the same level as Rayman. 
"My usual routine is a 5-mile run in the morning before I get in to work," says Haas. "My last full marathon was 30 years ago. This one will be my third – that is if I can complete it, something of which I'm not certain! I've not really trained properly. Yet, I wanted to sign up for this to be there with Rick to support him on his amazing accomplishment."
There'll be many students in the race as well, Haas says.
"It's so great to see our students supporting him on this run," Haas says. "Our students are great at knowing the importance of giving back to the community, so they are also taking this opportunity to make this a fundraising activity."
Lam, who will be running the marathon along with Rayman and Haas, says this is the first time the dental students society will be fundraising for the clinic through the marathon. In the past, the society has fundraised for the clinic through a hockey tournament and has participated in the CIBC Run for the Cure in recent years.
"Dr. Rayman is an excellent clinical instructor," Lam says. "He also cares a lot about the students: He understands the stress of dental school and frustration of dentistry so he is always there to help and guide the students through difficult times."
Read more about the Scotiabank Waterfront Marathon.
Learn how to support the Dentistry team.
Terry Lavender is a writer with University Relations at the University of Toronto.