Building momentum: Canadian Black Scientists Network partners with U of T Scarborough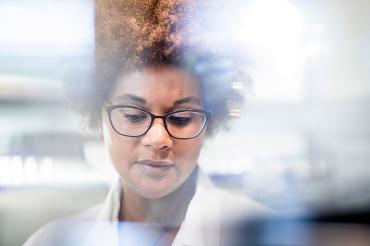 When Maydianne Andrade co-founded the non-profit Canadian Black Scientists Network with other Black scientists across Canada two years ago, she felt there was a need to create a larger sense of community.
What she didn't anticipate was the rapid growth.
"We just see momentum building and building every year," says Andrade, a professor in the department of biological sciences at the University of Toronto Scarborough.
By the time the Canadian Black Scientists Network (CBSN) held its first annual national conference virtually in 2022 for Black excellence in science, technology, engineering, math and medicine (BE-STEMM), it had already grown from 20 members to 150. Now, as it prepares to host the second conference in 2023, it has more than 500 members.
As the CBSN was looking for a university partner to host the network for a five-year term, U of T Scarborough was an ideal choice. It had already been the virtual host for the first BE-STEMM conference, and as the home of the Scarborough Charter – a commitment from more than 50 Canadian universities to address anti-Black racism and to promote Black inclusion – there was a symbolic and practical alignment with the network's goals to remove barriers facing Black researchers and practitioners in STEMM.
"This partnership enables a variety of things. The first is to raise the visibility of the network," Andrade says.
"It really advances the vision of both organizations and also aligns with the institutions that signed the charter from across the country. It's providing essential support because although we are a virtual network, we do need some physical support – and the campus has been very generous in contributing to our operating requirements."
As the inaugural president of the CBSN, Andrade has witnessed the importance of the network's work with Black communities. 
"It is a completely unique conference in Canada – and one of very few in North America – where you can hear more than one Black STEMM researcher talking about their work," she says. "In any one place we tend to be fairly small in number, [so] that visibility is lost.
She adds the conference is an opportunity to learn about the work that Black experts in STEMM across the country are pursuing.
"We're about research across all these different disciplines, but we're also about change. We're really about action," Andrade says. "We are here to get our people gainful employment, good career paths and to make sure that there are no barriers to their success."
A recent immigrant to Canada, Brenda Tibingana-Ahimbisibwe was looking to return to work now that her two young children are in school. But she wasn't hearing back from any prospective employers. Despite having trained as a medical doctor in Uganda and having a master's in public health from the University of Manchester, she was considering leaving science behind. But after attending the CBSN conference's virtual career fair, Tibingana-Ahimbisibwe landed a job with Statistics Canada.
"When you come as an immigrant, you don't really have any connections. Moving here, it was just my husband and me," she says. "It's quite daunting to re-enter your field at a level that matches your skills. You do need people with insight to help you navigate. You need support."
Albert Kaboré, meanwhile, was looking to transition to civilian life after retiring from the Canadian Armed Forces when he attended last year's career fair at the conference. Kaboré, who has a PhD in microbiology and immunology from Laval University, credits the conference with connecting him to his current position as the manager for evaluation impact and measurements with Genome Canada.
"I would really encourage people just to take advantage of that venue to showcase themselves and to widen their networks," he says.
The conference also includes a science fair where middle school and high school students can connect with Black mentors.
"It's important to have mentors of all sorts," Andrade says. "But particularly having someone who looks like you who has succeeded in this field is encouraging for youth."
Andrade says that graduate students, post-doctoral researchers, research associates, people in the job market and new Canadians are interested in meeting Black scientists who have succeeded in an ecosystem that's not always welcoming to them.
This year's conference, BE-STEMM 2023, will feature a panel on the challenges faced by skilled Black immigrants. 
While the government makes it easier for highly educated and skilled newcomers to immigrate here, it's been well-documented that many find it difficult to find jobs in their field once they arrive. Systemic racism can make the problem even worse for Black newcomers.
"Black women are perhaps the most heavily negatively impacted," Andrade says. "This panel is going to be a discussion about that problem – about how we can change our systems. We are progressively seeing a gap in terms of skill in our labour markets in Canada and elsewhere, and we have the people who could fill those gaps. But we have to see them where they are."
UTSC