Bonded like sisters, U of T grads lean on each other as they explore their Indigenous roots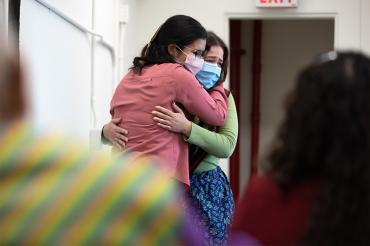 Angelique Belcourt never expected to attend university – let alone graduate with a master's degree from the University of Toronto's Ontario Institute for Studies in Education.
Originally from the Georgian Bay Métis community, Belcourt was raised by a single mother in low-income housing in Toronto and says her academic career has been built on a sturdy foundation of support from close friends, colleagues and fellow Indigenous students.
Now, she wants to pay it forward by one day opening an Indigenous culture camp, with focus on land-based education, in her home community or elsewhere – as long as it will help make Indigenous history and knowledge more accessible.
"Every Indigenous person deserves to know how rich their history is, how rich their knowledge is," Belcourt says. "I feel blessed that I've had opportunities in my life to have people teach me about the different ways in which I can live, but I'm mindful that not everyone has that experience.
"I want to make that accessible to Indigenous people and non-Indigenous people because our knowledge is everyone's knowledge."
Belcourt traces her own journey in higher education back to Grade 12, when she changed high schools. She credits her former history and law teachers for spotting her potential – and then helping her navigate a maze of university and financial aid applications.
Then, during a two-day orientation program at the University of Guelph for Indigenous students in 2014, Belcourt met Kristine Keon, a member of Nipissing First Nation who also has Algonquin ancestors. The pair formed an immediate bond and now describe themselves as "sisters" who lean on each other for support, inspiration and connection to their Indigenous roots.
While the two went their separate ways after leaving Guelph – Belcourt moved to Switzerland for a short time – they reconnected several years later at an event hosted by U of T's Indigenous Education Network. Unbeknownst to each other, each had decided to pursue graduate work at U of T, with Belcourt pursuing a master's degree part time at OISE while Keon had enrolled in the medical biophysics master's program at the Temerty of Faculty of Medicine.
They quickly picked up where they left off. 
"We're not blood-related, but that's my sister," says Belcourt, who now works for the Ontario Ministry of Education as a policy and programs adviser in the Indigenous Education Office. "We've gone through a large chapter of our lives together, not once but twice.
"I think that's a special gift the Creator has given us."
She adds that Keon continues to play an important role in her life.
"I would call my friendship with Kristine a beacon – she's a beacon of hope, of kindness," says Belcourt. "We both have similar backgrounds; we care a lot about our community and we try to give back as much as possible."
Keon, for her part, agrees that their friendship is one that's built on mutual support.
"I remember feeling very stressed one day in my undergrad and she came over to visit and we just did some drumming – and we did a smudge ceremony," she says. "It was one of the happiest days of exam season for me."
At U of T, both women not only reconnected with each other but also solidified their connection to their roots.
Keon says she feels lucky growing up with a sense of her identity given that so many Indigenous people in Canada didn't have that opportunity because they lost family members to the residential school system. She adds that she often feels overwhelmed when she thinks about the stark contrast between her comfortable upbringing in York Region and the experience of her grandmother, who hid deep in the Quebec forests with family members to avoid being taken by authorities to a residential school.
"We didn't have the opportunity to learn our traditional language because my grandmother never learned it," she says. "Her parents were worried she'd get in trouble for speaking our language."
Keon, who works as a research assistant at the lab of U of T Professor John Rubinstein at the Hospital for Sick Children Research Institute, plans to attend medical school at U of T in the fall. She hopes to one day become a doctor so she can help address underrepresentation of Indigenous people in the medical field and provide a safe space for Indigenous and non-Indigenous people in the health-care system.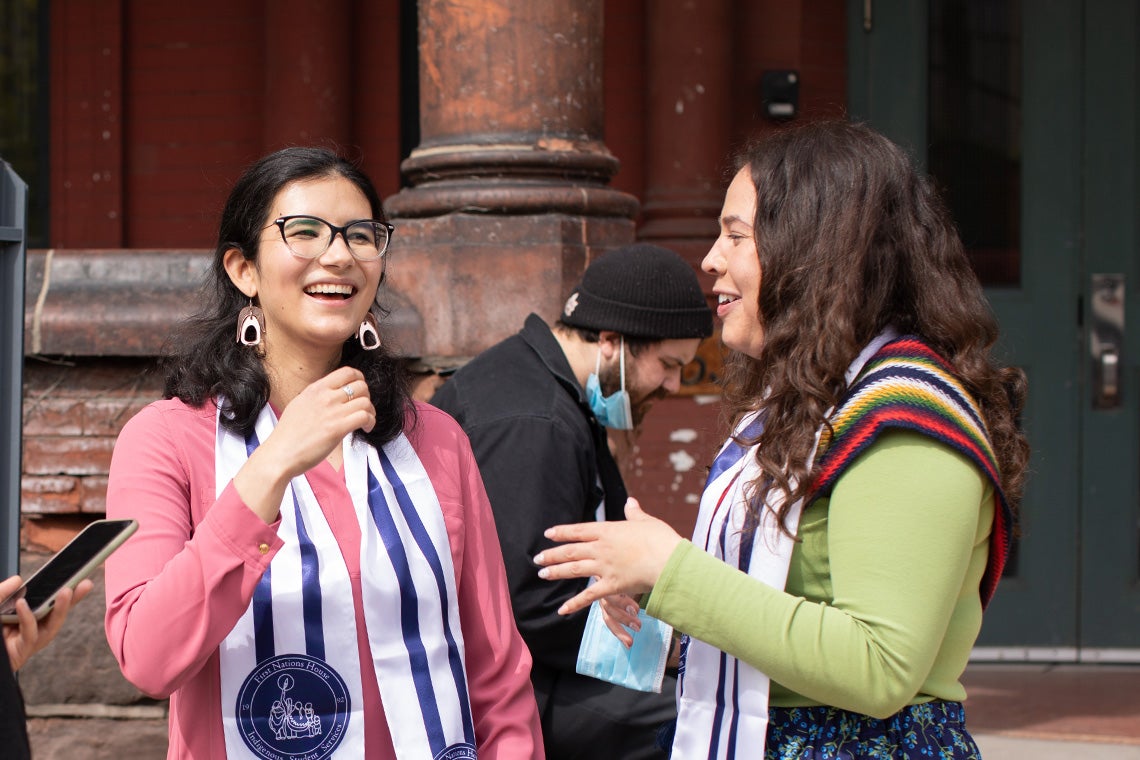 Kristine Keon, left, and Angelique Belcourt, right, share a laugh outside of First Nations House following the Indigenous Graduation ceremony earlier this year (photo by Johnny Guatto)
She is already thinking about how to use her research background to implement policy changes that could break down barriers and make health care more accessible for First Nations, Métis and Inuit people. That could include finding ways to merge traditional Indigenous medicine with a Western approach.
"I don't know if we're going to be able to bring in traditional medicines during brain surgery, but if there's something that makes the patient feel better – if we all do a smudging ceremony beforehand or, if that's not possible, being able to find alternatives in a way that doesn't take away from culture – I think that's ultimately what I hope to do.
"I hope that ultimately for all my patients, Indigenous or not, I can do things in a good way that makes people feel safe."
Rubinstein, a professor of biochemistry and medical biophysics in the Temerty Faculty of Medicine and a senior scientist at the Hospital for Sick Children, is looking forward to watching Keon's medical career unfold. 
"Kristine is an amazing human being," Rubinstein says. "She brings boundless energy and positivity to everything she does. I know she is destined for great things."
As for Belcourt, she says her time at OISE taught her that lived experience and education began on the land.
"I can't thank the Indigenous professors at OISE enough," she says. "They translated their lived Indigenous experiences to create to their own unique educational space in the academy."
While she says she came close to quitting her master's studies more than once, she credits her professors and mentors at OISE for keeping her going. "They showed me that I deserved to be here," she says.
She cites, in particular, the role of Lindsay DuPré, a former Indigenous education liaison at OISE. DuPré, who now works at the University of Victoria, says she feels fortunate to have earned Belcourt's trust and have served as her sounding board as she explored complex research topics during her master's degree. "I am excited to see how her ideas and community work will continue to evolve post-graduation," DuPré says.
Belcourt's academic journey – which ultimately included several awards and scholarships – was also given a lift by the youth-based Indigenous research work that she did in OISE's Critical Indigenous Health and Social Action Lab under Jeffrey Ansloos, assistant professor in the department of applied psychology and human development.
"I was going through the hardest time of my life when I took his course and he just accepted me with grace and open arms," says Belcourt. "He showed me that Indigenous spirituality could be part of my journey."
Belcourt ended up asking Ansloos if he would supervise her master's research project, which explored how Métis youth form identities as Indigenous people and was focused on youth from the Georgian Bay Métis community of Penetanguishene, Ont.
"We need to support Indigenous young people in making their dreams became a reality in the present and in our futures," Belcourt says.
As for her own future, Belcourt is considering pursuing a PhD.
"I know that after my time at OISE, the sky is the limit," she says. "I feel well equipped that in any room I walk into, I know there are people out there who will support me 100 per cent."
"I firmly believe in communities of care."
UTC