Bob Rae headed to Myanmar as Canada's special envoy for the region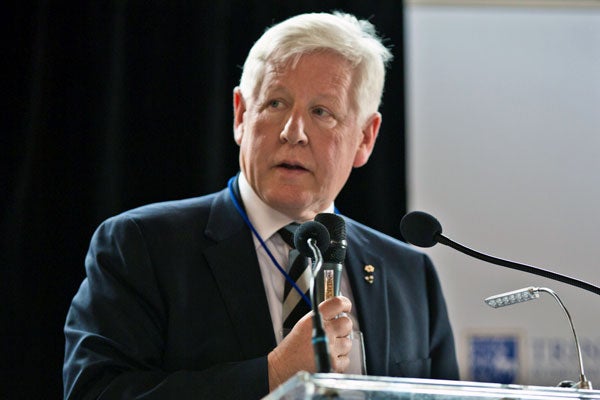 Former Ontario premier and interim leader of the federal Liberal party Bob Rae is travelling to Myanmar and Bangladesh this week to gather facts on what the United Nations has called the world's fastest growing refugee crisis.
Named last week as Canada's special envoy to Myanmar, Rae, an alumnus, teaches a policy analysis class in the first-year Vic One program in the Faculty of Arts & Science.
At the Oct. 23 announcement with Foreign Affairs Minister Chrystia Freeland in Ottawa, Rae said he will begin diplomatic efforts immediately.
"It's important for me to try and get at the reality of the situation and to share that with Canadians as soon as I can," he said. "I also think it's going to be important for us to bring as much to bear as we can to our international efforts. It's not just one country that's going to solve this problem. It's going to be the effort of many different countries and all of us working in concert together."
His mandate is until the end of January, when he'll be submitting an independent report with advice for Prime Minister Justin Trudeau on how Canada should respond to the crisis, which has led to 900,000 Rohingya leaving Myanmar for neighbouring Bangladesh, according to new United Nations figures. Most of those refugees have fled since the end of August after ethnic violence erupted in Myanmar's northern Rakhine state. Human rights monitors and Rohingya refugees say the army and Rakhine Buddhist vigilantes forced them to flee their homes.
In Canada, there's been public pressure for the federal government to strip Myanmar's de facto leader and Nobel Peace Prize winner, Aung San Suu Kyi, of honorary Canadian citizenship.
"I don't pretend to be somebody who can work miracles," Rae said, during last week's news conference. "I do think it's worthwhile for us to keep on as many paths as possible in reinforcing the messages about the extent of the crisis within Myanmar which is causing this extraordinary exodus of over half a million people since August. This is an urgent situation that's going to require a massive humanitarian intervention, and I think the more we can do to reinforce that, the better we are."