Blankets for T.O.: Student-founded group works to support those in need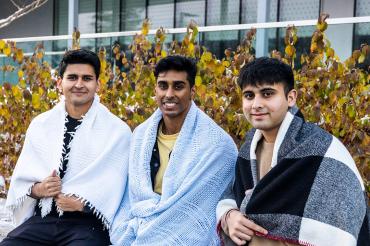 In 2015, on one of the coldest days of the year, three teenagers walking through downtown Toronto passed a man experiencing homelessness hunched in a bus shelter. Two weeks later, they read in the news that a man in a bus shelter had died of exposure. 
"We don't know if it was the same person or someone in a similar situation, but we felt really guilty because we saw him and we didn't do anything about it," says Nimit Vediya, now a medical student at the University of Toronto. "That's why we started thinking about how we could make a difference."
In 2019, when the same trio of friends – Veidya, Naman Sharma and Rushil Dave – were studying neuroscience at U of T Scarborough, they created Blankets for T.O. Today, the organization has donated more than 6,000 items to people experiencing homelessness and expanded to five chapters at other universities – but it began with the students simply handing out thermal blankets to people in need on Valentine's Day, 2020. 
"Our priority was to protect them from the cold," says Sharma. "We researched intensively and came up with an innovative solution; we decided to hand out thermal blankets. They look like aluminum foil, the snow slides off them and they can easily fold down into a small package so they're very mobile."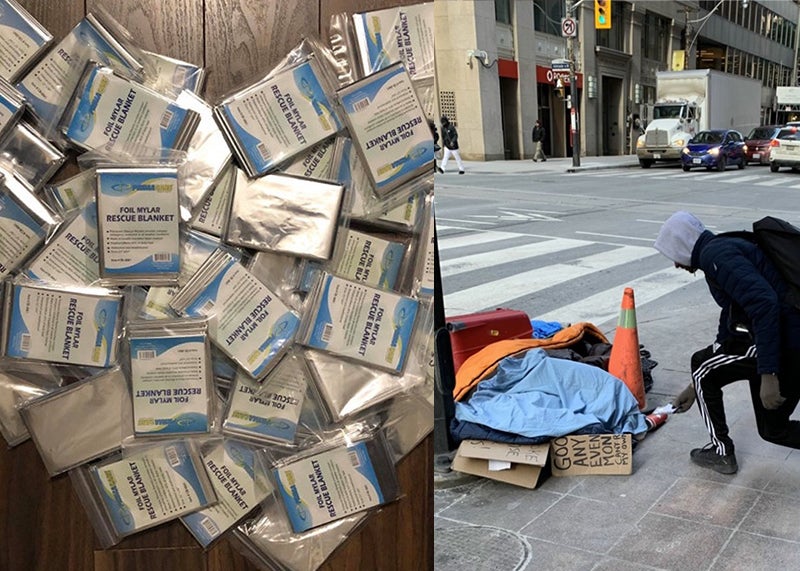 The foil mylar rescue blankets first donated by the Blankets for T.O. team (photo courtesy of Blankets for T.O.)
Months later, COVID-19 ripped through the city's overcrowded shelters. Ontarians experiencing homelessness were more likely to contract COVID-19, be hospitalized and die of the virus, yet weren't considered high priority in Ontario's initial vaccine rollout. Blankets for T.O. started a petition, gathered signatures and lobbied local and provincial politicians until those without homes were among the first to get their shots.
"We've built relationships with four MPs in the area," says Dave. "In the beginning, we were giving out a lot of donations, but we know that just donating items won't solve this problem."
Tackling the root causes of homelessness requires advocacy, awareness and engagement, Dave says. The organization uses its blog, podcast, Instagram, annual general meetings and fundraising events to educate the public on the realities of homelessness and ways to get involved.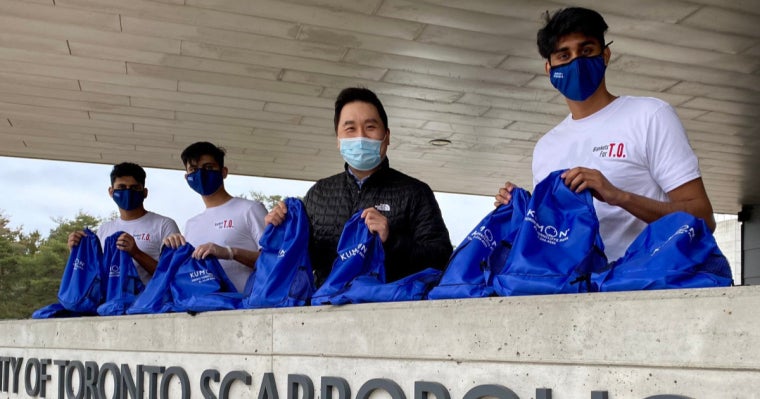 (From left) Nimit Vediya, Naman Sharma, Shaun Chen – MP for Scarborough North – and Rushil Dave hold donation bags made at a 2021 event (photo courtesy of Blankets for T.O.)
"There's a lot you can do by yourself. Don't think you can't tackle these big problems because you're one person," Vediya says. "You have a voice and you have power, no matter what your resources. Everyone has power these days, especially with social media."
The group uses Instagram to advertise events, address misconceptions about homelessness and share stories of the people they've met while distributing care packages. Some have been willing to speak on video, and one man's story reached more than 20,000 viewers. A war veteran from South Korea, he moved to Canada to open a restaurant. The pandemic bankrupted his business and he became homeless, all while hiding his reality from his friends and family. 
"We received a lot of messages asking how to help him," Dave says. "We want people to use us as a way to take on this challenge of ending homelessness. We hope when someone sees a person on the street, they think about ways to help them versus blaming them for ending up in that situation."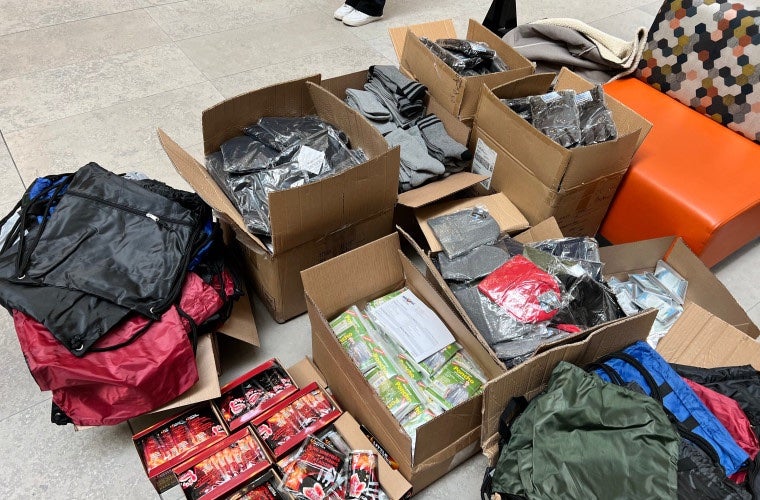 Blankets for T.O. routinely holds fundraisers and uses proceeds to create care packages (photo courtesy of Blankets for T.O.)
The team says there are three key ways to help: donate, learn and act. Blankets for T.O. accepts money and brand-new items from those eager to contribute. Donations fund care packages with blankets, warm clothes, non-perishable food and personal protective equipment such as masks and hand sanitizer. 
 Blankets for T.O.'s chapter at U of T Scarborough has grown to more than 200 members, many of whom are artists. Chances to be creative are woven into many Blankets for T.O. events, such as its paint nights and last winter's tote bag competition, when participants were challenged to design the most helpful care packages. More than 50 clubs from universities across Canada took part. 
"If through this organization we were able to let one person know every single day that this is an important issue, I think we made a significant change in our world," Sharma says.
UTSC