The 'big stage': U of T Varsity Blues basketball team to face powerhouse Duke at sold-out game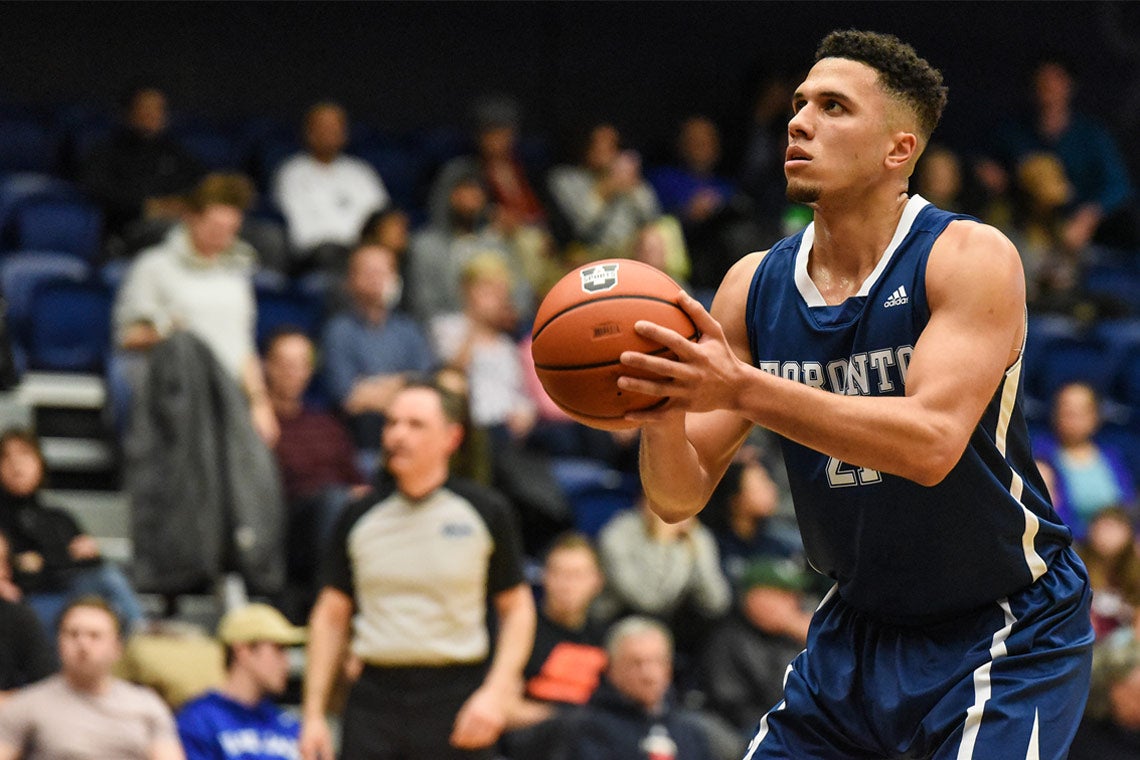 Three days away from the most high-profile game of their basketball careers, Daniel Johansson and Christopher Barrett are surprisingly calm.
The fourth-year University of Toronto students, who have been playing on the men's Varsity Blues basketball team since their first year, will be facing off against Duke University's Blue Devils at the Paramount Fine Foods Centre (formerly the Hershey Centre) on Friday.
Duke is playing three sold-out games against Canadian university teams as part of their first trip to Canada – drumming up support north of the border.
"We are just going to see how hard we can play with the lights on and in front of a crowd," Duke's coach Mike "Coach K" Krzyzewski told the Toronto Star.
Duke's team is stacked with NBA potentials – including Canadian R.J. Barrett and Zion Williamson – offering the Varsity Blues a chance to play against the best of the best.
"We're excited," says Johansson, who is studying political science in the Faculty of Arts & Science. "It's a great opportunity to play on a big stage – and it's always fun to play against the best players at our level.
"Our whole group – new guys and returning guys – are really excited to embrace this challenge."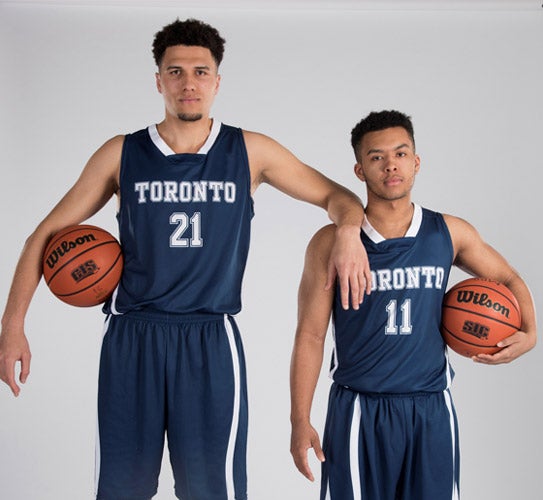 Friends and teammates Daniel Johansson and Christopher Barrett (photo by Martin Bazyl)
Growing up just outside of Stockholm, Sweden, Johansson was inspired by Bugs Bunny's and Michael Jordan's intergalactic basketball playing in the 1996 partly animated film Space Jam.
"I always liked it when I was a kid and thought I would try basketball to prove to everyone that I could be good at a sport – and I fell in love with it," says Johansson, who is the Varsity Blues' power forward.
"When you start playing basketball, your goal is definitely to play on a big stage against the best players you could possibly face," he says.
And now is his chance.
Johansson hopes this game will be good preparation for the upcoming year.
"We see this as an opportunity to try to compete with [Duke] and make it a really good game, but it's more so a chance for us to grow as a team and get closer together and prepare for the regular season."
The Blue Devils, who arrived in Toronto on Monday, have been enjoying the sights – getting a panoramic view of the Toronto skyline on a ferry and taking selfies with the sharks at Ripley's Aquarium.
Coach K, on Twitter, had only kind things to say about the city.
"Toronto is a great city... So multicultural. A world city. Not just a great Canadian city, but a world city. It really opens its arms to all different types of cultures," he was quoted as saying on Duke Basketball's Twitter account.
For U of T's coach, John Campbell, there's still a lot to do ahead of Friday's game.
"The biggest thing in our practice is to focus on the things we've identified as the key components for us having a chance," he says.
His team will be paying close attention to Duke's game against Ryerson on Wednesday night.
"That gives us the opportunity to see how much has changed from their style of play and obviously they have a lot of new players," says Campbell. "We'll have a bit better of an understanding of the technical and tactical things they're going to do.
U of T's Barrett has a routine to help him get his head in the game.
"I like to take a pregame nap so I feel energized for the game and a healthy meal – that's important," says the point guard, who is studying kinesiology in the Faculty of Kinesiology & Physical Education. "Before the game, in warmups, I have certain things I like to do – a specific routine – and if I get all that down, I feel comfortable and ready to play."
Johansson's pregame plan is much simpler.
"I just make sure I'm on time at the right place," he says with a chuckle.
Campbell says he is encouraging his team to play smart and cohesively.
"It's really just about relaxing, trying to find a way to embrace the moment and enjoy the experience by challenging yourself to compete at a higher level," he says. "If we can stay in the moment, it will hopefully be a really valuable experience for our team."
The Varsity Blues vs. Blue Devils game may be sold out, but you can catch it live on TSN on Friday at 6 p.m.
UTC