'A big moment': U of T alumni who graduated with virtual convocations return for in-person celebrations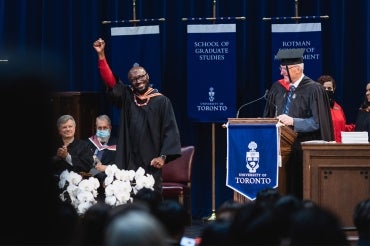 Liwei Liao didn't put much thought into his outfit when he viewed his virtual convocation ceremony at University of Toronto at the height of the pandemic – but next week, he will be getting dressed up.  
With an honours bachelor of science degree from U of T Scarborough, Liao is one of more than 7,700 grads expected to cross the stage at Convocation Hall as a part of a series of in-person celebrations for the classes of 2020 and 2021.  
He says he's looking forward to a signature U of T moment.  
"It's going to be very special for me and probably one of the best days of my life," Liao says. "I'll be thinking about the respect I have for my home campus. This is the place that paved the way to where I am now." 
Alumni and their 24,000 guests will attend 28 special in-person graduation celebrations over 13 days. Cohorts are organized by campus and degree. Two celebrations were already held on Nov. 12 for Rotman School of Management and Rotman Commerce graduates. 
"This graduation celebration was a special milestone for me," says Mariana Saraiva, who earned an executive MBA degree in 2020. "It was my first experience in Canada graduating, so I am grateful to have been present and have my moment on stage with all my peers and fellow graduates.
"For me, it was extraordinary to return to campus and celebrate what we achieved in person."
The celebrations include decades-old U of T traditions as well as a new role introduced to U of T convocations this spring – the Eagle Feather Bearer, a sign of the university's profound respect for Indigenous communities and cultures. 
"These in-person celebrations are part two of the initial, virtual convocation ceremonies held at the height of the pandemic," says Bryn MacPherson, assistant vice-president in U of T's Office of the President and chief of protocol. "This is the culmination of a multi-year effort to ensure our graduates have as many as possible of the experiences they would have enjoyed during their in-person Convocation ceremonies." 
Institutional leaders, deans and principals from the three campuses will deliver remarks. Each recent grad will then hear their name called and take the short but significant walk across Convocation Hall's stage.  
Ikran Jama, who graduated from the Faculty of Arts & Science last year and is now studying at Oxford University on a Rhodes Scholarship, says her thoughts will be with the people cheering her on in the audience. 
"I'll be thinking of my parents and the struggles they went through to give me an education and a fighting chance," Jama says. "To finally see their daughter cross that stage is a big moment for the people I love and care about." 
Jama says she is flying back to Toronto to attend the celebration and is looking forward to visiting family and reconnecting with classmates she hasn't seen in years, as well as those she only managed to connect with virtually. 
"We haven't seen each other in so long and people have gone across the world," Jama says. "I'm so excited to come back and speak with them about what they're doing." 
13 days of celebrations

–

a huge undertaking 

 
Behind the scenes, staff faced an array of logistical challenges when organizing the events – not the least of which was contacting graduates who might not have opened their U of T email in years.  
Organizers are taking steps to give alumni from the classes of 2020 and 2021 every chance to attend. Since the initial deadline, more than 350 names have been gathered and added to convocation lists. Organizers said registration of latecomers would continue until the start of the ceremonies – and a limited supply of extra academic gowns will be available on site for those who missed the deadline to order ahead. 
Those late entries present another logistical hurdle. Graduates had the ability to provide information about the pronunciation of their name in advance so that this would be captured in the recordings. To accommodate late additions, names will be on different types of cards and delivered live.  
Yet, despite the challenges, organizers say they are committed to making these celebrations as special as possible. 
"We recognize that the pandemic made reaching this academic achievement more challenging," says Silvia Rosatone, director of the Office of Convocation. "In partnership with our Faculty and College partners, we are all committed to providing our graduates with the opportunity to celebrate this important milestone."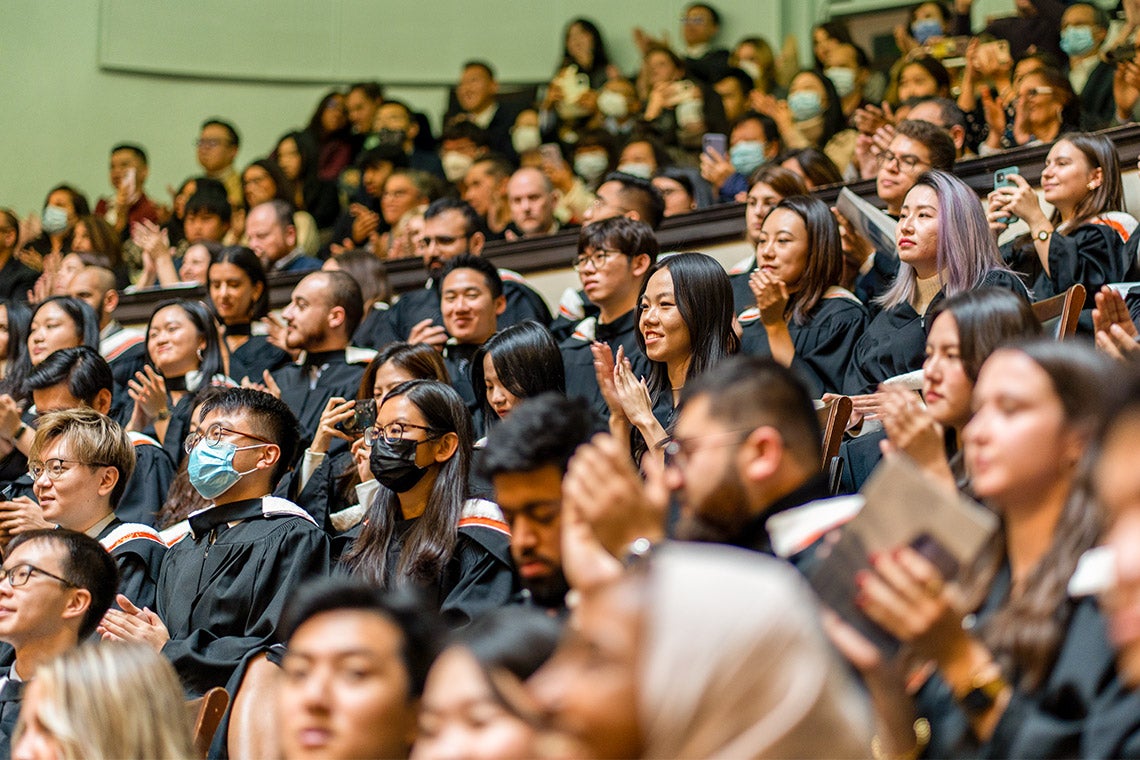 Members of the Rotman Commerce Class of 2020 and Class of 2021 celebrate at Convocation Hall (photo by Tam Nguyen)
UTC