For aspiring U of T physicist, meeting with Nobel Prize winners a rare chance to learn from world's brightest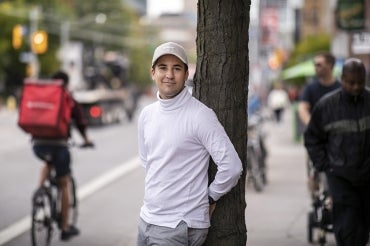 Patrick Pallagi, a second-year student studying physics at the University of Toronto, has come closer than most to the prestigious Nobel Prize.
The student at St. Michael's College recently travelled to Lindau, Germany to participate in the 69th annual Lindau Nobel Laureate Meeting, where about 40 Nobel Prize winners gathered to meet the next generation of scientists between June 30 and July 5.  
He was one of just 580 young scientists invited to attend the event.
"I waited around six months to see what was going to happen, and then I received an email that I was accepted," said Pallagi, who is originally from Hungary and came to U of T through the Pearson Scholarship.
He added that he was encouraged to apply to attend the conference by his mentor in Budapest. 
The Nobel Prize committee is busy handing out the 2019 awards this week. On Wednesday, it announced Canadian-born physicist James Peebles was one of three researchers who won the Nobel Prize in Physics "for theoretical discoveries in physical cosmology." Today, the committee gave the prize in chemistry to a trio of researchers for the development of lithium-ion batteries.
As for last summer's Lindau Nobel Laureate Meeting, Pallagi said he had a chance to learn from renowned physicists such as Steven Chu, who was energy secretary under the Obama administration and won the 1997 Nobel Prize in Physics.
Pallagi, who is pursing a double major in physics and the history and philosophy of science, told U of T News he was intrigued at how Chu was an early supporter of Tesla and the electric car industry. He said he also learned about the value of looking at science from a public policy angle.
"We had a great conversation with him about science policy," Pallagi said.
Pallagi also had the opportunity to talk to Canadian Nobel winners such as astrophysicist Arthur McDonald, who was awarded the 2015 Nobel Prize in Physics, and laser physicist Donna Strickland, who won the same award last year.
"(Strickland) made a great presentation about how her thesis statement was a great new idea at the time, and how her first paper became a ground-breaking revolution in laser physics that she didn't anticipate at all," said Pallagi.
At U of T, several faculty and alumni have received the Nobel Prize over the years. They include Sir Frederick Banting, who won the 1923 Nobel Prize in Physiology or Medicine for discovering insulin's properties in treating diabetes, and University Professor John Polanyi, who won the chemistry prize in 1986.
Pallagi said he was looking forward to seeing whose work is highlighted by the Nobel committee this year.
"I think (science and technology) can be used to help people from various backgrounds and enhance their quality of life… and the Nobel Prize, I think, is in support of this," Pallagi said.
UTC