'Anything is possible': Future Sound 6ix music workshops draw youth from across Toronto
On a recent Saturday morning in an electronic music studio at the University of Toronto, a group of young people listened intently as Adrian Berry hit the "play" button.
Bass, drums and marimba filled the room.
After a short discussion, Berry walked the group through five strategies for intuitive song writing and offered a pro tip: Trust your gut and find your inspiration – something that gives you joy or makes you emotional.
The insights resonated with Saraphina Knights.
"You can say the weirdest thing and that can turn into some of the most beautiful music you've ever heard," said Knights, one of the workshop's participants. "I think I can use that in my own song writing practice."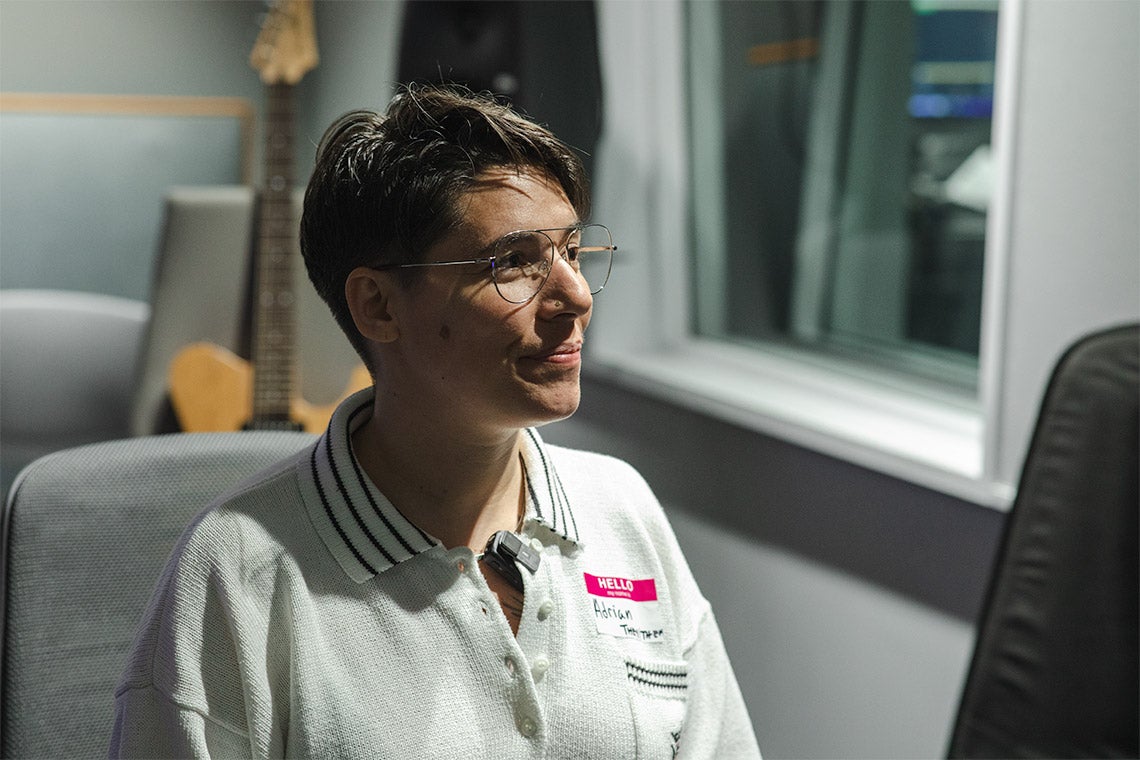 Adrian Berry, a U of T graduate, was the program co-ordinator for Future Sound 6ix (photo by Polina Teif)
The introduction to recording and music production – led by Berry, a U of T graduate – was the first of several 30-minute lecturettes in the Faculty of Music's Future Sound 6ix workshop program. In partnership with the YWCA and with support of the Nick Nurse Foundation, the faculty invited a group of racialized 14- to 20-year-old female-identifying and gender nonconforming youth to its electronic music studio for two full-day workshops.
Under the guidance of professors, students and guest instructors such as Greg Dawson of Keys N Krates and composer Parisa Sabet, the participants learned about song writing, music sampling, audio engineering, vocal performance, mic techniques, networking and community building. Eliot Britton, the director of U of T's electronic music studio and an associate professor of composition, music technology and digital media in the Faculty of Music, was also on hand to help participants with instruments and recording their songs.
There was even a guest appearance by Toronto Raptors head coach Nick Nurse, who stopped in to meet the participants – just as Knights was practicing a song for a family and friends showcase. "It was so cool to actually meet him," Knights said. "To hear him say he likes my voice, I was thinking that he was joking."
Toronto Raptors head coach Nick Nurse and Faculty of Music Dean Ellie Hisama with workshop leaders and participants (photo by Bo Huang)
A music lover who sings and plays the guitar and piano, Nurse likened song writing to coming up with plays on the basketball court.
"I'll jot one thing down and then the next day something comes to me later," he told the group. "It's part of the reason I do music so much – it helps with my creative process. It really keeps my mind going."
The idea for Future Sound 6ix was hatched by Faculty of Music Dean Ellie Hisama, who founded a similar program in New York City when she was at Columbia University. After arriving at U of T, she joined forces with Canadian pianist and sessional instructor Megan Chang and Monica Lin, a part-time community development and program facilitator at the YWCA's Girls Centre.
Lin said music programs can be out of reach for many children and youth.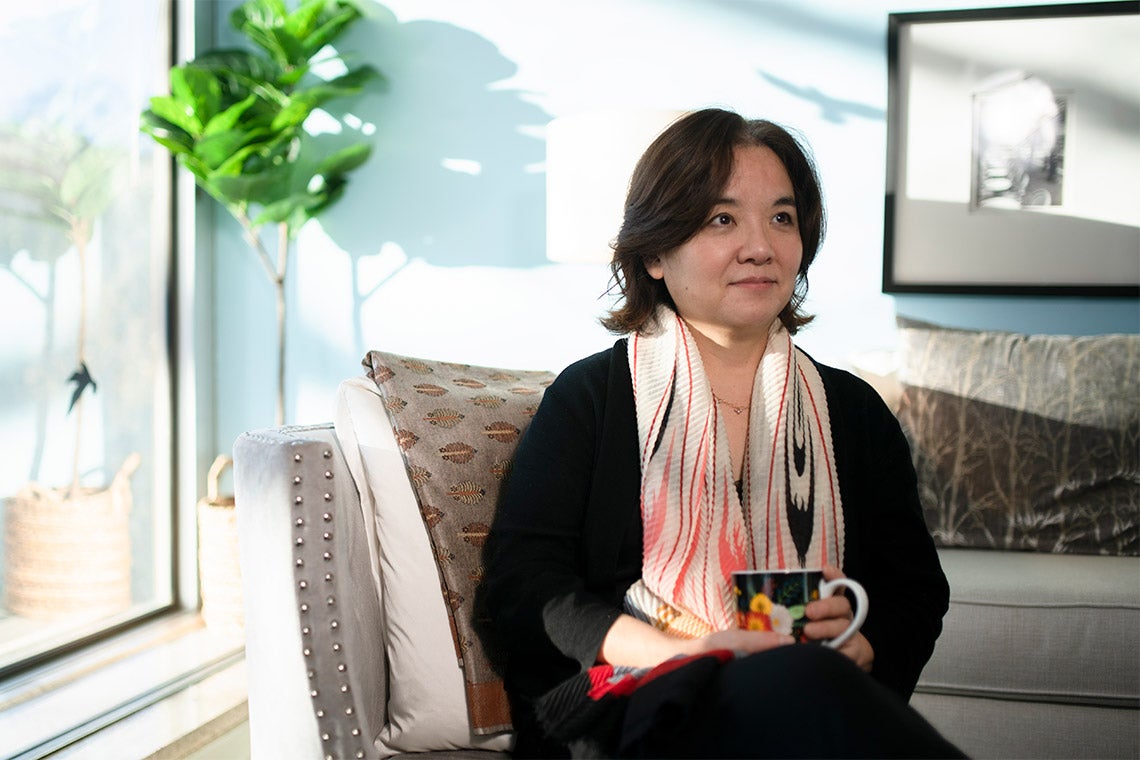 Ellie Hisama (photo by Bo Huang)
"Some families prefer their child to go into a more traditionally stable career," she said. "We thought this would be a really great opportunity to not only expose youth to more resources, but to also get them to ask more questions to learn more about the [music] program so they can transfer their knowledge to their families in hopes that they can support them."
Hisama, for her part, said music is a "tremendous force" in society that helps people in so many ways.
"I hope the [participants] feel that U of T is a place that welcomes them and that is interested in them as young people," said Hisama, who added that she is grateful for the support of the Nick Nurse Foundation.
"It really means a lot to have Nick Nurse – as a major figure in the city, a musician and someone who is very interested in helping underserved youth with his foundation – support our work."
Workshop participant Alisha Hanif said the program opened her eyes to the world of music composition.
"People are always like, 'Oh you can use Garage Band or this or that,' and online tutorials are hard to follow sometimes," she said. "But the workshops make it so easy to understand. I really enjoyed learning about the tech side of making music. I can take it home and start making my own music now that I know how."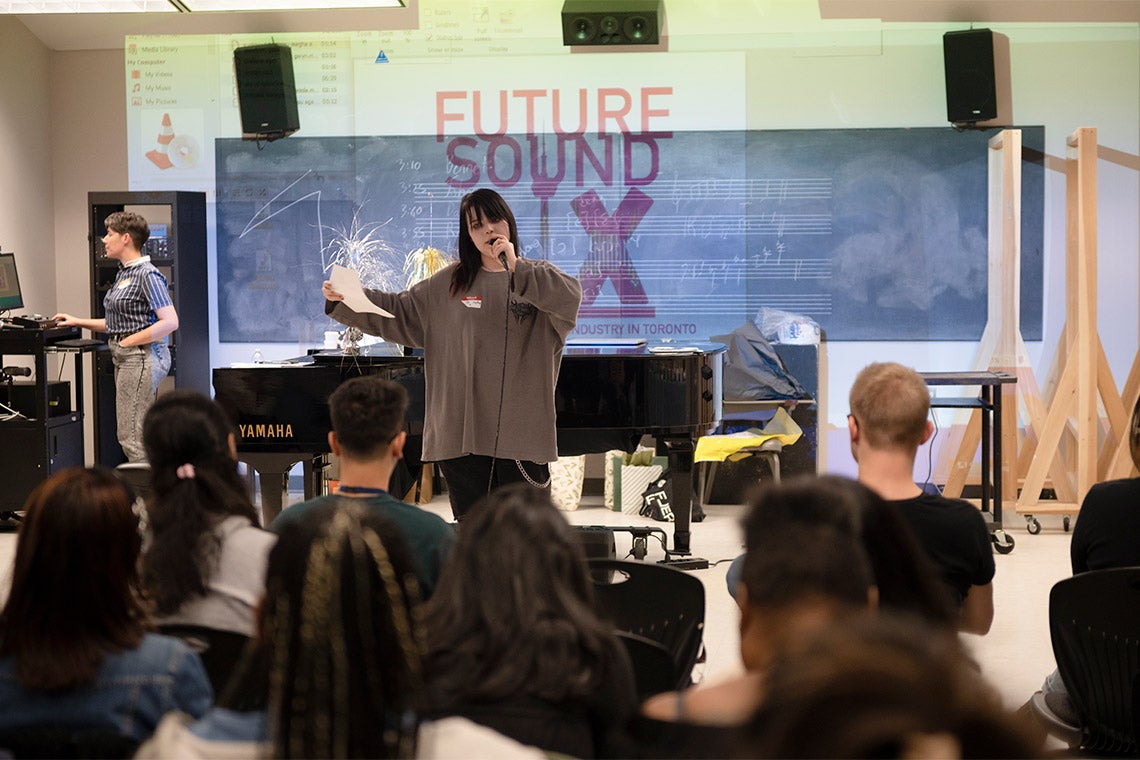 Gwyn Lyn (photo by Bo Huang)
Gwyn Lyn, who loves to sing and recently picked up the electric guitar, said she always found a reason to put off recording a song, but the workshop encouraged her to persist.
"I've always really wanted to make music, and this is an awesome opportunity to start that," she said. "I let loose during the workshop and got to really project my voice and find different styles I'm capable of.
"There are different creative pathways you can take that don't require you to win that lottery of becoming the most famous singer."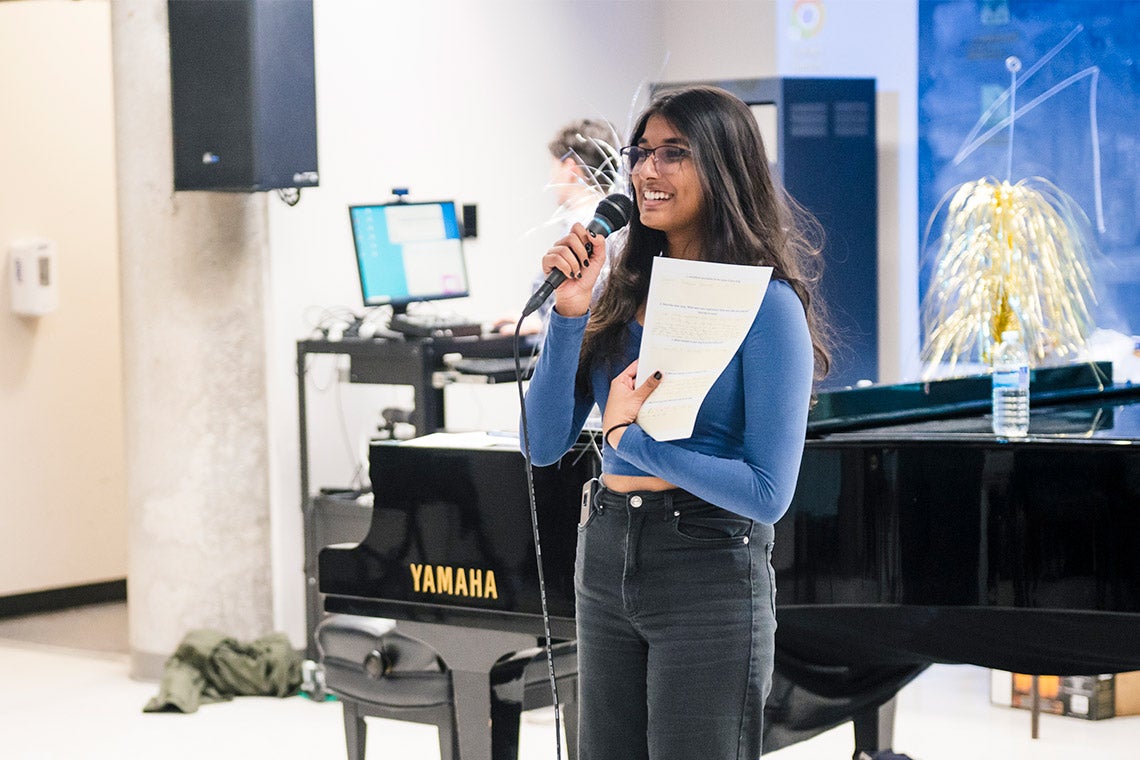 Megha Aruleswaran (photo by Bo Huang)
Megha Aruleswaran said it was the first time she had written a song of her own.
"This is corny, but anything is possible," she said. "I didn't think I could write my own song because writing is difficult. But I was able to make a rhythm and have musicality – and it's been so cool to see that I can actually do it."
UTC