From anthropology to AI: Meet the U of T expert guiding the software companies of tomorrow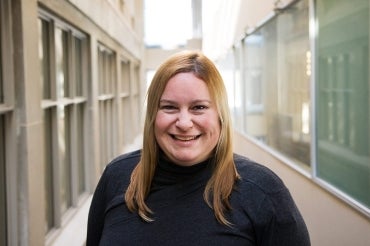 Helen Kontozopoulos may not be an artificial intelligence researcher, but she knows more than most about the technology – not to mention what it takes to put it to practical use. 
That's among the reasons the co-director of the University of Toronto's Department of Computer Science Innovation Lab (DCSIL) was recently tapped to represent Canada on an AI mission to the United Kingdom organized by the U.K. Science and Innovation Network. 
The three-day mission, with stops in London, Oxford and Cambridge, explored opportunities for international collaboration in AI-related research and business initiatives – with the latter falling directly within Kontozopoulos's wheelhouse.
"Just because you're making great technology doesn't mean someone is going to buy it," Kontozopoulos says, citing Google Glass as a classic example of an impressive technological hammer in desperate search of a nail.
"We need to be solving real problems for real customers and users."
Kontozopoulos's rare mix of technological know-how and real-world experience is woven into the very fabric of DCSIL, which she co-founded in 2015 with Adjunct Professor Mario Grech and Associate Professor, Teaching Stream Paul Gries, both in U of T's department of computer science in the Faculty of Arts & Science. The accelerator, one of several entrepreneurship hubs on campus, is housed in an open-concept workspace on the second floor of U of T's Gerstein Science Information Centre and offers software-focused entrepreneurs and their startups a road to the commercial realm.
It's the sort of pathway Kontozopoulos wishes had been available to her when she first got bitten by the computer bug more than two decades ago.
"I started to code in 1997," she recalls. "I was up at York doing my degree in anthropology and they couldn't find anyone to build a website for the international office where I was working."
A self-professed "geek," Kontozopoulos found herself drawn to the possibilities offered by computers and their software – not so much in theory, but as tools to solve real-world problems. Had there been sufficient mentorship and support, she might have even considered doing a minor in computer science. "I still believe that's a problem," she says. 
As it was, she had to settle for assembling "really cheesy, bad '90s websites" in her spare time.
Suffice it to say, Kontozopoulos is no longer working with Comic Sans fonts and Netscape Navigator logos. At DCSIL, she's surrounded by the latest machine learning, blockchain and virtual reality technologies. She's also a lecturer at U of T's computer science department and U of T Scarborough's department of computer and mathematical sciences, where she teaches students about product development, user experience design and lean startup philosophies.
Between the courses and the accelerator, Kontozopoulos estimates she and Grech have been involved with about 30 startups to date. DCSIL's current roster reads like a window into the future: DeepPixel uses AI to help companies connect with their customers; Shield Crypto Systems has developed next-generation encryption technologies for banks, credit cards and online payment processors; Structura Biotechnology uses machine learning to find new drug candidates; Quantum Capture is developing virtual humans to put a face on AI-powered digital assistants; and Janus VR is reimagining the Internet as a virtual world. 
"Helen is brilliant at product design and brand building," says Grech, a U of T engineering alumnus who spent a decade working at big U.S. tech firms like Sun Microsystems, Oracle and Cray before becoming an entrepreneur himself.
"She's self-taught in the programming sense," he continues, "but she's learned quite a bit and gets into the guts of it."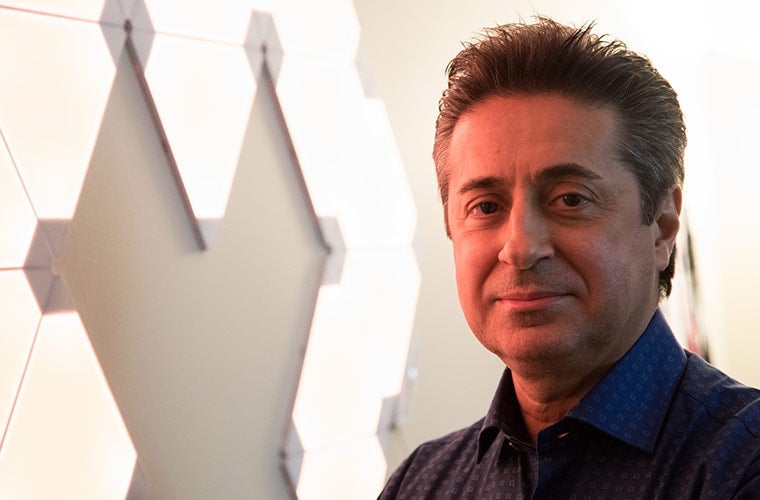 Mario Grech, a co-director of DCSIL, spent a decade working for big U.S. tech firms before he became an entrepreneur himself (photo by Chris Sorensen)
Though only a few years old, DCSIL's profile is growing quickly in the startup world. In part, that's because of its association to U of T's department of computer science, which has produced such leading AI researchers as University Professor Emeritus Geoffrey Hinton, who is also a senior researcher at Google, and Associate Professor Raquel Urtasun, who heads up Uber's self-driving car lab in Toronto. But it's also because of the lab's unique, market-driven approach to technological innovation.
Kontozopoulos traces her entrepreneurial streak to a childhood spent working at her father's deli in a rough-around-the edges downtown Toronto neighbourhood. 
"I got to see money coming in and what people were like," she says, adding she also helped her mother, a seamstress, sell wedding dresses.  
"I could see what people wanted and learned to upsell."
If her anthropology degree gave her further insight into the human condition, a business degree from the University of Tasmania in 2008 served to formalize her business training. Meanwhile, time spent living in Amsterdam working with e-commerce firms boosted her familiarity with the tech space. 
But it wasn't until Kontozopoulos returned home to Toronto in 2010 that she realized she was unsatisfied.
"I was working with too many small businesses and felt like I was getting the scraps," she says. "I wanted to be closer to the technology before its built – before I have to use somebody else's crappy product."
Kontozopoulos ultimately found her way to a mobile startup accelerator associated with OCAD University, where, for the first time, she was surrounded by likeminded designers, entrepreneurs and business people. They included AI pioneer Marvin Minsky and wearable computing guru Steve Mann, a professor in U of T's Faculty of Applied Science & Engineering. 
It was also a whirlwind year of conferences and connections – one of which ultimately led to a job offer as a U of T teaching assistant. Kontozopoulos jumped at the opportunity and soon found herself hatching a plan, alongside Grech and Gries, to teach entrepreneurial skills to computer science students.
The trio's timing turned out to be fortuitous. In 2014, IBM asked U of T's computer science department to participate in a student competition to develop novel applications for its Jeopardy-winning Watson computer. 
The course-based program, which focused on finding solutions for lawyers, yielded not one, but two successful legal startups. ROSS Intelligence, founded by three U of T students, used the Watson platform to improve the way lawyers conduct legal research, and ultimately captured second place in the international contest. The same competition also indirectly spawned Blue J Legal, which uses AI to predict the outcome of court cases. Benjamin Alarie, an associate professor in U of T's Faculty of Law and Blue J Legal's CEO, says the disruptive potential of Watson and AI more generally on the legal field dawned on him while he was acting as a judge for the U of T portion of the IBM competition. 
It was around this time Kontozopoulos, Grech and Gries realized they needed an accelerator to support the startups coming out of their courses. So, with the help of Professor Cynthia Goh, the director of U of T's Impact Centre accelerator, they went to work setting one up.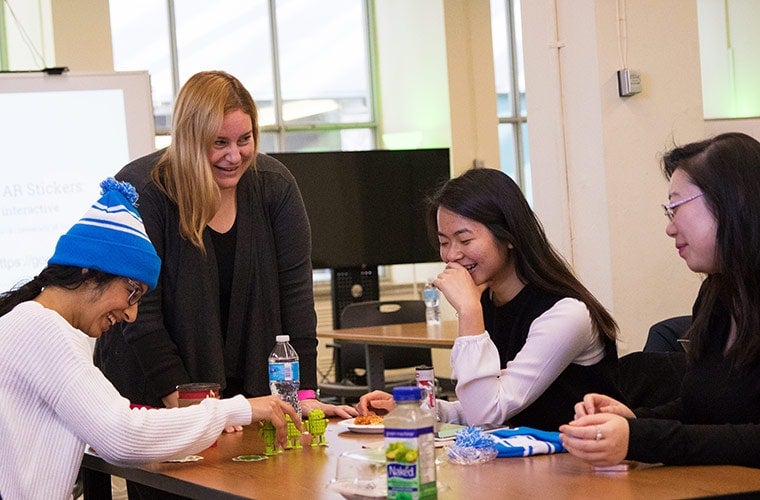 Helen Kontozopoulos chats with students before a Google event at DCSIL (photo by Chris Sorensen)
While "DCSIL" may not be the catchiest accelerator name on campus, it's nevertheless providing to be a valuable addition to U of T's expansive network of entrepreneurship hubs. After all, many of today's startups have some sort of software component, if not an entire business built around AI or some other software technology.
"Because we're software, we can work with everybody," says Kontozopoulos. "I feel like we're like the glue."
Grech, meanwhile, says DCSIL is building a name for itself beyond Toronto, including in Silicon Valley. Venture capital investors, he says, are drawn to the accelerator because it's effectively embedded within U of T's computer science department and associated entities like the newly created Vector Institute for AI research.
"They want to keep their eyes on the trends," he says. "Nowadays, the technology can break out a lot quicker than it used to."
In some ways, Kontozopoulos's career has come full circle. Now completing an executive program in innovation and technology at the Massachusetts Institute of Technology, she notes the explosion in AI across dozens of fields – from self-driving cars to robots who serve customers at fast food outlets – has created a host of questions about how to design the products of tomorrow to maximize their benefits for humanity. 
"Google is now hiring philosophers," she says, noting her original anthropology degree just happened to be accompanied by a minor in philosophy. "This is perfect for me."
UTC