Experts in Ukraine join Munk School event to discuss Russia's invasion of the country – and what happens next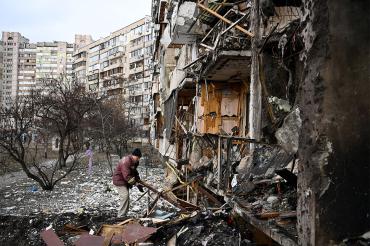 With Ukraine under attack, experts in Kyiv joined an online roundtable talk organized by the University of Toronto's Munk School of Global Affairs & Public Policy on Friday to share insights from the field with a global audience. 
Tymofiy Mylovanov, president of the Kyiv School of Economics and an associate professor at the University of Pittsburgh, said he woke up to the sounds of bombing around five in the morning.
Olexiy Haran, a professor of comparative politics at National University of Kyiv-Mohyla Academy and research director at the Democratic Initiatives Foundation, said his daughters were staying in bomb shelters.
The two Ukrainian professors shared their insights with Janice Stein, the Munk School's founding director and the Belzberg Professor of Conflict Management in the department of political science in the Faculty of Arts & Science; Lucan Way, a professor of political science at U of T Scarborough and co-director of the Petro Jacyk Program for the Study of Ukraine at the Munk School; and Timothy Frye, a professor of post-Soviet foreign policy at Columbia University.
The wide-ranging discussion was moderated by journalist Peter Mansbridge, a distinguished fellow at the Munk School who was the face of CBC's flagship newscast for three decades.
Here are a few key takeaways from the discussion:
---
The invasion marks the beginning of a new – and dangerous – era in international relations:
Clockwise from top left: Peter Mansbridge, Lucan Way, Timothy Frye, Olexiy Haran, Tymofiy Mylovanov and Janice Stein.
"I think there's no question that we have seen the last gasp of the liberal international order," said Stein. "We have a complex relationship now between Russia, China and the United States. It is not clear how three great powers manoeuvre and manage to avoid accident, miscalculation and conflict."
Ukraine will put up a fierce resistance: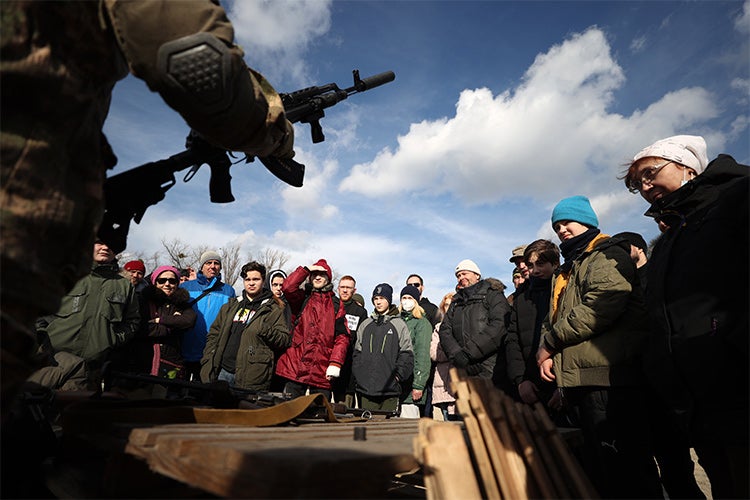 Ukrainian civilians line up to receive military training (photo by Ali Atmaca/Anadolu Agency via Getty Images)
If Russian President Vladimir Putin expected a quick and easy victory over Ukraine, several experts said he may have erred in his calculations.
Thousands of Kyiv residents are lining up to arm themselves or enlist in the army as Russian troops advance, Haran said.
"It's also clear that what Putin planned – to have a quick victory – has not succeeded," he said. "As of now, no regional centre of Ukraine is under control of Russia."
Way, for his part, said occupation of Ukrainian territory wouldn't be easy for Russia.
"Even if Putin achieves a military victory in the short term, you're likely to see a long, drawn-out guerrilla struggle," he said, adding that Ukrainians from the western part of the country fought Soviet occupiers for a decade after the Second World War, then ousted two autocratic governments in the 1990s and 2000s.
"They are not going to sit back and let the Russian occupiers have their way."
While Putin faces no organized opposition, there may be new questions surrounding his leadership: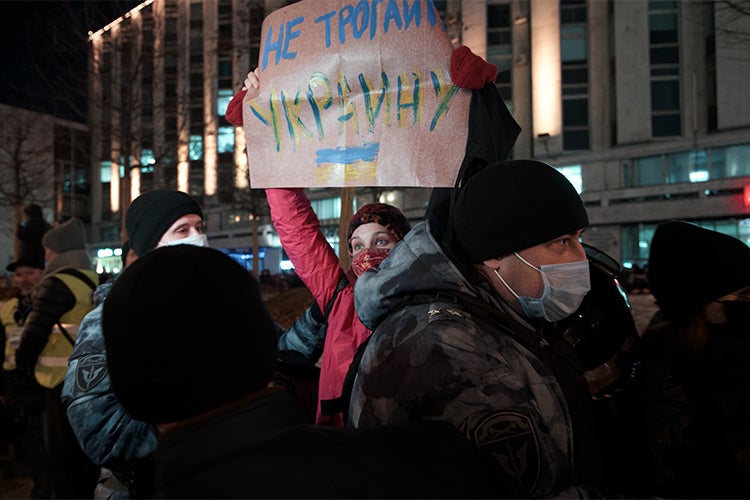 Protestors take part in a demonstration in Moscow (photo by Daniil Danchenko/NurPhoto via Getty Images)
In cities across Russia, thousands protested the invasion of Ukraine – and more than 1,800 were reportedly arrested as a result.
Nevertheless, some panelists suggested Putin is unlikely to face serious challenges to his leadership in the short term.
"Putin is very insulated – both from public opinion as well as from many in his own entourage," Way said. "So, it's hard to imagine at this point that he's especially vulnerable in the short term."
Because of the personal risks of protesting in Russia, it's unlikely that there will be mass protests, according to Frye. He noted, however, that the invasion has shocked many Russians into re-evaluating their relationship with the state and Putin.
"How that will be expressed and whether or not that will have meaning politically, I do think it's important," he said. "It's much easier to govern as a popular autocrat than an unpopular one."
Russia may have inadvertently strengthened NATO:
In justifying the invasion of Ukraine, Putin said NATO's westward expansion threatened Russia's "historic future as a nation." However, Haran said Putin is using the defensive alliance as a pretext since joining NATO wasn't popular in Ukraine until the annexation of Crimea in 2014.
"Ukrainians wanted good relations with both Russia and the EU; after 2014 it changed completely," he said.
Way, meanwhile, said NATO is a "bit of a red herring" because the Russian annexation of Crimea made Ukraine's membership a non-starter. "Putin says he wants to resist NATO, but he's actually strengthened NATO by this action. Now Finland and Sweden are considering joining."
Frye agreed.
"NATO, for all of its differences and disagreements, has unified and banded together in a way that I don't think President Putin suspected," he said.
Though important, sanctions won't deter Russia:
On Thursday, Prime Minister Justin Trudeau and other Western leaders imposed severe sanctions on Russia in an effort to cripple its ability to continue funding the invasion.
Yet, Mylovanov, an economist who served in Ukrainian President Volodymyr Zelenskyy's cabinet, noted that Russia has prepared for sanctions by stashing hundreds of billions in cash and gold.
"He has been preparing for this and the effectiveness of sanctions has become much less relevant now," Mylovanov said.
It's important to be realistic about what sanctions can achieve, Frye added.
"It's pretty clear in the research that's been done that when countries have national security interests at stake, economic sanctions are just not sufficient to really deter them from doing things that they think they really need to do." 
 
UTC