U of T hosts Trudeau, Ukrainian president for international conference on Ukraine's future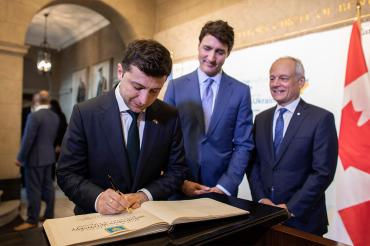 World leaders, diplomats and other officials gathered at the University of Toronto this week as the university hosted the ministerial meeting at an international summit on the future of Ukraine.
A succession of delegations arrived at Simcoe Hall on the downtown Toronto campus on Tuesday morning, representing over 30 countries at the U of T-hosted portion of the three-day Ukraine Reform Conference. It was the third annual meeting to set the agenda for reform in Ukraine after conferences in London and Copenhagen. 
U of T President Meric Gertler greeted the dignitaries, which included recently elected Ukrainian President Volodymyr Zelenskyy, Prime Minister Justin Trudeau and Foreign Affairs Minister Chrystia Freeland, who is of Ukrainian descent and delivered part of her opening remarks in Convocation Hall in Ukrainian.
President Gertler said it was an honour for U of T to host the high-profile meeting.
"It is a great privilege to welcome world leaders and to facilitate their discussion of the challenges and opportunities facing not only Ukraine, but the whole world," he said.
"The University of Toronto strives to foster an international outlook among all members of our community, and to serve as a convenor of global conversations on the most important issues of our time. U of T, therefore, is an ideal setting for this event, which is devoted to democratic ideals and universal concerns."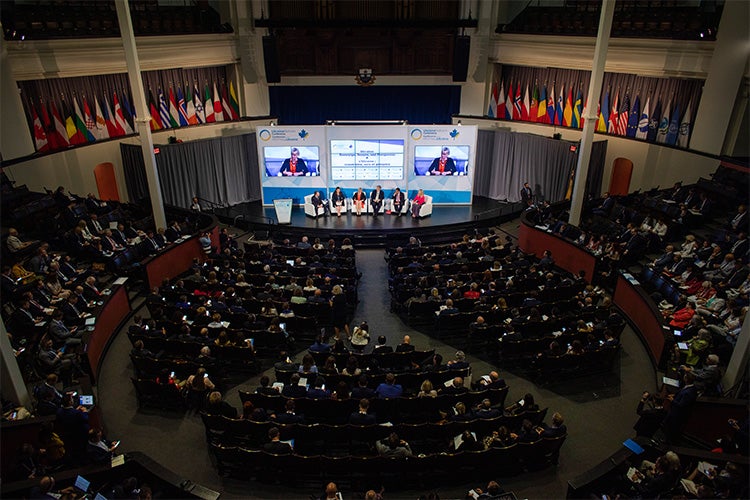 The conference included panel discussions that took place inside U of T's Convocation Hall (photo by Nick Iwanyshyn)
Freeland, for her part, lauded U of T for hosting global summits like the G7 Foreign Ministers' meeting last year and this year's Ukraine Reform Conference. 
"Universities occupy an essential space in our society by promoting research, innovation and debate," she said. "The University of Toronto is a premier international institution of higher learning that connects Canada to the world – and vice versa.
"I am continuously struck by the energy and ambition of students at U of T. They rightly see themselves as global citizens and have bold ideas for how Canada can play a constructive role in the world today."
In her remarks to the conference, Freeland said, "Ukrainians were prepared to pay the ultimate price for their freedom, and many did," referring to protesters who died in Kiev's Maidan square in 2014.
She went on to denounce Russian aggression in Ukraine and the 2014 invasion of the Crimean Peninsula. Many countries, including Canada, also accuse Russia of fomenting an insurgency in the eastern part of the country in which 13,000 people have died. And in November, the Russian navy captured 24 Ukrainian sailors. Moscow accuses them of illegally entering Russia waters, although Kiev denies the allegation.
"Let me say to the people of Ukraine who are here today and those who are listening to us that Canada continues to stand with you," Freeland said.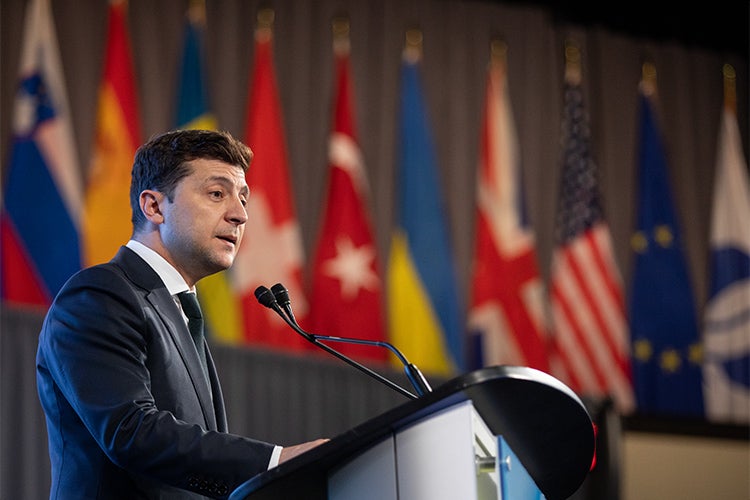 Ukrainian President Volodymyr Zelenskyy peppered his speech with sports references, including to Wayne Gretzky, who has Ukrainian ancestry, and the Toronto Raptors (photo by Nick Iwanyshyn)
The first day of the conference featured panel discussions on sovereignty, security and prosperity and transforming Ukraine into a high-income country. Much of the talk focused on making progress in Ukraine "irreversible," with a long-term possibility of the country entering the European Union.
The conference comes at a pivotal moment for Ukraine. Zelenskyy, an actor-comedian, beat the odds to win the presidency in April and parliamentary elections are to be held later this month.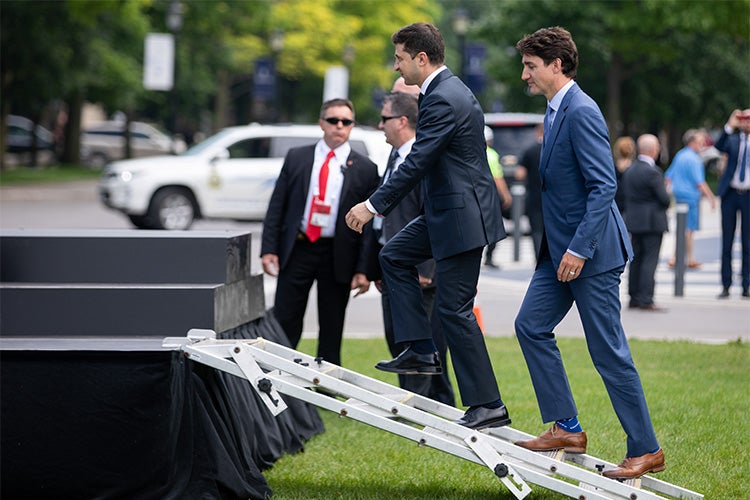 Ukrainian President Volodymyr Zelenskyy and Canadian Prime Minister Justin Trudeau (photo by Nick Iwanyshyn)
Speaking in Convocation Hall, bedecked with flags and lit up in the blue and yellow of Ukraine, Trudeau also pledged Canada's support for the country in Eastern Europe.
"It is absolutely vital that, in the face of foreign interference, we reinforce democracy in Ukraine to ensure a vibrant, prosperous and free society," he said. 
To that end, Ottawa announced more than $45 million in development aid and policing assistance for Ukraine and said it won't recognize Russian passports issued to Ukrainians in the Donbas, a region in eastern Ukraine and southwestern Russia.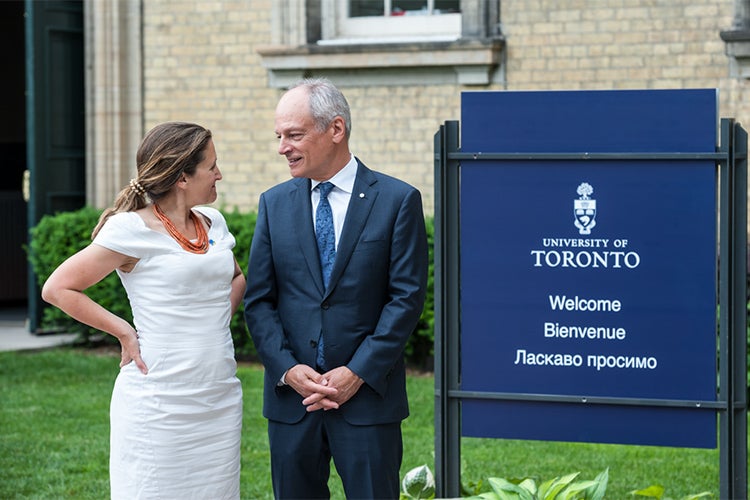 Foreign Affairs Minister Chrystia Freeland and U of T President Meric Gertler (photo by Lisa Sakulensky)
In his own speech, Zelenskyy compared his country to the championship-winning Toronto Raptors.
"Basketball isn't exactly my game," Zelenskyy joked. The Raptors "reflect the task facing Ukraine – to win when you're the underdog and achieve the impossible," he said in Ukrainian, which was translated live.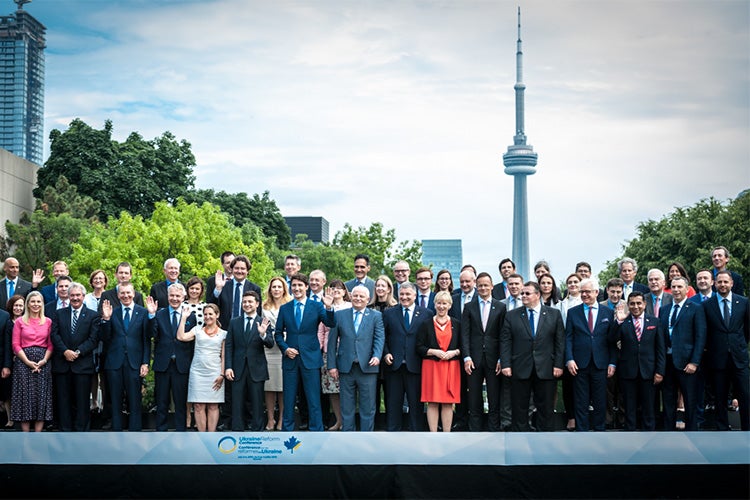 The conference's delegates pose for a group photo (photo by Lisa Sakulensky)
Aurel Braun, a professor of international relations and political science at U of T Mississauga, who specializes in the challenges of transformation of socialist systems in the former Soviet bloc, says one of Ukraine's top priorities going forward will be to address corruption.
"Ukraine is a potentially wealthy country," he said. "It has tremendous human talent, including scientific talent. It has vast natural resources – and yet it is desperately poor, and corruption has been one of the key elements."
He added that the location of the conference is fitting both because Canada is home to 1.3 million Ukrainians and because U of T has a "glorious tradition" in Slavic studies.
"We were among the first universities to develop a major centre for Russian and east European studies," he said.
UTC