From AI to immigrant integration: 56 U of T researchers supported by Canada Research Chairs Program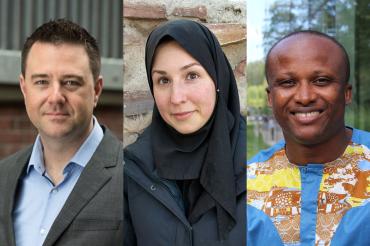 Survey after survey show doctors face burnout from heavy workloads. But what if they could use a machine learning algorithm to shoulder some of the burden?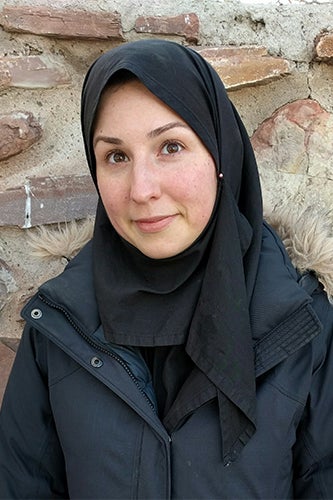 Marzyeh Ghassemi (left), the first University of Toronto faculty member to be cross-appointed to the departments of computer science and medicine, is looking to lighten the load on health practitioners – and, by extension, improve patient health – by developing algorithms that can estimate the length of a person's hospital stay, need for intensive care or mortality risk. 

"We have a really good body of clinical research that suggests patients respond better to all manner of treatments when it's provided with compassion and with focus, and with an understanding of where they come from," she said.
"So I think we should use machine learning to let doctors do the doctoring, to actually interface with patients and make decisions about care." 
Ghassemi is one of 56 U of T faculty members awarded new Canada Research Chairs, or whose chairs were renewed, as part of a double, fall-spring cohort announced Friday by the federal government. Established in 2000, the federal program invests about $295 million annually to recruit and retain top minds in Canada. It supports research in engineering, natural sciences, health sciences, humanities and social sciences. 
U of T's total allotment of research chairs in the program is 315, making it the largest in the country.
"I want to extend my warmest congratulations to U of T's new and renewed research chairs," said Vivek Goel, U of T's vice-president of research and innovation. 
"The work supported by the Canada Research Chairs Program benefits all Canadians by advancing our shared knowledge and fostering innovation."
The new and renewed research chairs at U of T focus on fields ranging from artificial intelligence, or AI, to studies of immigrant integration and well-being. 
Ghassemi, who was named a tier-two chair in machine learning and health, is continuing work she began at the Massachusetts Institute of Technology during her PhD studies. That includes developing an algorithm to help physicians determine the best possible patient treatments by predicting the onset of acute conditions and the need for intervention. Part of her research involved tagging along with doctors and nurses at a Boston hospital during their morning rounds to get a better sense of their daily routines and determine where AI could offer assistance.
Also a faculty member at the Vector Institute for Artificial Intelligence, Ghassemi said her research chair will allow her to expand the scope of her research beyond acute cases. In fact, she said her research is increasingly focused not on sickness, but on being in good health.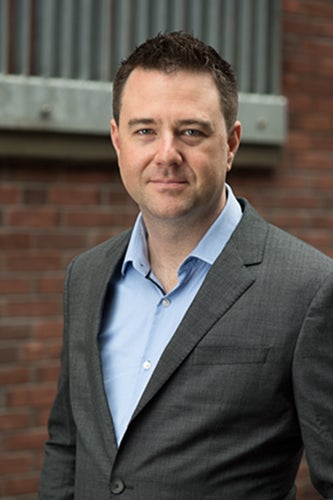 "The majority of the research we're able to do looks at people when they're at their very sickest, and then tries to understand whether there are small differences in outcome that we can have at these very, very sick moments," she said.

"We don't really know what it means for a person to be healthy." 
She sees her tier-two chair, a five-year award reserved for "exceptional emerging scholars," as a vote of confidence in her work.
"It's recognizing that this area of research is one that Canadians care about," she said.
Jonathan Kelly (left), an assistant professor at U of T's Institute for Aerospace Studies, or UTIAS, is putting artificial intelligence to work for a different purpose. The new tier-two chair in collaborative robotics designs the software brain for machines with a wide variety of applications, from self-driving wheelchairs to robotic space explorers.
One focus of Kelly's research is on warehouse-dwelling "cobots" – short for collaborative robots – that are intended to work side-by-side with people in logistics, packaging and assembly. The machines would be sophisticated enough to respond to a worker's movements without being told explicitly what to do. 
"In a manufacturing scenario, maybe both of you are working on adjusting a bolt on a part, but you need the robot to help support the piece so a bolt can be tightened," Kelly said.
"We've actually looked at trying to program the robot to interpret forces that are applied to the part by the person, because that can guide the machine as to what the person's intent is."
Kelly sees cobots in the warehouse as a first step toward a Jetsons-like future where robots are interacting with humans in more unpredictable environments – including on the street or in the home.
The Canada Research Chairs Program, Kelly said, provides an advantage when trying to recruit top research talent. 
"We want to attract really great students," he said, "and when you're in the pool with the MITs, the Stanfords and Berkeleys and Carnegie Mellons, anything you can do to enhance your visibility is extremely valuable." 
At U of T Mississauga, health geographer Vincent Kuuire (right) said his tier-two chair in immigrant well-being and global health gives him more resources to explore health and well-being among newcomers to Canada.
The assistant professor in geography is presently focused on Greater Toronto's Eritrean and Nigerian communities, which are among the fastest growing groups in Canada. He relies on both census data and information painstakingly gathered by visiting local churches and grocery stores, where he explains his research purpose and looks for volunteers.
He considers himself a "serial migrant," having lived in seven different regions of his native Ghana before coming to Canada for graduate studies. 
Kuuire said the goal of his research is to better understand Canadian immigration, which has been pursued as a population growth strategy for over three decades in response to an aging population and low fertility rates. In one recent paper in the Journal of Immigrant and Minority Health, he traces the relationship between an experience of "childhood adversity" – such as physical and sexual trauma before age 15 – to psychosocial health outcomes among immigrants later in life.
"It's important to be able to understand the factors that are related to their (immigrants) general wellbeing and integration," Kuuire said.
"Those findings can contribute to broader policies that may enhance or promote a more cohesive Canada."
---
Here is the full list of new and renewed Canada Research Chairs:
New Canada Research Chairs (applied fall of 2018)
Jennifer Campos, in the department of psychology in the Faculty of Arts & Science and University Health Network, tier two in multisensory integration and aging
Sabine Cordes, in the department of molecular genetics in the Faculty of Medicine and Sinai Health System, tier one in molecular mechanisms of mood and mind
Ken Croitoru, in the department of medicine in the Faculty of Medicine and Sinai Health System, tier one in inflammatory bowel diseases
William Derry, in the department of molecular genetics in the Faculty of Medicine and the Hospital for Sick Children, tier one in genetic models of human disease
Natalie Enright Jerger, in the department of electrical and computer engineering in the Faculty of Applied Science & Engineering, tier two in computer architecture
Michael Garton, in the Institute of Biomaterials and Biomedical Engineering in the Faculty of Medicine and Faculty of Applied Science & Engineering, tier two in synthetic biology
Marzyeh Ghassemi, in the department of medicine in the Faculty of Medicine and the department of computer science in the Faculty of Arts & Science, tier two in machine learning for health
Maria Hupfield, in the department of visual studies and the department of English and drama at U of T Mississauga, tier two in transdisciplinary Indigenous arts
Noah Ivers, in the department of family and community medicine in the Faculty of Medicine and Women's College Hospital, tier two in implementation of evidence-based practice
Zhengping Jia, in the department of physiology in the Faculty of Medicine and the Hospital for Sick Children, tier one in synaptic plasticity and brain disorders
Brian Kavanagh, in the department of anesthesia in the Faculty of Medicine and the Hospital for Sick Children, tier one in acute lung injury
Jonathan Kelly, at University of Toronto Institute for Aerospace Studies in the Faculty of Applied Science & Engineering, tier two in collaborative robotics
Heather McFarlane, in the department of cell and systems biology in the Faculty of Arts & Science, tier two in plant cell biology
JoAnne McLaurin, in the department of laboratory medicine and pathobiology in the Faculty of Medicine and Sunnybrook Health Sciences Centre, tier one in Alzheimer's disease therapeutics
Aleixo Muise, in the department of paediatrics and department of biochemistry in the Faculty of Medicine and the Hospital for Sick Children, tier one in pediatric inflammatory bowel disease
Emily Nalder, in the department of occupational science and occupational therapy in the Faculty of Medicine, tier two in resiliency and rehabilitation
Patricia O'Campo, at the Dalla Lana School of Public Health and Unity Health Toronto, tier one in population health intervention research
Meaghan O'Reilly, in the department of medical biophysics in the Faculty of Medicine and Sunnybrook Health Sciences Centre, tier two in biomedical ultrasound
Christopher Pearson, in the department of molecular genetics in the Faculty of Medicine and the Hospital for Sick Children, tier one in disease-associated genome instability
Beate Sander, at the Institute of Health Policy, Management & Evaluation in the Dalla Lana School of Public Health and University Health Network, tier two in economics of infectious diseases
Bojana Stefanovic, in the department of medical biophysics in the Faculty of Medicine and Sunnybrook Health Sciences Centre, tier one in neuroimaging
Sandra Styres, in the department of curriculum, teaching and learning at the Ontario Institute for Studies in Education, tier two in Iethi'nihsténha Ohwentsia'kékha (land), resurgence, reconciliation and the politics of education
Lillian Sung, in the department of paediatrics in the Faculty of Medicine and the Hospital for Sick Children, tier one in pediatric oncology supportive care
Wendy Ungar, at the Institute of Health Policy, Management and Evaluation in the Dalla Lana School of Public Health and the Hospital for Sick Children, tier one in economic evaluation and technology assessment in child health
Lu-Yang Wang, in the department of physiology in the Faculty of Medicine and the Hospital for Sick Children, tier one in brain development and disorders
Ding Yuan, in the department of electrical and computer engineering in the Faculty of Applied Science & Engineering, tier two in systems software 
Gang Zheng, in the department of medical biophysics in the Faculty of Medicine and University Health Network, tier one in cancer nanomedicine
Renewals of Canada Research Chairs (applied fall of 2018)
Evdokia  Anagnostou, in the department of paediatrics in the Faculty of Medicine and Holland Bloorview Kids Rehabilitation Hospital, tier two in translational therapeutics in autism
Michael Baker, in the department of economics in the Faculty of Arts & Science, tier one in economics and public policy
Timothy Chan, in the department of mechanical and industrial engineering in the Faculty of Applied Science & Engineering, tier 2 in novel optimization and analytics in health
Brendan Frey, in the department of electrical and computer engineering in the Faculty of Applied Science & Engineering, tier one in machine learning for genome biology and therapeutics
Marney Isaac, in the department of physical and environmental sciences at U of T Scarborough, tier two in agroecosystems and development
Catherine Sabiston, in the Faculty of Kinesiology & Physical Education, tier two in physical activity and mental health
Bianca Schroeder, at the department of computer and mathematical sciences at U of T Scarborough, tier two in data centre technologies
Wei Yu, in the department of electrical and computer engineering in the Faculty of Applied Science & Engineering, tier 1 in information theory and wireless communications
New Canada Research Chairs (applied spring of 2018)
Isabella Caniggia, in the department of obstetrics and gynaecology in the Faculty of Medicine and Sinai Health System, tier one in placental biology in pregnancy and disease
David Curtin, in the department of physics in the Faculty of Arts & Science, tier two in theoretical particle physics
Shiphra Ginsburg, in the department of medicine in the Faculty of Medicine and Sinai Health System, tier one in health professions education 
Tara Gomes, in the Leslie Dan Faculty of Pharmacy and Unity Health Toronto, tier two in drug policy research and evaluation 
Annie Huang, in the department of paediatrics in the Faculty of Medicine and the Hospital for Sick Children, tier one in rare childhood brain tumors
Mohit Kapoor, in the department of surgery and department of laboratory medicine and pathobiology in the Faculty of Medicine and University Health Network, tier one in the mechanisms of joint degeneration 
Vincent Kuuire, in the department of geography at U of T Mississauga, tier two in immigrant well-being and global health
Tony Lam, in the department of physiology in the Faculty of Medicine and University Health Network, tier one in diabetes and obesity
Hyun Lee, in the department of biochemistry in the Faculty of Medicine, tier two in biomolecular phase transitions in cellular repair
Philipp Maass, in the department of molecular genetics in the Faculty of Medicine and the Hospital for Sick Children, tier two in non-coding disease mechanisms
Julien Muffat, in the department of molecular genetics in the Faculty of Medicine and the Hospital for Sick Children, tier two in stem cell bioengineering and synthetic neuro immunology
Navindra Persaud, in the department of family and community medicine in the Faculty of Medicine and Unity Health Toronto, tier two in health justice
Hannes Röst, at the Donnelly Centre for Cellular and Biomolecular Research in the Faculty of Medicine, tier two in mass spectrometry-based personalized medicine
Adam Shlien, in the department of laboratory medicine and pathobiology in the Faculty of Medicine and the Hospital for Sick Children, tier two in childhood cancer genomics
Valerie Wallace, in the department of ophthalmology and vision sciences in the Faculty of Medicine and University Health Network, tier one in retina regeneration
Wendy Wong, in the department of political science in the Faculty of Arts & Science, tier two in global governance and civil society
Renewals of Canada Research Chairs (applied spring of 2018)
Aimy Bazylak, in the department of mechanical and industrial engineering in the Faculty of Applied Science & Engineering, tier two in thermofluidics for clean energy
Gustavo Bobonis, in the department of economics in the Faculty of Arts & Science, tier two in the political economy of development
Goldie Nejat, in the department of mechanical and industrial engineering in the Faculty of Applied Science & Engineering, tier two in robots for society
Scott Schieman, in the department of sociology in the Faculty of Arts & Science, tier one in social contexts of health
Dvira Segal, in the department of chemistry in the Faculty of Arts & Science, tier two in theoretical chemistry
UTC