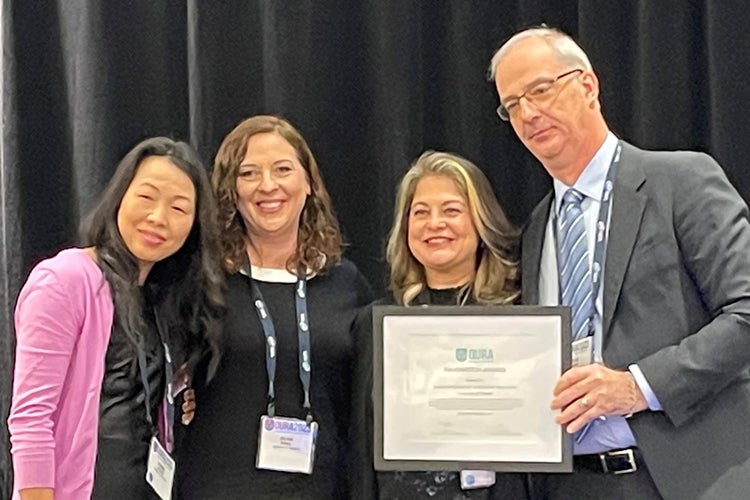 U of T Mississauga registrar team receives OURA Innovation Award  
The Ontario University Registrars' Association (OURA) has recognized the outstanding work of the University of Toronto Mississaugua Registrar Team with the OURA Innovation Award for the UTM AskRegistrar Project. 
The team includes: Lorretta Neebar, Vladimir Soloviev, César Mejia, Michelle Kraus, Sandra Ngan, Lynne Hsueh, Bridgette Arrindell, Olha Fihol, Nia McCash, Lovedeep Grewal, Erli Fan, Guilherme Dos Reis Henriques and Johnny Chung.
This award recognizes achievements in improving quality and reducing costs of academic administration in a range of areas, including admissions, systems, and registration (among others).
"Congratulations to the UTM 'AskRegistrar' team. It's an honour to have so many of our U of T colleagues recognized by OURA," says University Registrar Angelique Saweczko. "This recognition is a testament to the amazing work and exceptional staff at the University of Toronto."
AskRegistrar was implemented during the pandemic to streamline workflow, modernize service, and improve the student experience. The system, using the ServiceNow platform, supports more than 15,600 students on campus. Live statistical reports provide accurate information about student requests and needs, and the system assigns tickets to categories and staff to connect students to the staff member best equipped to respond.
Since its launch in 2020, more than 115,400 tickets have been assigned through the system; 44,892 of them in the last year. Response time has been reduced from 3-14 days to 1-3 business days. Cost savings to the university are estimated at $775K per year, at least, in terms of additional staff that would be required to meet student needs as quickly.  
Provost Office