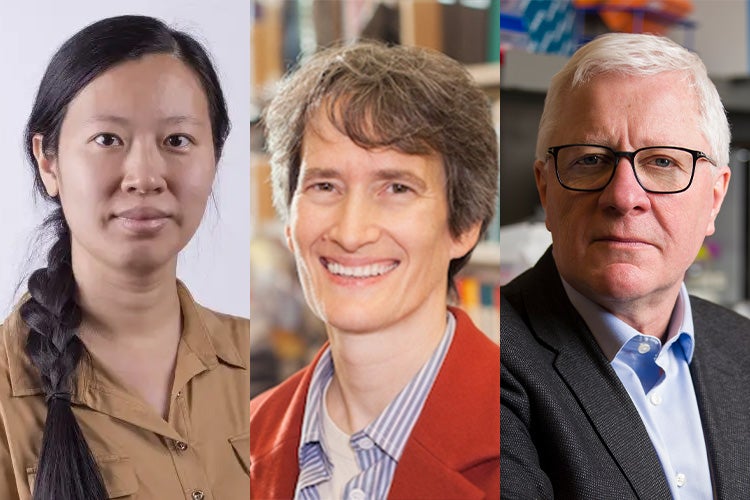 Faculty, alumna recognized with Royal Society of Canada awards
Two University of Toronto faculty members – atmospheric physicist Kimberly Strong and molecular geneticist John Dick – and Engineering alumna Yimu Zhao have been recognized by the Royal Society of Canada for their outstanding achievements in advancing knowledge.
Strong, who is the chair of the Faculty of Arts & Science's department of physics and a leading authority in global atmospheric research,  received the prestigious 2022 Willet G. Miller Medal for outstanding research in a branch of the Earth sciences.
"As an atmospheric physicist, Kim Strong has established a national and international reputation for research excellence," said Melanie Woodin, dean of the Faculty of Arts & Science. "Employing an array of experimental techniques to probe the composition of the atmosphere, she is unraveling the chemical and physical processes that are driving atmospheric change. It is my great pleasure to congratulate her on this important and well-deserved honour."
A renowned stem cell biologist, Dick is a University Professor in the Temerty Faculty of Medicine and a senior scientist at Princess Margaret Cancer Centre, University Health Network. He received the McLaughlin Medal for important research of sustained excellence in medical science. Earlier this year, he received a Gairdner International Award for the discovery of leukemic stem cells and later work on the diagnosis and treatment of acute myeloid leukemia.
Zhao, who earned her PhD studying with Professor Milica Radisic of the Faculty of Applied Science & Engineering and conducted post-doctoral studies with the Toronto General Hospital Research Institute, University Health Network and Columbia University, received the Alice Wilson Award.
Strong said she was delighted to be recognized but emphasized the "highly collaborative" nature of her research.
"When I think of all of my graduate students, postdocs and other group members over the years, this award is a reflection of their cumulative accomplishment."
Arts & Science