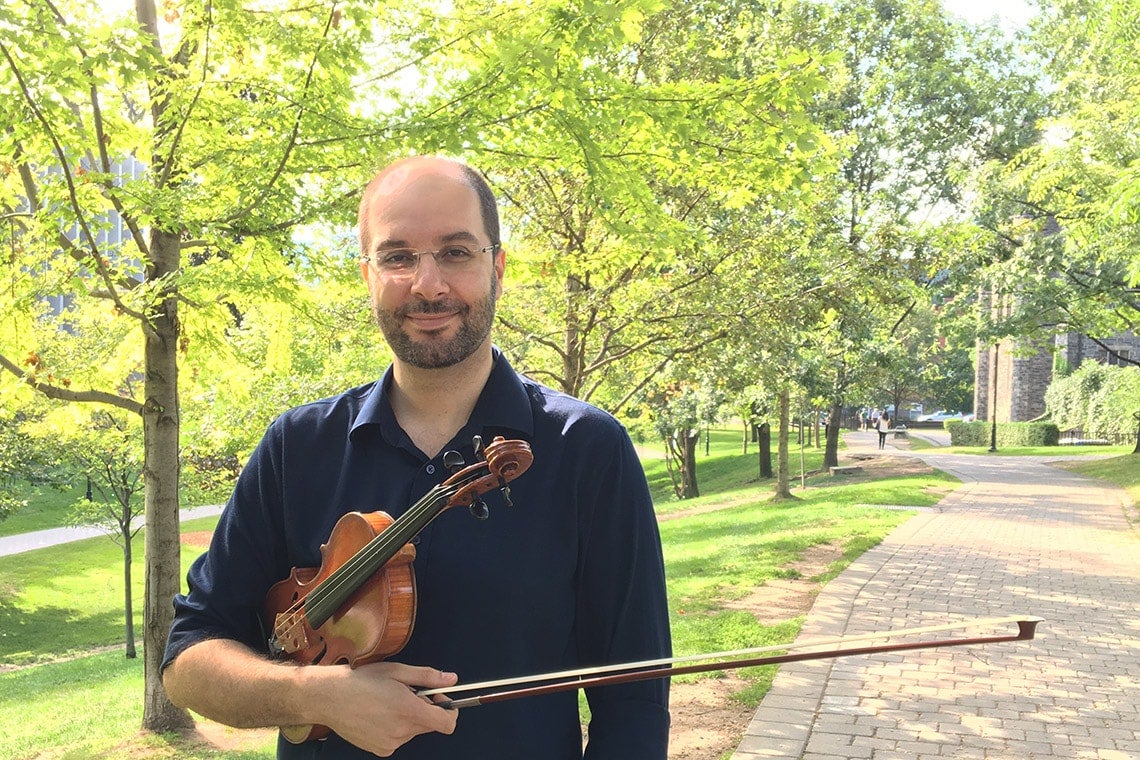 Most professional violinists begin learning to play at ages as young as six years old, but U of T librarian Houman Behzadi first laid eyes on the instrument when he was almost an adult. 
"In Iran, it's banned to show musical instruments on television. My sister brought a videotape of someone playing the violin, and I realized right away that this is what I wanted to do with my life," he says.
Today he is not just an accomplished violinist and tenor – he also oversees one of the largest collections of music from around the world at U of T's music library.
Devoted to cultivating the musical curiosity of the library's visitors and scholars, Behzadi's love for music began when he saw a violin for the first time as a 17-year-old.
He felt a primal pull to the instrument, like gravity. "I saw the discipline necessary to learn the instrument, its absolute beauty and its proximity to the human voice but also how much further it can go in terms of the complexity of the music it makes."
Though Behzadi studied mechanical engineering at the time, he started taking private violin lessons. As his playing improved, his priorities changed –  he realized music was his calling. "Many will tell you that 17 is too late to start learning but I just gave it full devotion, practicing two-to-three hours a day, and then five-six hours a day before applying to grad school," he says.
Behzadi plays Bach's Chaconne from Partita No. 2 in D minor, BWV 1004
"The government of Iran doesn't look favourably upon music – it's not banned but there are lots and lots of barriers to music and musicians. So I came to Canada to get a comprehensive education in music," he says. 
Behzadi was 23 when he arrived in London, Ont. on September 6, 2001, five days before 9/11.
"Everything changed for the world five days later. There were literally no flights coming back and forth and people from Iran couldn't come to North America for some time. I felt very lucky, but it was also very difficult. I was homesick."
But that soon changed when he began studying violin performance at Western University, and building a community. "I experienced a lot of generosity from people: my professors, my colleagues and friends. Because of that generosity, it took me just a month or two to feel like home," he says.
He was also amazed by the first music library he visited.  
"They had a collection of 18,000 CDs. When I saw that I just started crying. I had never before seen a collection of music available just for you, to look through. My love for libraries started growing there."
Since 2014, he has been sharing that love with others with painstaking detail, acquiring sheet music from Asia, Europe and South America. When Behzadi noticed that U of T's collection of Persian music had a significant representation of modal music and vocalists but an absence of female voices, he found artists performing Persian music outside of Iran and added their work to the collection.
A page from Sima Bina's book Iranian Lullabies
His most recent acquisition is the music of Sima Bina, a renowned artist and scholar of Iranian folk music.
"She has gone to villages across Iran and listened to people singing lullabies to their kids: music that has been passed down from mothers to daughters over hundreds of years."  
Below Behzadi shares one of his favourite songs from Bina's album, a lullaby his mother sang to him when he was little
He says the best part of immigration is the perspective gained, specifically in Canada where you are exposed to the rest of the world. "One of my best friends is from Poland, one from the Netherlands and one from Korea. I don't think you can get that anywhere else. We all have a lot in common despite the geographical locations that we come from.  It was very special to study music, because that is also a common language," he says.
The hardest part of immigration? Being away from your family and not experiencing the time passing with them. And the food: "It's a different style of cooking!"
Behzadi is currently planning a recital with a pianist friend. Back in April he performed at the Sounding Together, Standing Together concert put on by the Faculty of Music.
"Music, literature, all of arts and culture have a very important role in combatting hate," he says.
"We have a fine health care system here, but mental health care is just as important as physical health. And arts and culture is part of that. Supporting arts and culture is an investment that the society makes in its mental health. The very act of music making has in itself a way of bringing people together. It goes beyond words and ideas, it's something that unites people".
Search The Bulletin Brief