This is your chance to see dinosaurs drawn by palaeontology illustrator from famed Reisz Lab
As a child, Diane Scott struggled with reading – until a trip to the Etobicoke Bookmobile revealed that she had been reading the wrong books.
Told to choose anything she wanted, the seven-year-old skipped the standard children's stories in favour of an illustrated guide to human diseases. The book proved to be the gateway to literacy for Scott. And the combination of science and images helped to set the course for a research career that has spanned nearly four decades.
Since 1979, Scott has worked as a researcher and graphic artist, documenting paleontological discoveries at The Reisz Lab at U of T Mississauga. A retrospective of her illustration work opened in May at Uof T Mississauga in the offices of the Master of Biomedical Communications program.
Exhibit curator and associate professor Dave Mazierski sifted through Scott's considerable catalogue of work to find examples of her evolving style and unusual specimens.
"Most of the drawings have been published, but if you're not involved in the research, you probably wouldn't have seen these images," Mazierski says, adding that three of Scott's earliest drawings had been taped to a window in the lab. "We wanted more people to see them and be aware that this work is being done here."
Scott, who has no formal artistic training, earned her bachelor of science degree in 1980 at what was then Erindale College. Beginning as an undergraduate summer student, Scott soon demonstrated her unique talents for detailed technical work and accurate observational drawings.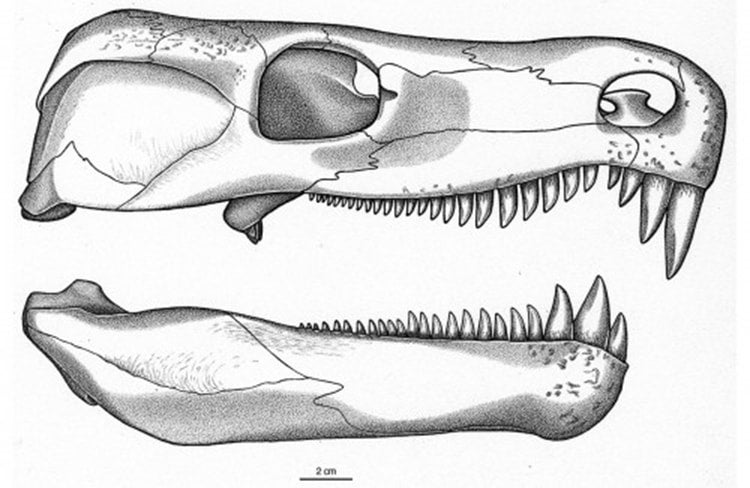 "In this field, there are people who are artists and there are people who are technical preparators, but there's only one Diane, who does both," says renowned biology professor and long-time collaborator Robert Reisz. "I don't know of anybody else who does what she does."
As a lab technician, fossil preparator and scientific illustrator, Scott is an anomaly. "I take the project from the beginning—I prep it, figure it out, draw it and reconstruct it," she says. "I'm not a PhD or a post-doc. It's very unusual for someone with my background to be allowed to do the things I do."
Scott and Reisz have worked together for 37 years in what both describe as a true partnership. Scott has dozens of publications and hundreds of citations to her credit. "It's a scientific conversation between Diane and myself," Reisz says. "When I have a perspective, I have to prove it to her and she challenges me constantly. I drive the research, but Diane is the one who executes and carries forward the work."
Scott receives specimens from around the world, and often doesn't know what she's got until the preparatory work is completed. She uses a small pneumatic tool to chip away layers of sediment and reveal the fossil underneath. It's painstaking work – Scott won't work with anyone else in the room for fear of vibrations. She once spent six months slowly uncovering a clutch of small Massospondylus eggs and embryos trapped in rock. "The eggshell was thin as two pieces of paper and the embryonic bone was so fine that when you wet it, it disappeared," she remembers. Over the years, she has developed a kind of sixth sense about what may lie beneath layers of sediment. "You almost get a sense of where the bones are," she says. "It's a fine line. You have to know when to stop."
Once the specimen is prepared, Scott uses micromeasurements and her vast knowledge to reconstruct what the animal might have looked like. "You have to figure out where one bone stops and another begins. You have to look for clues to help identify what kind of an animal it is. Sometimes, it's something new that we haven't seen before," she says. "There's no easy way of doing it."
Scott then draws the specimen. In the early days, she used a camera lucida to create precise renderings of what she saw. Part drawing aid, part optical illusion, the camera lucida is a device that reflects the image of an object through a prism, allowing the artist to see the object and the drawing surface at the same time. Peering into the camera, Scott used a fine stippling technique, something she likens to drafting, to ensure clear reproductions. The camera lucida has been replaced by a scanning electron microscope and Photoshop software, but Scott still draws by hand. She uses Coquille board, a paper with a pebbled texture that picks up soft wax and graphite conté pencil to create the stippled effect so necessary for print reproduction. "It's unforgiving and impossible to erase, but I love it because it's artistic," Scott says. With three decades of practice, she doesn't often make mistakes.
"As an illustrator, I've been impressed with how remarkable and beautiful these drawings are," Mazierski says. "You can see from one to the next how Diane's technique has evolved.  It's lighter in tone and more precise and more refined."
"She plays with light and the forms that light and shadow create to make the drawing clear, but she bends the rules where it suits her," Mazierski continues. "She's most concerned about the form."
Scott's enthusiasm for her work is infectious. She describes the Massospondylus eggs as "the cutest things!" and has a soft spot for a small, beaked hippo-like creature called a Dicynodont. "If this thing existed now, it would be the number one pet," she says.
"I never had to grow up," Scott says. "I'm always learning. I'm never bored. I always liked art and I liked science and I get to do both every day."
Visitors can view the exhibit from Monday to Friday between 8:30 and 4:30 in the Biomedical Communications hallway on the third floor of the Health Sciences Complex at the University of Toronto Mississauga until September 30, 2016.