'You will be one step ahead': Students from Turkey on why they chose U of T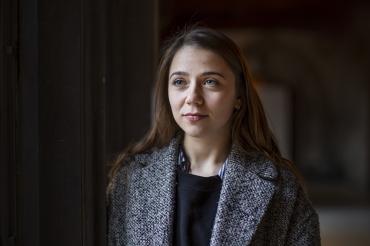 The number of Turkish students at the University of Toronto may still be relatively small – they accounted for just 223 of U of T's approximately 21,000 international students in 2018 – but their numbers can be expected to grow. 
More than 1,000 prospective students from Turkey applied to U of T last year, drawn by U of T's global reputation, high ranking and Canada's welcoming multicultural environment.
"I knew that it was one of the best 20 schools in the world," says Selin Gur, a fourth-year student at U of T Mississauga. "There are no words to explain my excitement when I received the acceptance letter from U of T."
In order to better understand the many facets of U of T's international student experience, Cansu Aydemir – herself a student from Turkey and an intern at U of T News – recently spoke with several students from Turkey about their studies, life on campus and what drew them to the university.
---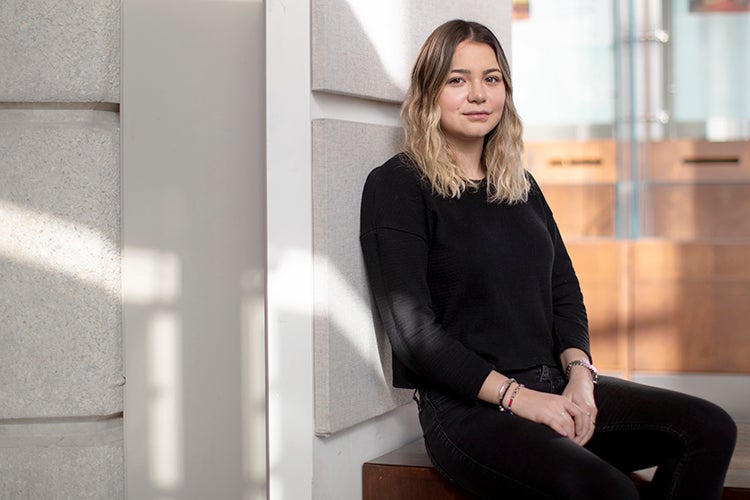 When Deniz Nalbantoglu finished high school in Istanbul, she says she had two options: study in Canada or the United States.
Nalbantoglu says she chose Canada because she felt the country was more open and welcoming towards international students. She chose to study at U of T because of its global reputation and ranking.
Now in her second year of studying industrial engineering, Nalbantoglu says today she has two homes.
"Home for me is where my family is and that's why Turkey – Istanbul – is home, but Toronto is my second home since I have a different kind of family here, with my friends," says Nalbantoglu.
For someone who "always aimed to be efficient in every part of my life, even in small tasks," industrial engineering has been a great fit, Nalbantoglu says. She loves the discipline's emphasis on productivity and efficiency, and says the field offers many opportunities, including in management.
"I didn't want to limit myself – and in industrial engineering there is no limit," she says. "I don't want to sit in an office all day and work with numbers. Industrial engineering is something that would allow me to use my social skills."
Engineering has challenged her, and helped her grow, she says.
 "At U of T, I started to clearly see what I can and can't do. For the first time in my life, I feel that I've achieved things. Back in Turkey, I have family – they always help – but here I am alone and I have to do everything by myself; stand on my own feet. I believe U of T made me more independent and boosted my self-confidence."
Asked about her favourite things in Canada and Toronto, she says, "people," without hesitation.
"It is very easy to communicate with people here," Nalbantoglu says. "People are very respectful, tolerant and helpful."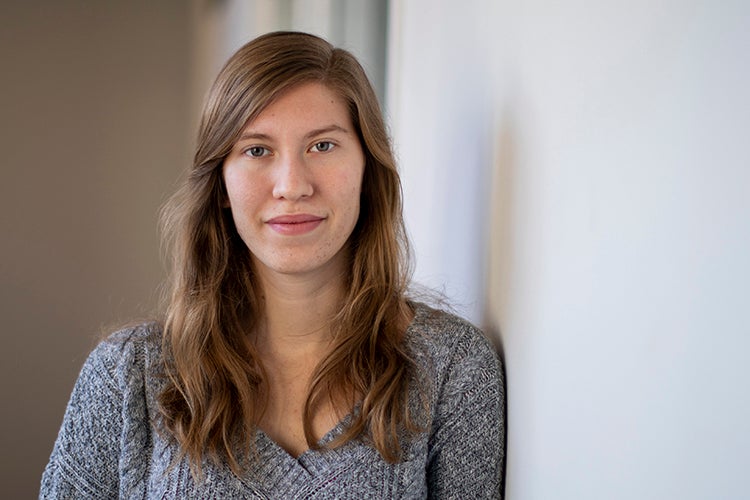 Zeynep Sanem Bekci knew she wanted to study in Canada – and U of T was at the top of her list.
Bekci, who hails from the Aegean coast city of Izmir, is now in her second year at U of T's Trinity College, specializing in biochemistry and minoring in immunology.  
 "It is a great country to live," she says. "It's home for many immigrants and that's why people are very open-minded here."
The academic opportunities at U of T were another big factor, she says.
"U of T offers many more opportunities than Turkish schools, especially for the subject that I study," Bekci says, adding that she is receiving significantly more lab experience here.
"I can go and talk with my professors and see these labs; I can do internships at these labs. I think it is one of the major pros of U of T," says Bekci.
She also appreciates all the opportunities students have to stay active on campus, like playing intramural volleyball and attending yoga classes.
Although she misses home – and of course, Turkish food – Bekci says she is happy with her new life here in Canada.
"The pretentiousness that you see in other countries, you don't see that here. People are more friendly and nicer. They help a lot too. When I have an issue, I know that once I ask someone, they answer, they help."
She encourages other Turkish students who are thinking about applying to U of T to take the step – so long as they don't mind the cold.
"I know it is far and the weather is different than what we are used to in Turkey, but it is a great country to live in, the city is great and the school is great. The school teaches you everything and offers many opportunities. If you don't mind the winters, it is just perfect."
After studying in French schools in Turkey for 13 years, Selin Gur says she realized she needed to pursue the "global language" of English in university.
She didn't know too much about Toronto, except that it was home to Drake. But she knew of U of T's global reputation – and says she applied without expecting too much.
Now  at U of T Mississauga, studying digital enterprise management, Gur says the early days were challenging.  "You can't go and visit your family and friends randomly when you live in a place that has a seven hour time difference with your home."
Alone, and facing a significant language barrier, Gur found frosh week to be a big help. The atmosphere was inclusive – and definitely global.  
"In Canada, everyone helps each other, without expecting anything in exchange. The most common words are 'thank you' and 'sorry.' People are nice, they are open and welcoming. In such an inclusive environment, it is impossible to feel like an outsider."
"More importantly, you don't only see Americans or Canadians here; there are people from all around the world, India, Pakistan, China, Russia, France, South Korea ... It is a multicultural heaven."
She says she has enjoyed living in residence and using the pool and fitness centre at U of T Mississauga, but she notes that her years at U of T have been rigorous.
"There is a reason why they call U of T 'the Harvard of Canada,'" Gur says. "You might face more hardships than your other friends back in Turkey. You definitely won't be able to see your loved ones whenever you want, but it will make you stronger, more responsible and mature.
"You will be one step ahead. Toronto, as a multicultural city, will change your worldview and expand your vision. During my first days in Toronto, I was too shy to say 'hi' to others. And now, here I am."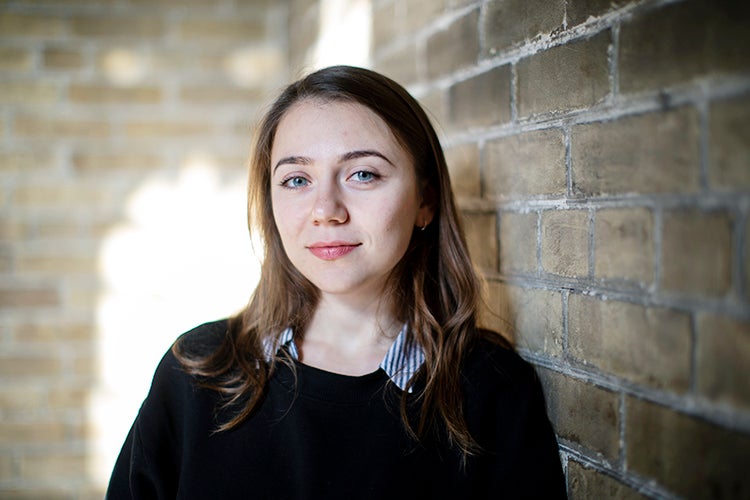 Selin Eksioglu was born in Canada and lived here until she was three, while her father pursued his PhD in Quebec. Although the family ultimately returned to Istanbul, she always knew she'd be back.
 "I think my parents regretted [leaving] and I think they keep asking, 'What if we stayed?' So for me and for my two brothers, we were raised with the idea of going to Canada."
Eksioglu says she chose U of T over other Canadian schools because of U of T's global reputation and the range of opportunities it offers.
Now in her fourth year at U of T Scarborough and majoring in political science with minors in history and sociology, Eksioglu says transitioning from a very small high school to a huge university in a different country was a challenge at the beginning. But getting involved in life on campus really helped.  
"I've lived in residence and they had a lot of opportunities to get involved – they had many events, which made me feel better," she says.
It took a while for Eksioglu to find her way. She started her studies in business administration but hit her stride after switching to political science.
"We talk about current events and apply the theories that we've learned," she says, adding the program is as rewarding as it is challenging.
"I was not used to being asked to think about something in so many ways, to build up my own arguments, and provide evidence," she says. "U of T has given me a whole new perspective."
Over the years, Eksioglu says she found the more she engaged with people, the better her experience.
"In U of T, you have the opportunity to research, observe or examine anything you wish and anything you want. There is always a professor who will help you through, there is always a professor doing research, there are events, student clubs. So everyone does something, the school always puts something forward for everyone else to join."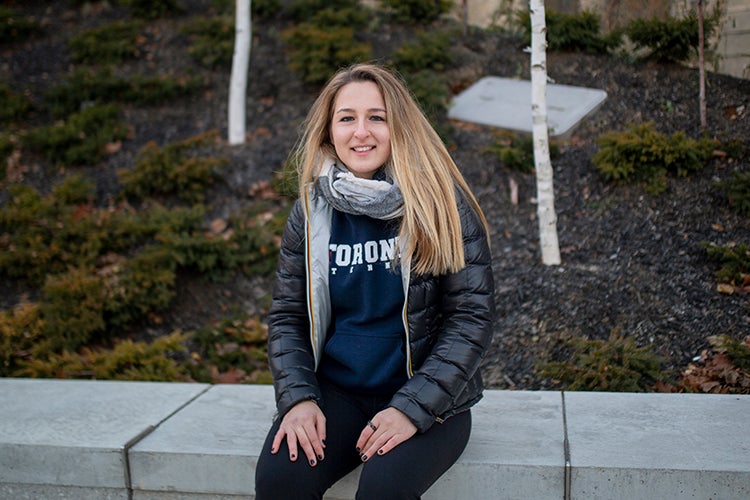 Alara Demirag wanted to be a professional tennis player until the age of 14, when she realized she had a passion for "creating something" and decided to become an architect.
Now in her third year at the John H. Daniels Faculty of Architecture, Landscape and Design, Demirag is specializing in the technology stream of architectural studies.
"I saw the opportunities here," Demirag says. "The job options are really good and the school has academically good standing."
Tennis has also remained a key part of her life – and U of T's tennis team was a big pull-factor, she says.
When she was first applying to universities, Demirag considered going to the U.S., but felt that being a college athlete would be a huge challenge there. At U of T, she believed, she could find a balance between her studies and tennis.
The Varsity team has helped her build a home.
"We have so many international players like me; they see you as a family member," she says.
Although Demirag is from Istanbul, she graduated from an American high school. She says U of T's ranking and global reputation were well known at the school, but she still had questions.
"I am coming from another culture, how am I going to communicate with them? How will they respond to me? Will I be able to make my jokes to them? How they will react?"
She says she found her answers quickly.
"People are really friendly, the place is very multicultural which is really amazing, and they treat people really nicely," she says, adding that U of T has proven to be a place where "you can change yourself, create a new individual out of yourself, you can reach your potential here."
Toronto is home now, Demirag says, but she connects with friends when she's home for the holidays.
"I miss my friends, but they are mostly studying abroad; so Turkey is kind of the meeting point for us now," Demirag says.
After she finished her undergraduate degree in mechanical engineering at Bogazici University in Istanbul, Nazli Eser Kaya chose Canada to pursue her master's degree in mechanical and industrial engineering. Her research focuses on driver distraction and attention.
"I'm really interested in people; what makes them think the way they do, what motivates them to behave the way they behave, and how their lives can be made easier through a simpler design," Kaya says. "Human factors engineering aims to design systems that leverage the capabilities of human operators while compensating for their limitations.
"My research focuses on driver attention and distraction at urban intersections by utilizing a state-of-the-art instrumented vehicle and eye-tracking equipment. For road safety, an in-depth approach based on human-centred design is a necessity."
 A fluent German-speaker, Kaya applied to German universities but U of T offered a scholarship and the opportunity to be a teaching assistant.  
"U of T engineering is one of the top schools among the worldwide universities," Kaya says. "Also, U of T and Toronto are so international – that makes me feel so comfortable, and that is not the case in Europe, for example."
Kaya has been in Toronto for more than a year and says the diversity makes it easy to feel at home.
"People don't judge you based on your religion or ethnicity," Kaya says. "Me being Muslim or Turkish doesn't affect how people perceive me."
Kaya says she has benefited from support offered to graduate students.  
"Since I came here, I have completed a lot of certificate programs, been involved with our department's graduate association – and there are so many networking activities, too, and they helped me a lot.
"Because I don't know many people here, I have to build connections and also do some networking to find a job after I graduate."
Students who are thinking of applying to U of T, but do not trust their English levels, should go for it, Kaya says.
"Don't be scared. I have taken many academic writing classes here for free; U of T gives a lot of resources to improve language skills."
International student Cansu Aydemir is an intern at U of T News. Originally from Turkey, she has lived in Toronto since 2012 and is now in her fourth year of studies at U of T where she is specializing in history and minoring in diaspora and transnational studies.
UTC