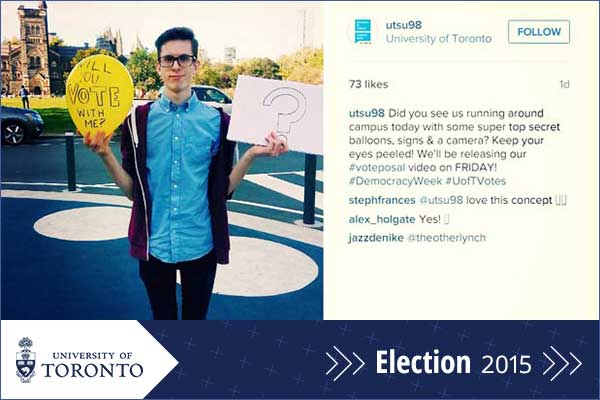 Year in Review: hosting the Pan Am/Parapan Am Games, getting out the vote and more
Celebrating the work of students, faculty, staff and alumni in 2015
In 2015, reporters at the University of Toronto shared stories of hope and progress, collaboration, innovation and discovery, from the launch of Medicine by Design to the expansion of the Scholars at Risk program. 
And, throughout the year, U of T News paid special attention to the many ways students, faculty, staff and alumni demonstrated President Meric Gertler's three priorities. 
From small kindnesses to big breakthroughs, here are some of the highlights of 2015:
Leveraging location
One of the president's key priorities is leveraging U of T's location in the GTA and building partnerships with other universities, governments, community groups and public agencies.
"It makes considerable sense for the University of Toronto to explore new and imaginative ways to take advantage of our three campuses in the Toronto region, and to deepen our relationships with our local partners – public, private, and non-profit," President Meric Gertler has said. 
"Working more closely with these groups to meet challenges and seize opportunities together, we will make this region a better place in which to live, work and prosper."
Among the actions the president took in 2015: adding his support to those calling for an end to the practice of carding and naming U of T's Shauna Brail (pictured below with urban studies students) his urban affairs adviser. (Read more about Brail)

The year also saw U of T helping to host the Toronto 2015 Pan Am/Parapan Am Games – with students, faculty, staff and alumni turning out to volunteer, take part in the torch relay, and even compete.
"The lesson I learned from Pan Am is to deliberately go to a sport you've never seen before," David Onley told U of T News. A senior lecturer and distinguished visitor at UTSC, Onley was U of T's Special Ambassador for the Toronto 2015 Pan Am/Parapan Am Games – and he had some great advice for people headed to the Parapan Am Games.
"I ended up seeing two evenings of fencing at the Pan Ams and, to be candid, I don't think I previously would have spent more than five seconds watching a fencing match on TV. But once I got to see it in person, it was enormously fascinating. The same thing with trampoline. Yes, it was great to see Rosie MacLennan and to see if she would win, which she did. But I'd never been to a trampoline event before. Go to sports you've never seen and prepare to be very surprised, because I certainly was."
(Photo of synchronized divers below by Ken Jones)
How else did students, faculty, staff and alumni help to build the city and strengthen its communities in 2015?
On Sept. 21, U of T and the three other universities in Toronto – York, Ryerson and OCAD – joined forces to produce StudentMoveTo, an unprecedented survey of post-secondary students focusing on their transit needs and problems. By mid-December, there were 13,000 responses, 7,000 from U of T.
Matti Siemiatycki, an associate professor of geography and expert on transit and infrastructure, helped design the survey and will be part of a U of T group analyzing the results in January. 
"We will get a really good picture of their travel habits across the region," Siemiatycki told U of T News. "We will have enough data to continue to engage with students, to push the conversation."
(Below: President Gertler and students at the launch of StudentMoveTO/photo by Johnny Guatto)
On Oct. 14, U of T's Institute on Municipal Finance & Governance played host to a question and answer session between Gertler and Toronto city manager Peter Wallace. At issue was how to help Toronto pay for its enormous infrastructure needs, including public transit. In December, Toronto Mayor (and U of T alumnus) John Tory proposed a "city building tax" of 0.5 per cent. Enid Slack, director of the Institute of Municipal Finance & Governance, called this "a good start" but suggested that borrowing will also be necessary.
Tory also told U of T News that he has talked to Gertler about more collaboration. U of T employs hundreds of experts on urban affairs and these experts can be of service to the city of Toronto. "It is quite sensible," Tory said. "The better the city is, the better U of T is, and vice-versa."
2015 also saw the creation of CivicSpark, a student-driven group focusing on urban issues in the GTA (read more about CivicSpark) as well as the launch of a bold plan to reclaim a 1.75 kilometre stretch under the Gardiner Expressway for public use – thanks to U of T alumna Judy Matthews. (Read more about Project: Under Gardiner) As well, cities expert Joe Pennachetti joined U of T.
And few stories garnered as much attention as U of T's own plans to transform its downtown Toronto campus.
Federal politics, of course, were at the forefront in 2015. Tony Dean, a professor in the teaching stream at the School of Public Policy and Governance, praised the new federal cabinet (which includes five U of T alumni) as "a government with a completely different style, one that is more open and inclusive." 
"Typically this country has been run by white males,"added David Soberman, a professor at U of T's Rotman School of Management. "The reality is that white males represent a minority of the Canadian population."
U of T students worked hard to get out the vote – no matter the party or platform. The video below was one of the most popular pieces of our Election 2015 coverage:
Strengthening International partnerships
In 2015, Gertler also spoke of the importance of an international strategy with goals that include strengthening institutional partnerships, increasing student mobility (both outbound and inbound) and student recruitment. And he appointed University Professor Janice Gross Stein as senior presidential adviser on international initiatives.
"The opportunity to live and study in a foreign setting is one of the widely acknowledged ways for students to develop and expand their horizons by deepening their understanding of and appreciation for other cultures and places," Gertler said.
International Research
2015 saw U of T's Asian Institute launch the Asian Pathways Research Lab where, according to Professor Joshua Barker, "Students in our undergraduate major will benefit from a newly enhanced curriculum with a significant experiential component, allowing them to conduct primary research in Asia and on Asian topics closer to home." 
The Arts & Science International Course Module program sent students to settings such as Myanmar for intense on-site instruction in societal structure and human needs. (Read more about students in Myanmar). And, in December, Professor Joseph Wong of political science flew to Brazil with three undergraduates to find out why the Bolsa Familia social welfare program is so effective at delivering funds directly to the poor. (Read more about undergrads in Brazil.)
And the university's international reach was also apparent through research initiatives with profound implications for the wider world. Cynthia Goh and the Impact Centre announced the development of a ceiling-mounted solar-powered lamp that provides 500 lumens of light for four hours, an extension greatly needed in equatorial areas such as the Philippines, where the sun sets promptly at 6 and rises 12 hours later. (Read more about the solar-powered lamp.)
Refugees
U of T experts also brought their international research strength to bear on such intensely watched developments as ISIS and the crisis in Syria and Iraq. Across the university, roundtables and conferences addressed these issues - U of T's Munk School of Global Affairs even held two panel discussions on the same day.  
Professor Randall Hansen told U of T News that Canada should accept 100,000 refugees, not just the 25,000 the federal government has agreed to. Professor Aisha Ahmad, a Munk School specialist in international security, said Canada should not alter its commitment to accepting refugees in the wake of terror in Paris. "[That attack] was intended to force a reaction," she said. "Staying the course on refugees is critical."
Canadian government policy, she added, should be based on "evidence, reason and maximizing our security interests while staying true to our Canadian values."
Students shared their expertise on the worsening plight of refugees in Turkey and the struggles of Syria's lost generation. President Gertler announced U of T would partner with York University and OCAD University to join in a Ryerson University initiative to bring refugees to Canada. (Read more about the project.) And, across the university, staff, faculty, students, alumni and neighbours came together because as the Faculty of Law's Kristin Marshall said: "This is not just a government project, this is our project." (Read more.)
(Image below of girl in a refugee camp in Jordan by Number 10 via Flickr)
Rankings 
Perhaps the most visible evidence of the University's international status could be found in the global rankings where U of T continued to place top in Canada and among the best in the world.
The Global Employability University Survey ranked U of T grads among the top ten most employable in the world (placing U of T third among the world's public universities). And U of T was ranked 16th overall in the world by U.S. News and World Report; third by the National Taiwan University Ranking based on scientific paper performance; 19th globally by Times Higher Education and among the top 50 universities of the world for innovation by Reuters.
U of T's high rankings result in part from collaborations with other leading universities around the world. This past year saw new partnerships with Peking University, Technion Israel Institute of Technology, the UK Regenerative Medicine Program and Sweden's Karolinska Institutet on the $114-million Medicine by Design initiative. A further collaboration with researchers from Ivory Coast, Italy, Saudi Arabia and Mozambique ackled a blight that has devastated coconut crops in Africa.
Re-imaging undergraduate education
In his discussion paper on U of T's three priorities Gertler talked about the importance of re-imagining undergraduate education and emphasizing research-based, experience-based and international learning.
"Over the past 10 plus years we have dramatically scaled up the number of research opportunities for undergraduates," Gertler said, "championed experiential and service learning and expanded the range and variety of international experiences available to our students. We need to build on these successes and maintain this momentum.
"Participating in research provides a valuable opportunity for students to develop key skills – to enhance their problem-solving ability and creativity, to foster their capacity for team work and to sharpen their communication skills (both written and oral)."
2015 was full of examples of U of T students leading the way, from the record number of female students in first-year Engineering, to the UTSC and UTM undergraduate students awarded 3M scholarships and the three undergrads from the downtown Toronto campus (pictured below) who were recently named Rhodes scholars. 
Some of the world's leading researchers teach undergrads at U of T, ensuring students learn from the very people leading breakthroughs in their fields. (Read about Professor Aneil Agrawal.) But throughout 2015, undergrads also seized the opportunity to take part in research themselves. 
From OTI Lumionics to Nanoleaf, ultra-efficient lighting startups from U of T shone brightly in the firmament of U of T innovation in 2015. And current U of T undergrads found internships at Nanoleaf, the company developed by Engineering alumni Gimmy Chu, Christian Yan and Tom Rodinger that has grown from Kickstarter beginnings in 2013 to an international company.
Frank Gu, Josh Hwang and Jeanny Yao – undergraduates all – served as Nanoleaf interns in 2015. Gu was only in his second year as an electrical and computer engineering student when he dropped off a resume at the 2015 You're Next career fair.
"Gimmy worked on the Blue Sky car almost a decade ago, and I am an active team member of the Blue Sky team," Gu notes, referring to the successful solar-powered racing car club. Hwang and Yoa both arrived at Nanoleaf through the Impact Centre, one of nine accelerators operating under the aegis of the Banting & Best Centre for Innovation & Entrepreneurship. 
Not all undergraduate energy is channeled through science and technology. U of T finalists in the 2015 Undergraduate Awards Global Summit in Dublin included papers on the role of botany in Spenser's The Faerie Queen, the misunderstandings that led to American involvement with the 1971 India/ Pakistan crisis and the significance of post-apocalyptic literature on environmental law. 
And as universities across the country took steps to support mental health for students, students and administrators across U of T launched projects and services aimed at boosting morale and mental health. (Read about UTSC's Karen Young and Minds Matter.) 
And, once again, U of T's alumni were there to lend a hand. (Read about the alumni suporting mental health at Trinity College.) 
Can't get enough highlights of 2015? Check out the social media team's favourite moments of the year:
What will the next year bring? Take a look at these stories from U of T News beat reporters Arthur Kaptainis, Terry Lavender and Alan Christie: