Mourners at the funeral service for some of the victims of the deadly shooting at the Quebec Islamic Cultural Centre in Quebec City on Feb. 3, 2017 (photo by Alice Chiche/AFP/Getty Images)
It's been a year since a gunman entered a Quebec City mosque and killed six men – a shooting that rattled a nation that often prides itself on accepting diversity.
As Canada looks back at the Jan. 29 shooting, hashtags like #SouvenezVous29Jan, or #RememberJan29, have emerged, along with calls for the day to be marked as a national day of remembrance and action on Islamophobia.
Three University of Toronto experts spoke to U of T News, reflecting on Islamophobia in Canada, why prosecutors did not pursue terrorism charges in the mosque shooting and how Canada needs to address anti-Muslim sentiment in its midst.
Chris Cochrane is an associate professor of political science at U of T Scarborough, tracking public opinion about Muslims and diversity. Aisha Ahmad is an assistant professor of political science at U of T Scarborough and the Munk School of Global Affairs. Anver Emon is a professor and Canada Research Chair in Religion, Pluralism and the Rule of Law at U of T's Faculty of Law.
Along with vigils and remembrances across the city, U of T's Centre for Ethics is hosting a flash event on Jan. 29, titled The Quebec City Mosque Shooting: What Have We Learned? Mohammad Fadel, an associate professor in the Faculty of Law, and Cochrane are two of the three speakers at the panel discussion that will explore what, if anything, Canada has learned from the shooting.
 On Jan. 30, the Muslim Students' Association, the Multi-Faith Centre and Hart House are organizing a prayer and panel discussion, One Year Later: Islamophobia & the Quebec Mosque Shooting.
---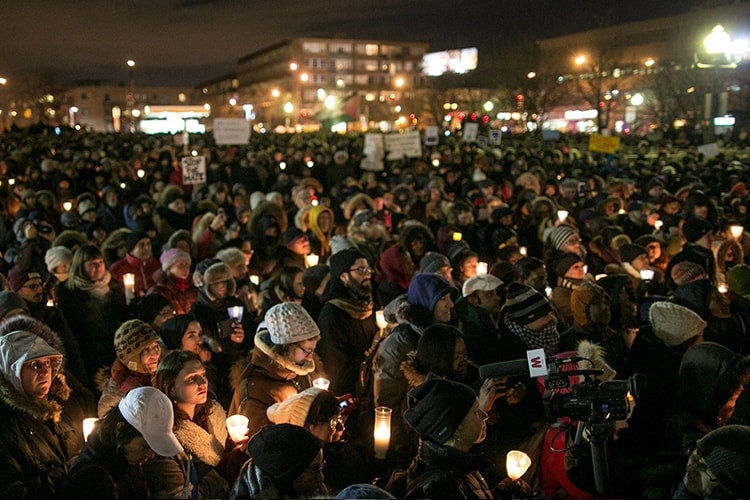 Montrealers gathered last year to pay respect to the victims of the mosque shooting (photo by Amru Salahuddien/Anadolu Agency/Getty Images)
How bad is Islamophobia in Canada compared to other countries? How vigorously has the Canadian government tried to combat Islamophobia?
Chris Cochrane: A good place to look for an answer to this question is the World Values Survey, which interviews thousands of people from many different countries all around the world. The World Values Survey used to include a question where the interviewer would pass the interviewee a piece of paper with a list of groups on it, and then ask them to indicate which of these groups they wouldn't want as neighbours. The groups on the list included Jews, Christians, people of a different religion, immigrants, people of a different race, Muslims, and so on. No matter how the data were sliced, Canadians were consistently among the most tolerant respondents. In 2000, for example, just over 5 per cent of Canadians said that they wouldn't want a Muslim (or an immigrant) as a neighbour, compared to 11 per cent who said the same about Muslims in the U.S. and 13 per cent in Spain, 20 per cent in Belgium, and much higher still in other countries. 
There were signs that things were changing for the worse in the 2005 World Values Survey, where every country except Canada stopped asking altogether the question about having Muslims as neighbours. In Canada, levels of anti-Muslim opinion increased everywhere, but especially in Quebec. In 2005, about one in five Quebec respondents said they didn't want a Muslim as neighbour.  More recent data indicates that this basic pattern has persisted.
In the 2015 Canadian Election Study, 14 per cent of Canadians expressed a clearly negative opinion about Muslims, compared to 4 per cent who expressed negative opinions about Indigenous people and racial minorities, and 6 per cent about immigrants. Respondents in Quebec were the most likely to express a clearly negative view about Muslims, where more than one in five respondents said they disliked Muslims living here, and almost 10 per cent said they "really disliked" it.  (By the same measure, 11 per cent of Ontarians said they disliked Muslims living here, and 3 per cent said they really disliked it.)  Nonetheless, most Canadians, including most Quebecers, say they like having Muslims as neighbours, and there are more than three times as many Canadians who say they "really like" Muslims living here as who say they "really dislike" it. Of course, much of this also depends on what one means by Islamophobia. Canadians, by and large, have mixed opinions about face coverings, for example, where public opinion in Canada is evenly split outside of Quebec, and slants heavily (80-20) against face coverings inside Quebec.    
Aisha Ahmad: The hard truth is that Canada – and particularly Quebec – has an Islamophobia problem. The social scientific data that my colleague Chris Cochrane highlights is astonishing. Security research shows that violent alt-right, white extremist groups have proliferated in recent years and have been emboldened by leaders who use racist rhetoric, scapegoating and policies to shore up political support from their base. White supremacist terrorism perpetrated against Black, Indigenous, Muslim and immigrant communities, however, is typically characterized as an isolated incident, rather than as a serious security problem. Yet, we have a tonne of statistical and empirical data demonstrating that these are systemic patterns. Addressing this reality is a moral challenge, and one that requires moral leadership. 

Police arrest a demonstrator during a counter-protest against Islamophobia and fascism in downtown Toronto on March 19. The protest was over M-103, the motion put forth by Liberal MP Iqra Khalid to condemn Islamophobia (photo by Creative Touch Imaging Ltd./NurPhoto via Getty Images)
Anver Emon: I worry about the comparative question because, all too often, it's asked in the hopes that we can all feel better that "we" (i.e. Canadians) are not as bad as "them." This results in a certain schadenfreude, where someone else's misfortune makes us feel better about ourselves. This is hardly a basis by which to build a policy against discrimination. It's rather an ethic of not taking responsibility. Having lived in Canada now since 2005 and naturalizing in 2014, I have found Canadians generally allergic to any suggestion that they, or their country as a whole, participate in systemic forms of discriminatory behaviour. The dominant image of discriminatory behaviour is the outward, expressed hostility toward a marginal group. But the fact is that very few indulge this kind of hostile rhetoric. It's not the kind of discrimination that I am interested in addressing.  I'm interested in the systemic form of racism and discrimination, in this case against Muslims. We see systemic forms of discrimination all around us. Obvious examples are the incarceration rates of visible minorities and Indigenous peoples in comparison to whites.  The question is whether we can also identify sites of systemic discrimination against Muslims. It seems that simply asking the question gets people up in arms.
Indeed, the Government of Canada tried to ask that question when the Liberal government passed M-103 last year, calling for a study on systemic racism and discrimination, including Islamophobia. That motion – not a bill – simply asked the Standing Committee on Heritage to conduct a study. In fall 2017, I appeared before that committee, only to have my testimony cut short. In preparing for my testimony and watching the hearings, I was struck at how the partisan processes of our democracy allowed our public officials to escape any responsibility for using the Committee Hearing room as a space to promulgate hateful speech against Muslims. Witnesses to these House of Commons committees are selected by the respective parties (Liberal and Conservative), and it was surprising to see avowedly Conservative selected witnesses appear before the committee espousing hate and suspicion of Muslims. Indeed, the Conservatives went so far as to bring in a witness with clear and distinct ties to foreign donors in the U.S. who had a hand in the disinformation campaign in Germany, and thereby supported the rise of the extreme right party AfD. I've written on this particular witness and the challenge inviting people like her poses to our democratic space. The more we allow our political leaders, under the guise of process, to create space for such hateful speech, then we must acknowledge that the Government of Canada's fight against Islamophobia is a mixed bag at best.  
Nor can we view that motion in isolation. In the same year, the Liberal government allocated $30 million to a new program in public safety to combat radicalization in communities. These sorts of programs, commonly known as Combatting Violent Extremism (CVE), have proliferated in Europe and the U.S. since 9/11. And all of them employ the paradigm of the Muslim radical as the model for their analysis. Across the U.S., U.K. and elsewhere, the model of the Muslim radical is quite similar: Racialized, young and susceptible to extreme ideologies.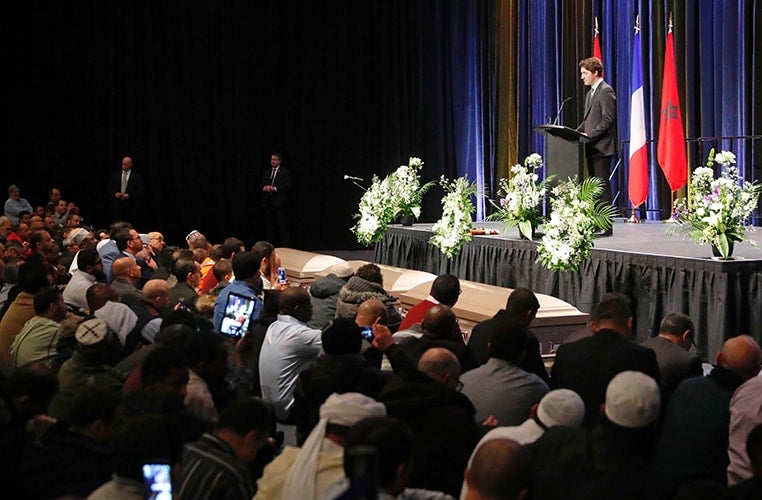 Canadian Prime Minister Justin Trudeau spoke at the funeral service for three of the victims of the Quebec mosque shooting (photo by Mathieu Belanger/AFP/Getty Images)
Were the charges in the Quebec shooting sufficient? What can Canada or Canadians do better to address the issue?
Aisha Ahmad: Many Canadians expected the mass slaughter of Muslims in a Quebec mosque last year to be treated as terrorism. The alleged attacker had specifically targeted Muslims, had propagated anti-immigrant extremist materials and had expressed support for anti-Muslim politicians. As such, the attack arguably meets the criteria of "terrorist activity" under section 83 of the Criminal Code, which defines the phrase as an act that is committed for a political, religious or ideological purpose, objective or cause with the intention of intimidating the public, or a segment of the public that intentionally causes death or serious bodily harm to a person by the use of violence. Prime Minister Justin Trudeau himself categorized it as terrorism.
So, why did the charges not include terrorism? The reasons behind the Crown's decision appear twofold: First, to increase the prospect of conviction, and second, to impose the maximum penalty allowable upon conviction.
First, under 83.18 (1) of the Criminal Code, the indictable offence of terrorism pertaining to participation in or contribution to a terrorist group, the wording may impose a burden to prove that Alexandre Bissonnette, who was charged with six counts of first-degree murder and six counts of attempted murder while using a restricted firearm, was acting as part of a group, whereas he appears to have only been inspired by extremist group ideologies. As well, the Crown also bears the onus of proving – beyond a reasonable doubt – that a political or religious purpose motivated the attack. This might seem obvious to us, but such motivation would be harder to prove in court, and it would thus be more challenging to convict him on a terrorist charge. The prosecution therefore seems to be trying to avoid the possible pitfalls of the terrorism charges and instead come out with a solid win on the murder charges alone. 
Second, the Crown prosecution chose to lay multiple first-degree murder charges because they impose stiffer and longer penalties. A first-degree murder conviction carries an automatic life sentence with no chance of parole for 25 years. Because there's multiple murders, there is also a chance that the prosecution will ask for the sentences and parole eligibility periods to be stacked. In short, the prosecution is going for maximum punishment.
Nonetheless, because the root cause of this horrific violence was anti-Muslim hatred, the fact that there were no terrorism charges sends an ugly message to Canadians. We need to reflect on how the terrorism label is readily used to describe violent incidents involving Muslims, but rarely applied to white supremacist violence. While there are some rational reasons why the prosecution might have chosen the easier road, dropping the terrorism charge also sent a signal to Canadians that bodes ill. If the justice system fails to be even-handed in laying terrorism charges across ethnic and cultural differences, it will undermine confidence in the system. This is a frightening prospect for all Canadians.
Anver Emon: I was not surprised by the charges in this case, which is not to say I wasn't upset by them. When lone-gunman Michael Zehaf-Bibeau, of both Libyan and Canadian heritage, attacked Parliament in 2014, then Prime Minister Stephen Harper shortly rolled out bill C-51 saying that Canada faced the threat of international jihadi extremism. But when Alexandre Bissonnette, a white male enamoured by the alt-right white nationalism movement, was accused of being the lone gunman who killed Muslims at a mosque in Quebec, he faced murder charges, but not charges of terrorism, despite the fact that Prime Minister Trudeau labelled it a terrorist attack.
So why was I not surprised? This is where Canadians need to have a broader, more poignant conversation about race, class, and identity in the formation not only of their politics, but also in their law and legal system. I am aware some decry identity politics is a form of political correctness that demeans the vibrancy of our democratic space. I would argue that the problem with the conversation on identity politics is that they remain framed in individual, liberal terms, without due regard to the systemic implications of identity on how we govern, how we legislate, and how we profess our views in the media.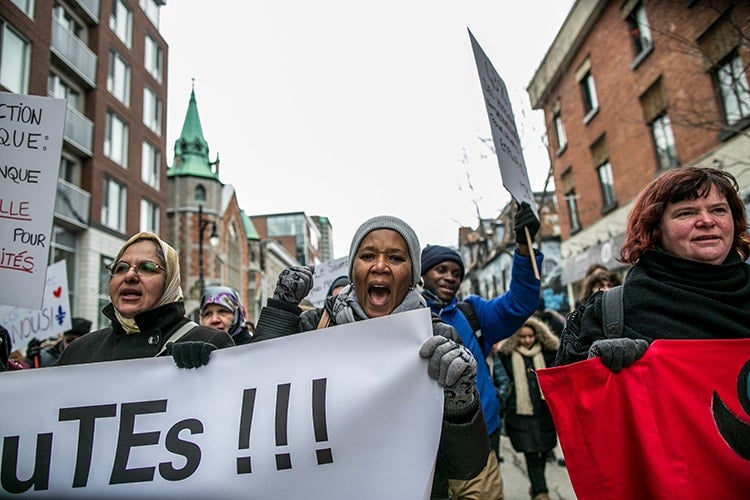 Protesters during a march against racism and Islamophobia in Montreal, Canada, on March 26. The House of Commons had just passed an Islamophobia motion, known as M-103, three days before, calling on the government to condemn Islamophobia and all forms of systemic racism and religious discrimination (photo by Amru Salahuddien/Anadolu Agency/Getty Images)
How far has Canada come in terms of legislation to fight Islamophobia?
Anver Emon: There is no legislation to fight Islamophobia. There was only M-103, at the federal level, which was a request to study systemic discrimination, including Islamophobia.  We are still waiting to see what the results of those hearings have been. But I suspect that the Liberals and Conservatives will espouse two different views, thereby creating more confusion that will be too politically costly to harmonize. 
Ontario's Anti-Racism Directorate, however, has developed a robust program on combating systemic racism, and it has incorporated into its scope of work a concern about Islamophobia. I would focus more at the provincial level than the federal to see possible positive outcomes.
Chris Cochrane: If we're asking about resources to crack down on, monitor, and/or disrupt people who make and distribute hate speech, that's one thing. There is plenty of information circulating on social media which seems to exist for no other reason than to encourage the depravity we saw last year in the Quebec City mosque attack.  I don't know who's creating this information or why they are doing it, but I hope the government knows who they are. 
But if we're asking about public opinion, legislation is not going to change how people think about Muslims, not least because the government can no longer restrict information flows as it could in the era of radio and television broadcasting, but also because the heavy hand of the law is exactly the wrong place to look for a solution to the problem of public opinion. If anything, I think the highly publicized initiatives and airings of grievances that governments have orchestrated may have made things worse, not better.
My advice would be for the government to focus on the information supply side, on getting the stories out there. The government could and should do a better job of highlighting the contributions that all sorts of Canadians have made to this country, including Muslim Canadians. It's important for people to see others, and themselves, in the success of the country. If people see themselves in some of these stories, perhaps they'll be more likely to appreciate the stories of others as well. 
Should we mark Jan. 29 as a national day of remembrance?
Anver Emon: I suspect that many, though not all, Muslims (and supportive allies) across Canada will support such an idea. But even if you and I agree that we "should," we must first ask if marking Jan. 29 as a national day of remembrance will do what such national days of remembrance are designed to do. When Canadians observe Dec. 6 as a National Day of Remembrance and Action on Violence Against Women, we say as a collective whole that we will not tolerate anti-women violence. The flip side of this observance is that we also, collectively, stand against those (including Canadians) who would espouse such hate or violence against women. 
So, if we were to have a national day of remembrance for the Quebec Mosque massacre on Jan. 29, can we realistically presume that most Canadians nationwide will stand against anti-Muslim, Islamophobic violence? We cannot ignore the fact that some, if not many, Canadians, imagine Muslims as foreign, racialized and religiously deviant. Indeed, religious deviance is a trope of Islam and Muslims among some Christian Evangelical sects, who also happen to vote Conservative. For as long as these views remain pervasive and are milked for electoral gains, our electoral politics make it unlikely that such a holiday will enable the kind of observance that such days of remembrance are meant to engender. It seems to me that Canada, like the United States and Europe, remains divided on the place of Islam and Muslims in the life of our country.

Members of the Holy Blossom Temple form a ring of hope around the Imdadul Mosque in North York in a show of solidarity with Muslims in the days following the Quebec mosque shooting (photo by Bernard Weil/Toronto Star via Getty Images)