Wynne champions diversity in STEM during visit to U of T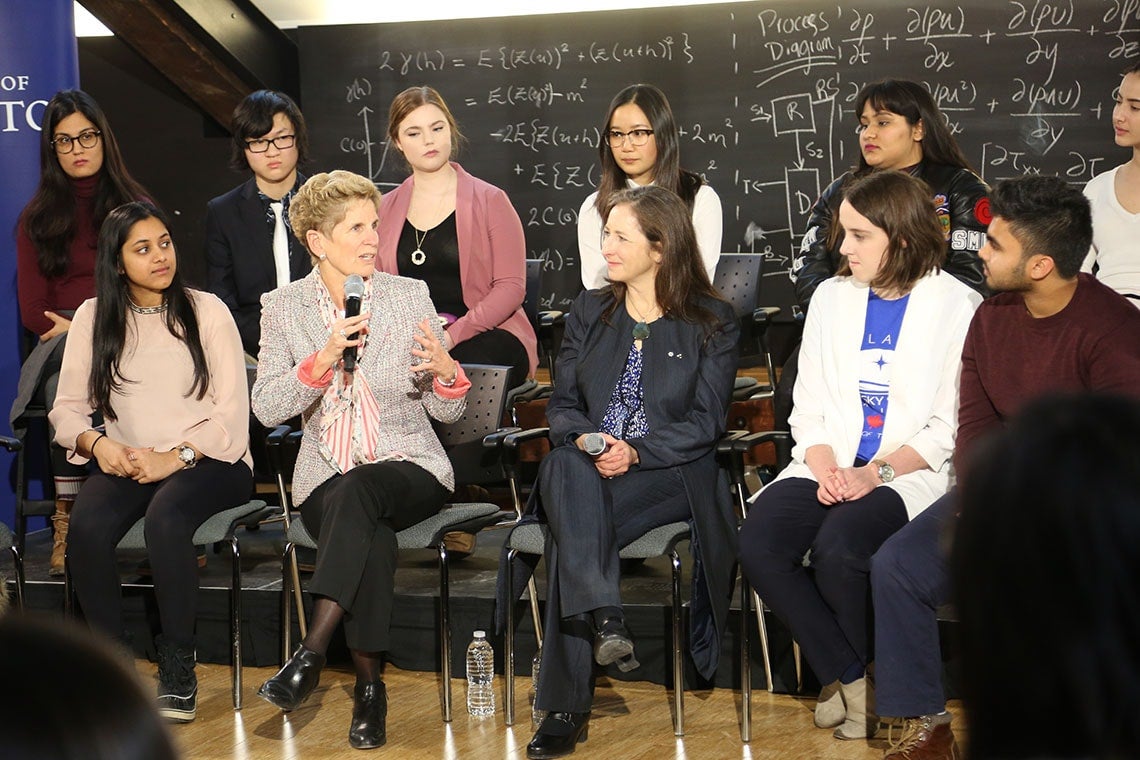 Ontario Premier Kathleen Wynne visited the University of Toronto this week, speaking with Faculty of Applied Science & Engineering students about the challenges and opportunities they face and the importance of diversity in STEM disciplines.
Wynne began her visit at the site of the Centre for Engineering Innovation & Entrepreneurship, which will officially open in April. She met with Angela Schoellig, an assistant professor at the University of Toronto Institute for Aerospace Studies, who spoke about her research to develop algorithms for autonomous flying robots, and with Jennifer Drake, an assistant professor in the department of civil engineering, who presented her pioneering work on water-permeable concrete for urban environments.
The Premier also took a tour of Polaris, the Blue Sky Solar Racing team's latest vehicle, and a number of projects – including sounding rockets and a microsatellite – from the University of Toronto Aerospace Team.
The demonstrations were followed by a town hall-style meeting in the Lassonde Mining Building, with an audience of more than 50 U of T engineering students.
"When we think about the challenges we face today, whether it's climate change, big data or health, we can't help but think about science and engineering," said University Professor Molly Shoichet, Ontario's first chief scientist, who moderated the discussion. "It's exciting to have these conversations about how we can harness our collective brain power, and bring the diversity of our cultures and genders into the conversation to solve these problems."
Over the next hour, Wynne heard from students about a wide variety of topics, from hydro pricing to artificial intelligence, and from mental health on campus to diversity in STEM (science, technology, engineering and mathematics).
One theme that emerged was the need to overcome barriers for groups who have been traditionally under-represented in STEM, including women, Black and Indigenous students. Wynne spoke of the current "non-systemic approach" to enriching diversity: While many universities and organizations have outreach programs designed to help people in these groups see themselves in STEM, they don't exist everywhere and are often are not co-ordinated with the provincial education system.
"I think it starts long before high school, when little kids get messages about what it's OK for them to do and not to do," said Wynne. "When certain groups feel that certain avenues are cut off to them, that skews the participation rate."
Wynne and the students agreed that some of the barriers to diversity in STEM are embedded in the wider culture, and that ongoing work will be required at many levels – parenting, the education system, employment standards – to change them. Still, there are steps that governments and institutions can take to lead by example, including more equitable representation on their boards of directors and examining systemic biases within their hiring practices.
"My intention as a politician is to work to level the playing field so that everyone can be at their best," said Wynne. "That's how the province is going to thrive."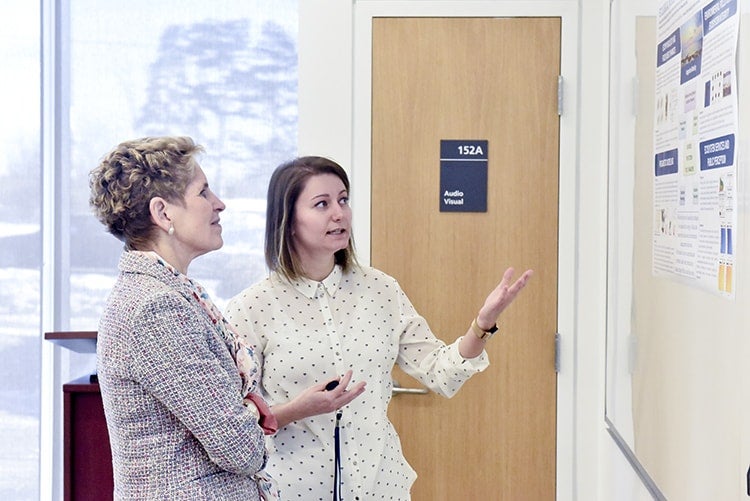 Kathleen Wynne met with graduate students about their research while visiting U of T Scarborough (photo by Ken Jones)
Wynne also visited U of T Scarborough, where she met with graduate students in the department of physical and environmental sciences and heard presentations about their research. She also met with undergraduate students about the benefits and challenges of pursuing higher education in Ontario.
"It's important that policy-makers know that we do a lot of diverse work in our department ... topics that are really relevant currently in science," said Ariola Visha, a graduate student in the Arhonditsis Ecological Modelling Lab. "You have climate change, you've got mercury contamination, you've got agro-forestry. It just means a lot that science is being heard and that science has a voice."
With a file from Raquel Russell 
Engineering