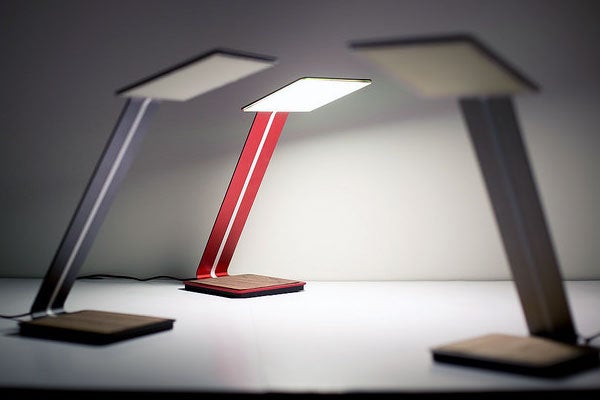 World's first consumer-ready OLED lamp
New product from alumni startup OTI Lumionics gives investors a glimpse of technology's potential
If you visit the lighting section of your nearest hardware store, chances are you'll be bombarded by the latest mega-efficient LED bulbs – but to alumnus Michael Helander, that technology is old news.
Helander and a team of former U of T Engineering students recently released the world's first organic LED (or OLED) lamp, aerelight™. The product harnesses the power of next-generation OLEDs to emit a warm light from a thin sheet of non-toxic, carbon-based materials.
The lamp uses less energy than traditional sources, providing up to 1,000 lux of illumination – double a typical office environment – with only seven watts. It also features a dimming capability, wireless smartphone charging built into the base and, of course, an advanced OLED panel. (Read more about aerelight.)
OLEDs are a sophisticated type of light-emitting diodes that pass electricity through carbon-based dyes and pigments to power lights and displays. While we've seen this technology in certain high-end smartphones and premium flat-panel displays, this is the first consumer-ready indoor OLED lighting product ever made.
"We started with a goal of building the aerelight desk lamp, first as a great product, and second as the first consumer-ready OLED lamp," said Helander, who co-founded OTI Lumionics to commercialize OLEDs in 2011. The startup manufactures the lamps in-house, and is scheduled to ship them to consumers in early 2015.
"With traditional light sources, the bulb is a distinct separate entity from the fixture," said alumnus and OTI senior product designer Ray Kwa. "With aerelight, I wanted to create a seamless, continuous frame integrating the base, frame and light – synonymous to the OLED light source itself which emits a diffused, fluid soft light."
Although the lamp's efficiency and sleek design are already making media headlines, aerelight is actually part of a much greater strategy from OTI to make OLED technology cheaper and easier to manufacture.
"OLEDs have many unique characteristics that make [them] the ideal light source of the future, but potential growth has been stifled by the high manufacturing costs," said Helander.
In 2011, then-PhD students Helander and Zhibin Wang, along with their supervisor Professor Zheng-Hong Lu, discovered a new method for cost-effective production of OLEDs. Publishing their work in the leading journal, Science, the trio used a single-atom-thick layer of chlorine that simplified the internal structure of OLED technology, while still achieving high brightness and efficiency.
Shortly after the breakthrough, Helander and other U of T Engineering alumni spun off the technology into OTI – taking their ideas to the University's elite accelerator program in the Creative Destruction Lab, based at the Rotman School of Management. Over eight months, they honed the necessary technical and business aspects of their company, while also meeting with Canadian business and entrepreneurship titans.
The fledgling startup has already received significant interest from notable investors, including Lee Lau, ATI Technologies founder and a G7 fellow at U of T's Creative Destruction Lab, and Roger Martin, former Rotman School of Management dean.
"This is a great example of how new materials like OLEDs can be showcased in a product that represents a paradigm shift in indoor lighting and sustainable technologies," said Professor Jun Nogami, chair of U of T's department of materials science and engineering.
With their first product hitting desks soon, Helander and his team at OTI continue to make OLED technology more accessible than ever – suggesting a bright future is in store for them as well.
See aerelight for yourself: