Work-study students to provide U of T professors with tech support this fall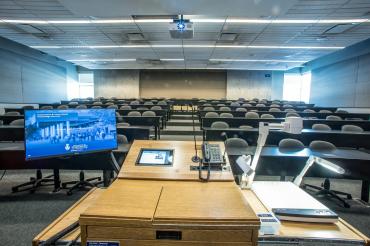 The University of Toronto has launched a new pilot program that will pair instructors with work-study students to provide their classes with tech support during the fall semester – part of a broader effort to foster technological and instructional innovation in the classroom.
The Tech2U pilot will see 125 student ambassadors on the St. George campus provide instructors with technical assistance in both virtual and in-person classrooms. The initiative comes as instructors and students prepare for a safe return to campus after 18 months of remote learning.  
Dwayne Benjamin, U of T's vice-provost, strategic enrolment management, said that assigning students as dedicated classroom tech-support specialists will make for a smoother teaching and learning experience this fall.
"I've taught for 30-something years, but it's only when I was chair of a department and had to sit in the back of the classroom to watch and assess instructors that I got the perspective of a student – i.e. 'the sound isn't very good,' 'I can't hear the instructor' or 'I can't see the screen very well because a bunch of people's heads are in the way,'" says Benjamin, a professor and former chair of the department of economics in the Faculty of Arts & Science.
"So having a student actively engaged as a co-pilot to advise the instructor and make sure the technology is working in the classroom is incredibly important. The students in the classroom benefit because if the technology works better, the classroom experience is improved."
The Tech2U classroom ambassadors will help with both in-person and online courses in order to cater to the needs of faculties and divisions as they tailor their course delivery plans to suit their circumstances – part of U of T's comprehensive 12-step plan to prepare for the fall semester.
The pilot is being run by Learning Space Management and the Innovation Hub at U of T Student Life. Students will be assigned to teams of 10, each supported by newly hired, full-time technical co-pilots who will provide coaching and technical expertise. The teams will be supported by a coordinator from both Learning Space Management and the Innovation Hub.
For classroom ambassadors, the program is an opportunity to contribute to improving the learning experience of fellow students while getting a behind-the-curtains glimpse into how instructors design their courses.
"They'll have a great appreciation of the complexity of this giant show that goes on," says Benjamin. "It's almost like being a roadie – they're going to see things that the student in the classroom doesn't normally see."
Benjamin noted that work-study students will also be able to build a host of highly transferrable skills including technical aptitude, working in teams and handling inter-personal communications.
The Tech2U pilot was informed by the findings of Transforming the Instructional Landscape (TIL), an initiative that engaged instructors and students to promote human-centred classroom design and explore best practices when it comes to supporting the evolution of teaching and related technologies.
Instructors have a number of sources from which to seek pedagogical supports related to technology, including the Centre for Teaching Support and Innovation (CTSI) and Academic and Collaborative Technology (ACT), a partnership between CTSI and Information Technology Services that provides strategic leadership in developing and implementing information technology services. Individual divisions are also equipped with their own educational technology offices.
Over the winter 2020 semester, TIL ran a smaller pilot project – a precursor to Tech2U – to determine how to best to meet instructors' technology needs.
"The biggest takeaway was that having someone present in the room – even if they aren't providing cutting-edge technological support – was a really big deal for instructors because they felt supported," says Marcus Lomboy, a master of public policy student who worked as a design researcher on the winter pilot. "It essentially let instructors experiment more and do things they were less comfortable with because they knew there was a back-up plan and someone who could rectify any errors."
Over the summer, the TIL team conducted a survey of several post-secondary institutions around North America who had similar programs.
"A big thing that came out of that was this idea of meeting instructors where they're at – which we also found in our winter pilot," says Georgia Maxwell, senior research assistant at the Innovation Hub who recently graduated with a master's degree in English literature.
"That's why Tech2U is so individualized. It's one student paired with an instructor to work with them on their goals in real time – whether it's just figuring out the basics or wanting to do some really cool and interesting stuff with new technologies."
Steven Bailey, director of Learning Space Management, describes the direction of Tech2U as moving from a room-based approach to a needs-based approach.
"The old approach was that we would put the technology in the room, and then match the right instructor with that room," Bailey says. "But that presupposes instructors know what they need – and that that's all they need for the entire term.
"In our conversations, we learned that, while instructors may know what they want to do, they may not necessarily know how the technology can support them in achieving their goals."
The pilot is also about supporting instructors and students in a personalized and human-centric way, adds Julia Allworth, manager of innovation projects at the Innovation Hub.
"What we've learned over the years is that teaching and learning are very personal. Each instructor and student is very invested in the classroom experience," Allworth says. "It's about making sure there's a friendly face in every classroom for the instructor, but also for the benefit of students.
"All of this is going to add up to a much better student experience in the classroom and make sure everyone's feeling well-supported as they head back to classes."
UTC