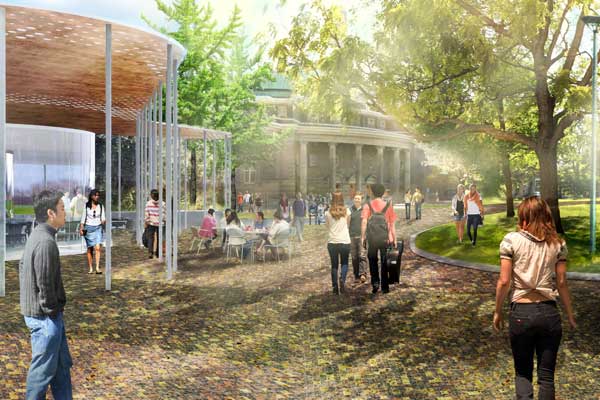 Winning team picked to transform downtown University of Toronto campus
It's "one of the crucial landscapes of the country," Donald Ainslie says. "You're not trying to reinvent it. You're trying to make it live up to its history."
After months of study and public engagement, the Landscape of Landmark Quality competition has selected a consortium of KPMB Architects, Michael Van Valkenburgh Associates (MVVA) and Urban Strategies to restore and beautify the central spaces of the University of Toronto's historic St. George campus. 
"This was a difficult decision owing to the great imagination shown by the entrants," says Scott Mabury, U of T's vice-president of operations and co-chair of the Landmark Committee overseeing the competition. "The quality of the submissions has redoubled our conviction that this project is entirely worthy of the time and resources it will entail."
The winning proposal, which envisions a carfree necklace of paths around King's College Circle, a stately column of oak trees along Tower Road and granite surfaces in place of asphalt and concrete, is a point of departure, not a final blueprint. Wide consultation is both inevitable and desirable.
The university received more than 600 responses after the initial presentation of the four shortlisted proposals in Convocation Hall in September. 
"The goal of this should be to make the campus even more beautiful while being respectful to the historical elements and being practical," wrote one commenter.
Another said: "The principles of promoting pedestrianism, cycling, green space, natural features and community spaces are wonderful and will find wide support."
"In a university environment, one expects dialogue and exchange to characterize a process like this," says Michael Van Valkenburgh, president and CEO of MVVA. "We expect feedback, we welcome it and we enjoy it." 
The schedule requires the winning team to submit a plan in September 2016 that includes design details, an outline of engineering needs and estimates of the duration and cost of the project. 
KPMB, MVVA and Urban Strategies got the nod in part for their respectful approach to renewing one of Toronto's most historic neighbourhoods.
"Their approach was: 'Look, you've got some great stuff already,'" says Donald Ainslie, principal of University College, co-chair of the Landmark Committee and a member of the evaluation panel. "That was the indication that they knew what the university and community were looking for."
The firms have worked with universities before. Princeton has hired Toronto-based Urban Strategies to lead its campus planning effort. KPMB and MVVA are part of this team. MVVA, a landscape architecture firm with offices in New York and Cambridge, Massachusetts, was in charge of the restoration of Harvard Yard, which received a 1994 Honor Award for Excellence in Historic Preservation from the U.S. National Trust. 
"Harvard Yard was in some ways a similar kind of project," Ainslie says. "You're taking one of the crucial landscapes of the country. And you're not trying to reinvent it. You're trying to make it live up to its history."
This iconic part of the downtown Toronto campus holds important memories for many alumni, says David Palmer, vice-president, advancement.
"University of Toronto alumni have a long history of supporting projects that elevate our campus and our city," Palmer says. "This is particularly true in the heart of the St. George campus where it was alumni support that made Convocation Hall possible, more than a century ago.  The plans for revitalization create an opportunity for a new generation of alumni to be involved in helping to make it happen." 
One touch that might be considered both historical and contemporary is the end of parking and traffic on King's College Circle, except for service vehicles and to provide access for people with disabilities.
"This was a premise of the competition, but the benefits are very clear to us," says alumnus Bruce Kuwabara, a founding partner of KPMB. "You realize the beauty of that space when there are no cars there."
Car parking does not disappear but goes underground: U of T is required by city bylaw to provide parking spaces to avoid over taxing surrounding neighbourhoods.
KPMB/MVVA/Urban Strategies seeks to make a virtue of this necessity by proposing modern glass entry pavilions beside the J. Robert S. Prichard Alumni House and in front of the Medical Sciences Building, the latter possibly with an indoor-outdoor café. 
Stone surfaces are central to the proposal. "There's a timelessness to using stone as paving," says Van Valkenburgh. "It's a beautiful material that is going to last much longer than asphalt."
Granite has other virtues: Gradations in tone and texture provide cues to cyclists and pedestrians to interact safely, while interlocking walkways around the circle encourage natural interaction with the famous green pasture at the centre.
The proposal foresees oak trees along Tower Road leading from Hoskin Ave. to  Hart House, Soldiers' Tower and University College.
"A renewed Tower Road will no longer feel like a back alley, but will be a real campus entrance that highlights the university's important cultural resources," Ainslie comments.
Some elements from the rival proposals (by Janet Rosenberg & Studio + ArchitectsAlliance, DTAH + Michael Van Valkenburgh Associates and Public Work + Greenberg Consultants) attracted much interest. One was the reintroduction of water to Hart House Circle, where McCaul's Pond once stood. 
"Lots of people were captivated by that idea," Ainslie says. "But others wondered whether it would actually work with issues around geese, insects and risk management." 
Another proposal with curb appeal was a winter recreational feature, such as a skating rink. Whether and how this can be implemented remains to be seen. Also under discussion is the repurposing of the Louis B. Stewart Observatory,  a building from the 1850s moved to its present location in Hart House Circle in 1908.
"If there is one thing this process has taught us all," Mabury says, "it is how deeply students, faculty, alumni and staff love the landscape of this university and how strongly they feel about its future. We encourage all members of our community to offer their support and to get in involved in this exciting project."
To find out more about how to support this project, please go to: http://landmark.utoronto.ca/contact