Why U of T loves Choir! Choir! Choir!
More than 250 faculty, staff, students and alumni have participated in the phenomenon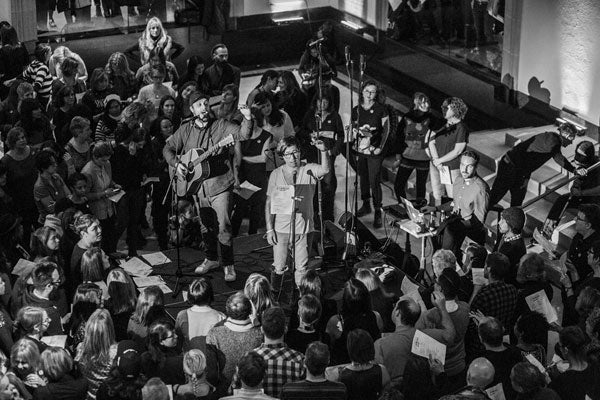 (all photos by Joseph Fuda/ photos and video courtesy Choir!Choir!Choir!)
It's the choir so nice they named it thrice.
Choir! Choir! Choir! meets every week at Clinton's Tavern on Bloor Street in Toronto –and while it is not officially a University of Toronto initiative, at least 250 U of T students, faculty, staff and alumni responded recently to a social-media shout-out to blue-bloods who have at some point joined the chorus. 
It is a social evening integrating rehearsal with performance in the famous back room at Clinton's, an establishment not far from the Christie subway station. Singers assemble at 7:30. Two hundred is a typical head count. Every session is devoted to a different song. 
Choir! Choir! Choir! has performed the Hallelujah chorus from Handel's Messiah, but otherwise repertoire is contemporary and popular. An alphabetical list of artists and groups C!C!C! has embraced does not start with ABBA but the Norwegian band A-ha ("Take On Me").
The Beatles rate five covers, the Bee Gees four. Four for Bruce Springsteen, three for Creedence Clearwater Revival, four for David Bowie. And so it goes down to The Young Rascals ("Good Lovin'").
Every vocalist gets a sheet of paper with the lyrics. 
"You don't have to read music but you do need to know how to read," says Ainsley Skye Goldman, a regular member whose husband, Daveed Goldman, founded C!C!C! in 2011 with Nobu Adilman. 
Ainsley Skye Goldman is a triple-blue chorister – a program placement coordinator for the Faculty of Kinesiology & Physical Education who earned her BA from University College in 2006 and her Master of Education from OISE in 2014.
Sessions start with a voluntary division into high, middle and low sections. Then two conductors – Adilman and Daveed Goldman – get to work.
"Basically, after an hour and a half we've mastered the song in three-part harmony," Goldman says. 
The main object is on-the-spot fun but sometimes C!C!C! takes its show on the road. They have performed live with Patti Smith at the Art Gallery of Ontario, Tegan and Sara on the Juno Awards, at TEDx Toronto 2014, and the 2012 Toronto International Film Festival Closing Gala at Roy Thompson Hall.
In January, on learning of David Bowie's death, the group hastily convened a tribute at the AGO. More than 550 people turned out to participate.
(Below, choir members line up to enter AGO.)
The results had Slate magazine commenting: "a group of non-professionals may well have turned in the best tribute performance yet". A video below captures highlights from the event:
On March 12, at 7:45 p.m., the group is scheduled perform a "massive outdoor sing-along" at the Sugar Beach Sugar Shack event.
C!C!C! has also involved itself in a timely social cause: A core group of members including four U of T alumni are sponsoring a Syrian refugee family. A fundraising event before Christmas yielded more than $60,000 in support. 
In February, the group learned it had been matched with a family – two adult sisters who will be able to reunite with a third sister and her family already living here.
"We're still waiting for them to come," Goldman says.
You can join the Tuesday group or the Wednesday group or both. Then simply show up, pay $5 and grab a song sheet. 
Like many amateur choirs around the world, C!C!C! says many women end up singing in the low group.
"Tell more single guys to come out," Goldman suggests.
Consider it done.
(Below, Choir! Choir! Choir! pays tribute to David Bowie)