Hshmat Sahak and Khalesah Alli, seen here at a Toronto District School Board news conference for students with 99 per cent averages or higher, start classes at U of T this fall (photo by Lisa Lightbourn)
They say great minds think alike – which may explain why four of the top high school students in the Greater Toronto Area have chosen to attend the University of Toronto. 
Not only that, all but one are going into the same program: engineering science. 
The four students from the Toronto District and Peel District school boards spoke to U of T News about the study habits that earned them top marks in high school and why they're excited about university this fall.
---
Khalesah Alli
High school: Cedarbrae Collegiate Institute
Major: Engineering science
Khalesah Alli says she wants to fine-tune her study methods at U of T (photo by Lisa Lightbourn)
One might think someone with a 99.3 per cent average has a perfect study routine, but Khalesah Alli says there's room for improvement. 
"My time-management skills are really bad," she says. 
At the same time, she juggled a slew of extracurriculars in high school, including commitments at the Scarborough Health Network, Model UN and her school's prom committee, among others.
In university, she hopes to make a fresh start by fine-tuning her study methods – and getting a little more sleep. 
Her passion for the sciences led her to apply to engineering science at U of T.
U of T was her top choice because of its reputation as the top-ranked university in engineering in Canada and one of the best in the world. She also jumped at the chance to study at a university close to home, where her sister is taking computer engineering. 
When not hitting the books, Alli is sometimes threading a needle. The avid sewer donned a yellow-and-white dress to prom, which she made herself.
Hshmat Sahak
High school: Marc Garneau Collegiate Institute
Major: Engineering science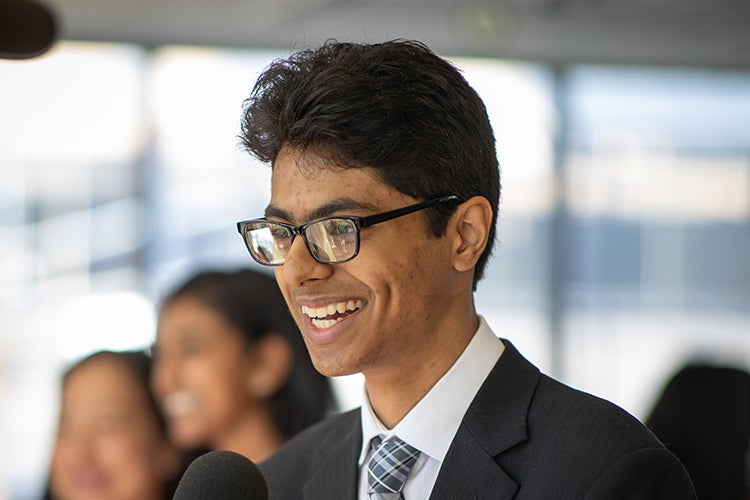 Hshmat Sahak says his parents inspired him to do his best in school (photo by Lisa Lightbourn)
Hshmat Sahak is the only Toronto District School Board student in recent memory to graduate with 100 per cent in his Grade 12 year. 
The son of immigrants who fled war-torn Afghanistan, Sahak says his parents are the biggest influence in his life and that he would be nowhere without their love, support and sacrifice. "They made a commitment early in my life to do everything within their power to instil in me a love of learning and an understanding of the importance of hard work and dedication," he says.
Sahak says the key to his high school success was to balance his studies with worthwhile extracurriculars, such as tutoring in his neighbourhood. He and his family live in Flemingdon Park, a multicultural enclave in northeast Toronto.
Sahak tutored students up to 12 years old, many of whom also come from immigrant families. He helped them with homework, coached them on study habits and even gave them a head start on subjects they had yet to cover in class. 
He comes to U of T's engineering science program with $80,000 in scholarships. He wants to focus on machine learning and already has plans to get lab experience and form a startup to produce affordable, brain-controlled prosthetic limbs.
Jane Hwang
High school: Glenforest Secondary School 
Major: Engineering science
Jane Hwang finished high school with a bang, having to do her school and piano exams at the same time (photo courtesy of Jane Hwang) 
Jane Hwang may have had a 99.8 per cent average in her last year of high school, but she is stilll a little nervous about going to university. 
The only course she didn't ace in her International Baccalaureate (IB) program was a theory of knowledge class, in which she got a 99.
Although she was top of her class, Hwang says she's both excited and nervous about starting U of T's engineering science program in the fall. But, as an independent learner, she feels well prepared for the challenge. 
She chose engineering partly because she's interested in biomedical engineering, one of eight available specializations after a two-year course foundation. 
After the stress of her last few weeks of high school, she may feel ready to confront anything university throws at her. She timed her Grade 10 piano exams to coincide with the end of high school, marking the end of an important chapter in her life.
But she hadn't realized this would mean studying for both sets of exams at the same time.
"That was a bit challenging," she says, laughing. 
Kunal Chawla
High school: Turner Fenton Secondary School
Major: Mathematics
There are straight-A students who never leave the library, and then there's Kunal Chawla.
"I didn't want to be that guy," he tells U of T News.
Chawla, who will study mathematics at University College this fall, achieved a 100 per cent average in his graduating year of high school by studying efficiently, he says – on average, no more than an hour a day.
"Basically I wanted to do as little studying as possible," he says. "I tried to be as productive as possible in school."
The trick, he says, was to connect the dots between seemingly unrelated topics. For example, he saw a similarity between a concept in economics – automatic stabilizers to steady the economy through fluctations in the business cycle – and a term he learned about in chemistry, buffer solutions used to regulate pH. 
"Both concepts are basically the same," he says. "Other students spent hours trying to get it, but I got it pretty fast because I already learned it."
Chawla loves problem-solving and the feeling he gets when he finally arrives at an answer. 
"It's sort of like in Sherlock Holmes stories when he finally figures out, 'Oh hey, this is who committed the crime,'" he says.