Why forgetting is really important for memory: U of T research
"The point of memory is not being able to remember who won the Stanley Cup in 1972"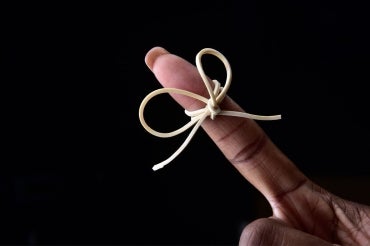 The prevailing idea in neurobiology when it comes to memories has been that remembering information is king.  
But according to researchers from the University of Toronto and The Hospital for Sick Children (SickKids), the role of forgetting certain information may be just as important. 
"The real goal of memory is to optimize decision-making," says U of T Scarborough Assistant Professor Blake Richards, author of a new review study focusing on the role forgetting information plays in memory. 
"It's important that the brain forgets irrelevant details and instead focuses on the stuff that's going to help make decisions in the real world." 
Neurobiological research on memory has tended to focus on the cellular mechanisms involved in storing information, known as persistence, but much less attention has been paid to those involved in forgetting, also known as transience. It's often been assumed that an inability to remember comes down to a failure of the mechanisms involved in storing or recalling information. 
"We find plenty of evidence from recent research that there are mechanisms that promote memory loss, and that these are distinct from those involved in storing information," says co-author Paul Frankland, U of T associate professor and senior scientist of neurosciences and mental health at SickKids. 
Their research is already making headlines around the world.
One recent study in particular done by Frankland's lab showed that the growth of new neurons in the hippocampus seems to promote forgetting. This was an interesting finding since this area of the brain generates more cells in young people. The research explored how forgetting in childhood may play a role in why adults typically do not have memories for events that occurred before the age of four years old. 
So why do our brains spend so much energy storing memories, but also spend so much energy trying to forget information? 
Richards says there are two very good reasons why you may want to forget at least some of the information you come across. For one, in a constantly changing world old information becomes outdated and not as important to remember. 
"If you're trying to navigate the world and your brain is constantly bringing up multiple conflicting memories, that makes it harder for you to make an informed decision." 
The other important reason reflects a concept used in models for artificial intelligence known as regularization. This principle aims to get computer models to learn how to make generalizations based on large amounts of data. In order to do this, there must be some forgetting of details in the data involved in order to prioritize the core information that is necessary for decisions. 
"The point of memory is to make you an intelligent person who can make decisions" 
The article, which is published in the journal Neuron, was supported by grants from the Natural Sciences and Engineering Research Council of Canada (NSERC), a 2016 Google Faculty Research Award and a Canadian Institute of Health Research (CIHR) grant. Richards and Frankland are also supported by the Canadian Institute for Advanced Research (CIFAR) as an Associate Fellow and Senior Fellow, respectively. 
The big take-away from recent neurobiological research on memory is that the best thing for storing memories is to not memorize absolutely everything, notes Richards. If you're trying to make a decision it will be impossible to do so if your brain is constantly being bombarded with useless information. 
"We always idealize the person who can smash a trivia game, but the point of memory is not being able to remember who won the Stanley Cup in 1972," he says. 
"The point of memory is to make you an intelligent person who can make decisions given the circumstances, and an important aspect in helping you do that is being able to forget some information." 
(Below: Assistant Professor Blake Richards)
University of Toronto Scarborough