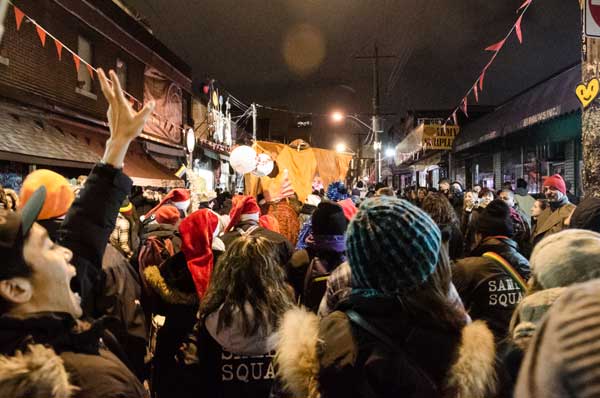 Why The 6 ranks 13th among the best cities in the world for students
QS places Toronto in a tie with Boston, Vancouver
Toronto ranks 13th among the best cities in the world for students in a survey released this week by the same organization that produces the annual QS World University Rankings. 
The rating places Canada's largest metropolis in a tie with two other major cities, Vancouver and Boston. All scored 355 points out of a theoretical maximum of 500. Paris tops the list with 404 points. Melbourne, Tokyo, Sydney and London follow. 
"Toronto's strong showing as a desirable destination for students certainly reflects well on U of T," the University of Toronto's Kaleem Hawa said. The double major in international relations and global health was born in Edmonton. He was recently named a Rhodes Scholar.
"While affordability is an area where there is more that can be done, the metrics suggest that our graduates command respect among employers, that our education is rigorous, and that our student population possesses a depth and diversity that are fundamental to the university experience," Hawa said.
The highest-ranked North American city is Montreal, in seventh spot with 377 points. New York, in 20th position with 334 points, is the second-best American city for students.
To be considered, a city must have a population of at least 250,000 – a requirement that excludes many small municipalities with well-known universities. 
QS methodology awards 100 points for each of five categories: student mix, desirability, employer activity, affordability and the QS academic ranking of the universities in the city. Each category comprises various criteria. 
"Student mix" includes student population as a proportion of the total population, the presence of international students and "tolerance and inclusion" as measured by the Washington-based Social Progress Imperative organization. Crime, pollution and corruption fall under "desirability." 
The cities ranking is the latest in a series of international and domestic rankings in which U of T performs highly for innovation, employability of its grads, research strength and more.
QS – short for Quacquarelli Symonds, a company based in London – gathers information from many sources to create its Best Student Cites ranking. Trip Advisor's list of best destinations for those interested in history and culture can add up to six points to a score.
Seventy-five cities were ranked, including many in Asia and Australasia. On the QS website it is stated that "116 cities qualify for consideration."
The list of the top 75 includes 11 American cities, nine Australian cities, eight British cities and five Canadian cities. Buenos Aries (ranked 32nd), Santiago (49th) and São Paulo (63rd) are the South American cities on the list. Ottawa (49th, tied with Mexico City and Santiago) and Quebec City (55th, tied with Hsinchu in Taiwan) also make the cut. 
Hawa's fellow 2016 Rhodes Scholar James Flynn, a native of Newfoundland majoring in political science and economics, regards Toronto as desirable to students because of "the endless academic, cultural and social opportunities" that it offers.
"There is no shortage of exciting events to attend or interesting people to meet," Flynn said.