What are the best boots for winter? U of T researcher discusses his ratings with the New York Times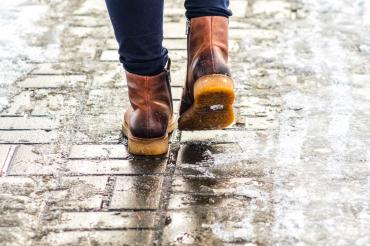 As arctic temperatures and heavy snow continue to envelop Canadians – and now, even Texans – a solid pair of boots can be your best friend.
The University of Toronto's Geoff Fernie, a senior scientist at the University Health Network (UNH) and a professor in the Faculty of Applied Science & Engineering and the Temerty Faculty of Medicine, has led lab research on the best anti-slip footwear for years with his team at the KITE Research Institute. He was recently interviewed by the New York Times about selecting the best soles for icy winter weather.
Fernie's team evaluates what they call the "Maximum Achievable Angle" of shoes in their winter-simulated indoor laboratory, giving shoes "snowflake ratings" in accordance with their slip resistance. The maximum rating of three snowflakes is given to footwear that prevents slippage with a ramp set at an angle of at least 15 degrees.
Shoe traction has improved since the lab first conducted the study in 2016, Fernie told the Times. Two types of outer soles, Arctic Grip and Green Diamond, provide the best traction on ice, he says.
The team's database of ratings, which are updated continually, can be found at ratemytreads.com.
U of T News