Web portal designed by U of T startup connects COVID-19 researchers with potential study participants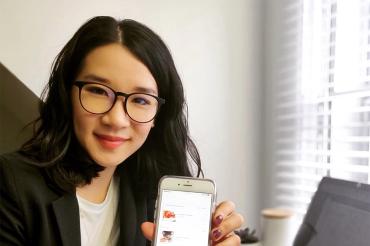 Two University of Toronto alumni have created a web portal to connect COVID-19 researchers with potential research study participants. 

Since launching in March, there have been more than 770 COVID-19 studies posted on the portal from around the world.  

Catherine Chan, co-founder and CEO of Honeybee Hub, the U of T startup behind the portal, says COVID-19 researchers are looking for a range of study participants, including healthy individuals.

"We're in the recruitment space for research studies and there's so many research studies that are emerging," says Chan, who graduated in 2018 with a master's degree from the department of nutritional sciences in the Faculty of Medicine. 
"We saw this huge gap where researchers are struggling to find participants and we wanted to make a publicly accessible portal with consolidated information on COVID-19 studies."  
Chan and Weiwei Li, the company's co-founder and chief technology officer, launched Honeybee Hub two years ago and are working with U of T's Health Innovation Hub (H2i), one of several entrepreneurship hubs on campus.

Li, who did an undergraduate and master's degree at U of T's Faculty of Applied Science & Engineering, says the web portal is designed so potential participants can research which studies are located near them and which ones can be done remotely.  

"That's a huge problem that exists right now – not just for COVID-19 trials, but all kinds of trials," says Li. "A large number of trials get delayed because of recruitment challenges." 

People who have no symptoms of COVID-19, and believe themselves to be healthy, can also search for those opportunities. 

"Healthy people don't really think they can participate in trials," says Li. "But many trials require healthy participants, including the COVID-19 vaccine trials that have just begun testing." 

Part of what drove the development of the web portal was Chan's goal to de-stigmatize participating in clinical trials and research studies in general.  

"Generally, I see stigma to participating in research," she says. "Clinical trials can be associated by some people with needles or blood draws, or being sick or in the hospital. That's a legitimate fear a lot of people have, and so they may have reservations about participating in research.
"But participating may [also] have positive outcomes, like getting access to alternative treatments earlier." 

Another factor is the cost to recruit participants for a study, which Chan knows first-hand after her experiences trying to recruit study participants while she was a graduate student. 

"We want to use this as an example to build a case and show people that research participation can achieve a greater good," she says.  "It can be a huge contribution to helping solve the massive problems posed by this global pandemic." 
Medicine