'We want everyone to feel safe and welcome': U of T Mississauga's new special adviser on anti-racism, equity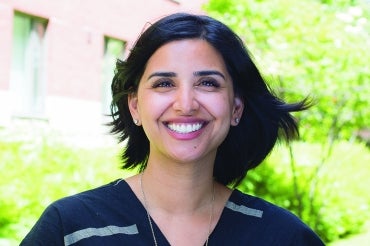 When you receive an invitation to join the University of Toronto Mississauga community, it's strictly come as you are.
That's what Sonia Kang wants to emphasize as the campus's new special adviser on anti-racism and equity.
"One of the big things for me will be really looking at making sure we have an inclusive culture where [people] can be their authentic selves, they can speak up and use their real names, for example," says Kang, who is also the Canada Research Chair in Identity, Diversity and Inclusion.
"It's just normalizing that we accept people here for who they are and that we don't need them to shift their identities to fit into anything that's happening here. We want everyone to feel safe and welcome."
Kang officially takes over the role on July 1, building on the foundation laid by U of T Mississauga's inaugural adviser, Rhonda McEwen, who has been named vice-principal, academic and dean. It was McEwen who encouraged Kang, an associate professor in the department of management, to become the new adviser.
"Identity and inclusion is something I do in my own research, and I love this opportunity to be able to apply that to a community I really care about and continue what Rhonda has put in place," Kang says. "It's still early days of building [the portfolio] up, and I am excited by the prospect of being part of the grassroots movement to keep expanding the office and the mission."
Kang has published more than 25 peer-reviewed articles exploring questions of identity, diversity and inclusion, covering such topics as the implications of racial and gender self-presentation in cover letters, inclusivity in STEM subjects, the effects of pro-diversity statements and the damage of stereotypes on individual well-being.
Recently named one of Report on Business's "Changemakers," Kang's work has been featured in the Atlantic, the Globe and Mail, Forbes and Harvard Business Review, as well as in her own podcast, For the Love of Work. Her award-winning published insights on "resume whitening" earned a spot on the Financial Times's Global 100 list for "business school research with social impact." 
"These concepts aren't just applied in academic life," she says. "In professional life, in organizational life, you can see how people who have all this amazing potential can really be held back by these issues of not being included fully in these different spaces."
Engaging in discussions of inclusion and diversity is vital for U of T students as they move towards life in the work world, says Kang.
"There is a real generation shift where people really care about the way they feel at work – it's not just 'I'm going to work to get paid,'" she says. "It's really more so about the experiences and the relationships they feel they have. How much do they feel they can contribute? Do they have power? Do they have a voice?"
This year, Kang and Elizabeth Page-Gould, an associate professor in U of T's department of psychology in the Faculty of Arts & Science, developed the first-ever Canada Summer Research Opportunity Program to increase equitable access to graduate school for Black, Indigenous and racialized undergraduates. Its inaugural cohort includes 15 Black and Indigenous students. In her new role as special adviser on anti-racism and equity, Kang says she hopes to continue creating opportunities for those facing barriers.
"I'll be speaking to different department and stakeholder groups, faculty, staff and everyone to find out what their unique needs might be, what is missing, what they would like to see change," she says. "My job will be to facilitate the connections and conversations to make those things happen."
UTM