'We all need to be changemakers': U of T marks International Day for the Elimination of Racial Discrimination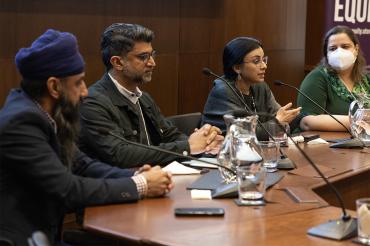 Members of the University of Toronto community gathered in-person and online Tuesday to mark the International Day for the Elimination of Racial Discrimination (IDERD).
Presented by U of T's Anti-Racism and Cultural Diversity Office, the event held at the Munk School of Global Affairs & Public Policy comprised panel and community discussions, and was attended by students, staff, faculty and alumni from the three campuses. It was also available via livestream.
People around the world have observed IDERD since it was established by the United Nations to denounce apartheid and honour the lives of 69 peaceful demonstrators killed when police opened fire on a crowd of protestors in South Africa on March 21, 1960.
U of T President Meric Gertler said IDERD is an opportunity to reflect on the university's current approach and to determine where improvement is still needed. 
He noted that there's been a "long history of equity work at the University of Toronto, which is a key part of our institutional-led campaign to eliminate racism and advance inclusive excellence," and that anti-racism working groups across the three campuses have made tangible progress in addressing racial and religious discrimination in teaching and learning, student experience, faculty and staff recruitment and engagement, and community-based research.
"We know that the entire university community is collectively responsible for addressing all forms of racism and that every member must participate to achieve the deep and lasting change that is needed," President Gertler said.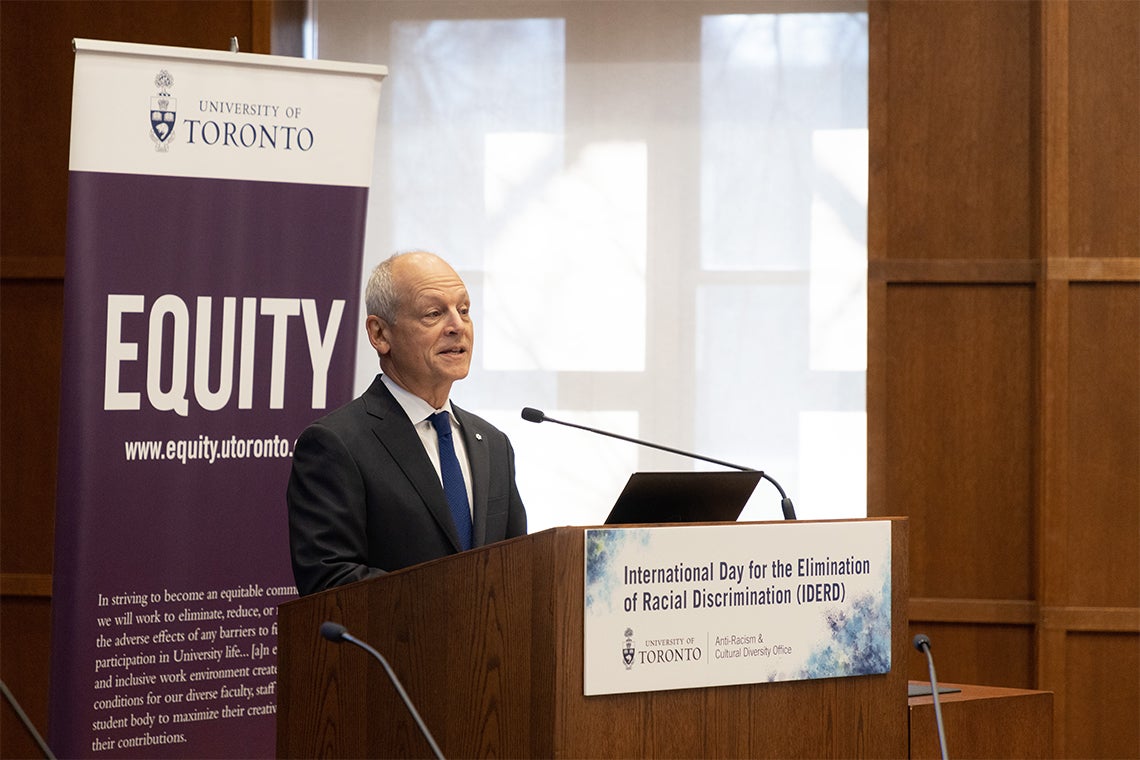 U of T President Meric Gertler said the university community is collectively responsible for addressing all forms of racism (photo by Polina Teif)
The event also featured remarks by Nouman Ashraf, an associate professor, teaching stream, at the Rotman School of Management, a panel discussion moderated by Leigh Naturkach, the executive director of the Mosaic Institute and a steel pan performance by Devindra Ramoutar, and a closed session community discussion focused on the themes of faith and racial discrimination.
Members of the public panel included: physician Umberin Najeeb, associate professor and vice-chair of culture and inclusion in the department of medicine at Temerty Faculty of Medicine; Anna Shternshis, director of Anne Tanenbaum Centre for Jewish Studies and Al and Malka Green Professor of Yiddish studies, Pardeep Singh Nagra, human rights and equity adviser at the Halton District School Board: and Hiren Mistry, vice-principal at White Oaks Secondary School.
They discussed their personal and professional experiences with racial and religious discrimination – and how that has shaped their work. Panel members also emphasized the importance of addressing intersectionality, understanding one's own implicit bias and being an active listener as ways to address discrimination and racism in education and in society.  
Najeeb said she remains hopeful in her equity, diversity, and inclusion work because of the changes she's seen throughout her career.
"In medical education, we never used to speak about faith," she says, noting that the Temerty Faculty of Medicine now asks students if they require religious accommodations during their studies. "My program never asked me that. I didn't know I could get days off for religious celebrations like Eid."
While Najeeb said the work can sometimes be exhausting, she said she is encouraged by the conversations that are now taking place.
"We can all only stay hopeful if positive changes continue to happen," Najeeb said. "We all need to be changemakers."
UTC