In the Washington Post, U of T Mississauga sociologist decries attempts to 'undermine disability rights' in the U.S.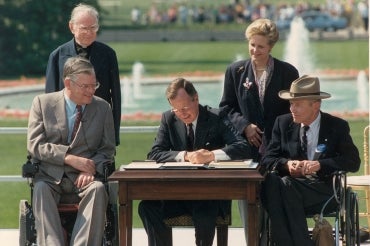 With the anniversary of the landmark Americans With Disabilities Act this week, David Pettinicchio of the University of Toronto Mississauga has called attention to "the wide-ranging efforts in recent years" to undermine disability rights in the United States, particularly by congressional Republicans and the current administration. 
The sociologist and author of Politics of Empowerment: Disability Rights and the Cycle of American Policy Reform writes in the Washington Post that, for decades, efforts to protect the rights of people with disabilities have been undercut by negative court rulings, legislative loopholes and political compromises.
The result, he says, "is a separate and unequal system of rights" in which people with disabilities are second-class citizens.
UTC