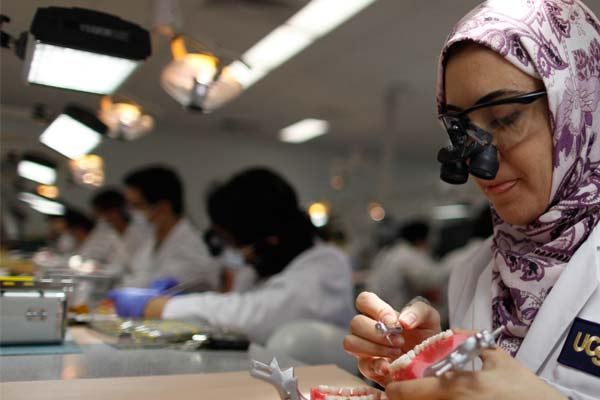 Want to ace your dentistry or medical school application? Check out these startups from a new grad
Helping applicants excel in medical and dentistry school interviews, online testing
Joel Meyerson takes education seriously – so seriously, in fact, that he's launched two startups from his experiences in U of T's Faculty of Dentistry to help others become dentists, too.
"We have a mission," says Meyerson, who graduates this spring, "to be a student service first and a business second."
While completing a very demanding Doctor of Dental Surgery degree, Meyerson launched a successful admissions interview preparation service called Crush Interview in February of 2013.
(Read more about Crush Interview)
Meyerson says it grew out of his years of experience as a Dental Admissions Test (DAT) prep instructor at Kaplan, an international admissions preparatory company. As one of Kaplan's top-rated Canadian instructors, he often found that his students returned for advice on the interview portion of the admissions process. His tutelage rapidly evolved into Crush Interview.
With an 88 per cent success rate for their clients – by comparison, Meyerson says only 25 per cent of applicants who are invited to interview are admitted to professional dental programs – the company created a solid reputation for itself in the otherwise crowded preparatory materials market, and rapidly expanded to include medical school interview preparation.
Hiring several of his fellow classmates, Meyerson has since branched out to include instructors from Western University's Schulich School of Medicine and Dentistry, the University of British Columbia's Faculty of Medicine, and McMaster University's Michael G. DeGroote School of Medicine.
Michael Nightingale, who graduates alongside Meyerson this convocation season, was one of Crush Interview's first employees.
"As dental students [we] have absolutely no exposure to the admissions process and are not given any information as to what is expected of a top calibre applicant," says Nightingale. "This is important because it helps illustrate the amount of hard work and hours that Joel has spent coming up with a thorough lesson plan for his clients from scratch."
B
itten by the entrepreneurial bug, Meyerson (pictured left) next expanded his attention to other aspects of the admissions process – and online practice test platform DAT Genius was born.
(Read more about DAT Genius)
What makes DAT Genius different from other preparatory services, according to Meyerson, is its ability to respond to the applicants' individual needs.
Users are run through a mock test, then given access to detailed explanations for each question.
"With one-on-one tutoring – if a student is fortunate enough to be able to afford it – a student will go through a practice test, then ask their tutor questions about the answers they didn't get."
And while this is a very effective model, Meyerson explains, "the costs are incredibly prohibitive. DAT Genius replicates the tutor experience [so that] users can curate their own knowledge and experiences. But we can do this at a fraction of the cost."
A major selling point for the product is its ability to help users with the three-dimensional perception part of the exam, a test of one's ability to manipulate three-dimensional images in two dimensions that reflects the way one would perceive a patient's mouth.
Although the scores from this part of the test are a major consideration for dental school admissions boards, the average DDS applicant with a background in science will have little experience with manipulating objects in three-dimensional space.
Meyerson answered this challenge by teaching himself the web programming language Javascript, and from there, developing an algorithm to produce unlimited perceptual ability testing questions for online users.
"[Business giants] say that to form a truly disruptive business, you can't just incrementally improve on what is already available. You need [your product] to be 10 times better than anything else on the market," says Meyerson, adding that to date, users have had "jaw dropping" reactions to the platform.
"This is my '10 times' better," adds Meyerson proudly.
Just coming out of its BETA testing phase, DAT Genius is now available to users via a three-month subscription service.  
According to Nightingale, Meyerson's successes stem from his uniquely entrepreneurial spirit.
"Not only has Joel exceeded in dental school, and not only does he have a part time job," stresses Nightingale, "he has developed businesses, learned the 'ins' and 'outs' of marketing and promotion, accounting, legal aspects, and is truly a successful small business owner while other students are struggling just to stay afloat."
For his part, though, Meyerson, who plans on joining a dental practice in Wawa, Ontario post-graduation, remains committed to staying one step ahead of the competition.
"Once this learning model has been proven," he says, " moving on to the MCAT makes a lot of sense."