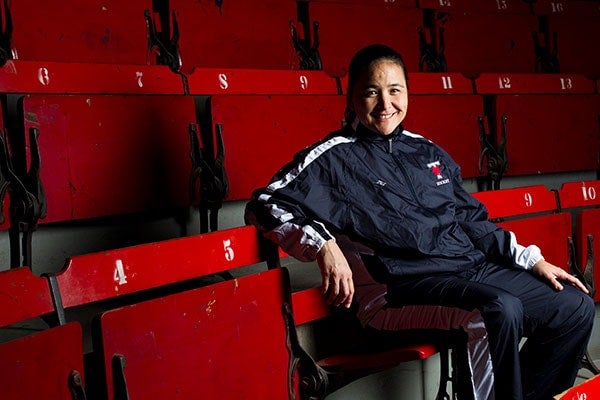 Vicky Sunohara on the women's Olympic hockey team
Vicky Sunohara's passion for hockey hasn't waned since trading the national team's red and white uniform for U of T's blue and white.
"I love what I do," said Sunohara, the head coach of the Varsity Blues women's hockey team. "Time goes too fast."
Being a coach is much more complex than simply playing the game, Sunohara said. There's a lot more to the job than running practice and coaching during games. The job also includes reviewing video, recruiting new players, fundraising and a variety of administrative tasks.
"It's exciting to me. Even as a player, I wanted to be the best I could be, and here I learn so much every day; I'm just a sponge. I try to soak everything in so I can prepare our team to be the best they can be."
Sunohara is currently helping the Varsity Blues women battle for one of the coveted playoff spots in Ontario University Athletics competition, but she was part of Canada's national hockey program from 1989 until her retirement in 2008, almost 20 years. She has three Olympics under her belt and a silver medal (Nagano, 1998) and two gold medals (Salt Lake City, 2002, and Turin, 2006) to her credit, along with numerous world championship medals.
"I had the time of my life," she said of the Olympics. "It's the highest level in our sport and to be there and compete was a dream come true.
"Even going into my third Olympics, it was just as exciting as going to my first."
She believes Team Canada can win gold in Sochi, even with all the recent distractions such as a coaching change. She also feels that the recent change in team leadership should have happened much sooner.
"On the positive side, there's no doubt they're a great team. There's a great mix of experience and youth and great talent."
Team Canada now faces the United States in the final February 20 in Sochi.
"It comes down to performance and peaking at the right time," said Sunohara, who now has a coach's perspective. "You must win the ones that count."
She believes that the team will be fine if they "relax, play hockey and have some fun."
"They must look to each other and do what they do best," she said. "They're the best players in Canada, and I'm biased, but to me that means they're the best players in the world."