(photo by Laura Pedersen)
About 51 million people in the United States are expected to travel far from home for Thanksgiving. And some are pairing the weekend of turkey dinners and family reunions with a first visit to the University of Toronto.
The university is planning to welcome 100 U.S. students and their families on Saturday for a tour of the downtown Toronto campus, featuring lectures by faculty and a guided visit of U of T residences. In the last year, the university
received a flurry of applications from students abroad
, including the United States, and many Americans have decided to go north for their studies. 
The university welcomed 225 new international students from the U.S. this fall – an 81-per-cent jump from the same time last year, says Richard Levin, U of T's executive director of enrolment services. This excludes American students who were Canadian citizens or permanent residents. The new U.S. students come from 34 different states.
The weekend tour will bring some American high school juniors and seniors face to face with U of T faculty in different fields, from architecture to neuroscience. 
It was on such a visit that Jaimi Foster fell in love with the campus and Toronto three years ago. Having spent much of her life in a suburb of Phoenix, Ariz., she was determined to study in a cosmopolitan city.
"It was so incredible to see the campus bordered by four main streets," she says. "You can step off and have any resource in the world that you wanted."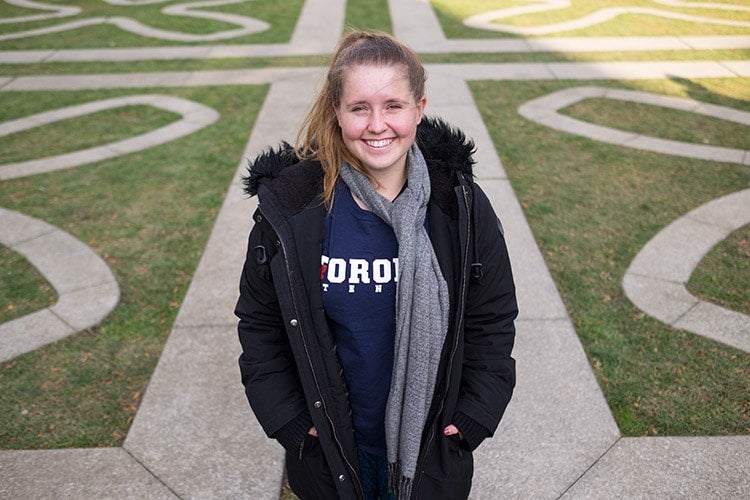 Jaimi Foster, seen here in the Trinity College quad, came to U of T from Arizona (photo by Geoffrey Vendeville)
She isn't surprised so many American students are moving north for their studies, 
given U of T's reputation
and the political climate in the U.S. "Unfortunately, whether they mean it or not, the current [Trump] administration gives off a vibe that says, 'Hey, not everyone is welcome here.'"
In contrast, Canada feels like a "safe haven where everyone can go," she adds.
In her first semester, she spent much of her free time exploring Chinatown, the Annex and other neighbourhoods on hours-long walks with friends. One of their favourite haunts is Trinity Bellwoods Park in the west end, where they like to read among the picnickers and tennis players.
At U of T, she studies international relations and history. She keeps busy outside of class and the library with Varsity tennis practices, weekly mindfulness classes and meetings of the American Culture Club. One highlight was a summer abroad organized through Hart House, working in social media for a startup in Helsinki.
All these memories and more will be the topic of discussion when she meets with prospective U.S. students touring the campus on Saturday. She has worked as a campus tour guide before, so she expects the usual questions about U of T's college system and Canadian winters. 
She had many of the same questions not so long ago. And despite extensive research on the university and the city, some mysteries about life in Canada weren't resolved until weeks after she moved.
"I didn't know what 'zed' was for four months," she says, laughing.