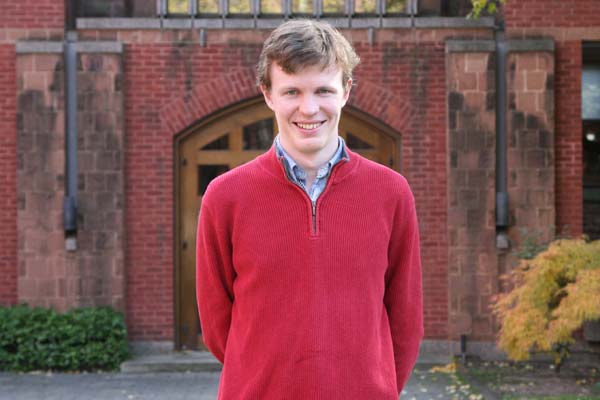 U.S. foreign policy and the responsibility to protect: U of T alumnus recognized in global Undergraduate Awards
Eight U of T graduates have been named to the Highly Commended list at this year's Undergraduate Awards – a competition inviting top students from around the world to take part at its Global Summit in Dublin starting November 10.
 
To make it into the 'Highly Commended' category a student's academic paper or research must be ranked in the top 10 per cent of more than 5,000 submissions. The competition is open to students in their final or penultimate year of studies. Read more about the Undergraduate Awards.
 
Over the years, U of T students have regularly numbered among this elite group. Read more about Highly Commended U of T students.
 
This year's finalists and their categories are:
Raghav Singal - Engineering and Built Environment
Dominic Liao-McPherson - Engineering and Built Environment
Xiyu Liu - Engineering and Built Environment
Misha Boutilier - History
Ira Halpern - Literature Pre-1710
Roshaan Wasim - Literature Pre-1710 & Literature 1710-Present
Dean McHugh - Philosophy & Theology
Winnie Lieu - Psychology
In the latest instalment of our series on this year's recent grads, Boutilier speaks with U of T News about his Highly Commended research paper.
(Read about more Highly Commended U of T alumni, Dean McHugh and Ira Halpern, Winnie Lieu and Raghav Singal and Roshaan Wasim) 
---
MISHA BOUTILIER
What was your paper about?
My research paper analyzed United States foreign policy during the 1971 India-Pakistan crisis and, later, war. I argued that U.S. President Richard Nixon and his National Security Adviser Henry Kissinger made fundamental misperceptions of Indian, Chinese, and Soviet goals that caused them to escalate a regional conflict to risk war with the Soviet Union.
I was particularly interested in this topic because it connects strongly to my interest in the international community's response to mass atrocity crimes. The 1971 crisis erupted because Pakistan's military launched a terror campaign involving numerous atrocity crimes in response to Bangladeshi demands for independence. The United States government saw this conflict not through a human rights prism, but through a Cold War prism, leading it to align with Pakistan and obstruct efforts to stop the killing. By exploring misperceptions that led to these decisions, the essay may shed light on other cases in which great powers support states actively committing mass atrocities for strategic reasons."
What are you hoping to get out of your experience in Dublin?
Most of all, I am really excited at the chance to interact with the other winning students. I think the summit will be an excellent chance to connect with students from very different backgrounds and disciplines. I hope that the exchange of ideas will be mutually enriching and will continue long after the conference! The organizers have also assembled an amazing line-up of speakers from diverse fields. I am sure that they will give me much to reflect on as I return to my legal studies about how I can put my education and skills to work for social good.
Of course as a Canadian with some Irish ancestry who has never been to Ireland before, I am delighted at the chance to explore Dublin and explore the culture!
What's next for you?
I just graduated with degree in international relations and history in June and I now study law at U of T. I am very interested in learning more about international law, particularly legal issues surrounding ways the international community prevents and responds to mass atrocity crimes. I also have an interest in Aboriginal law.
I would love to work as an international lawyer in the Legal Bureau of Foreign Affairs Canada. I am also interested in pursuing a graduate degree in law or international relations to strengthen and deepen my knowledge of international law and politics. I would also consider a career in legal academia, and am interested in public sector legal opportunities.
Any supporters at U of T who helped you along the way?
Absolutely! In the first place, I would like to credit Professor Vassilis Dmitriadis for helping to inspire my love of international relations. I was undecided about what to study during my first year of university, but the passion and energy he shared teaching Statecraft and Strategy convinced me to study international relations. I am especially grateful for Professor Dmitriadis for his suggestions about this paper, which I submitted for his class on the history of the Cold War.
I would also like to thank Professors Robert Bothwell, Mairi MacDonald, and John English. I was lucky enough to take two seminar courses with Professor Bothwell, and by the time I graduated I had absorbed so much from him about how to approach difficult historical questions in a more thorough and sophisticated way. I met Professor John English during my third year, and am incredibly grateful to him for the fantastic seminar class on Canadian defence policy that he facilitated. I would also like to thank Professor Mairi MacDonald, the Director of the International Relations Program, for the fantastic and timely advice she provided at every step of my academic journey.
Finally, I would like to credit Ms. Tina Park, a PhD student in the Department of History, for all the advice and support she has provided. I got to know Tina through my work with the Canadian Centre for the Responsibility to Protect (CCR2P), an organization that she founded in 2010. Tina was also my TA in my third year. but she became a true mentor and friend. Her guidance was invaluable in my upper years and as I made decisions about what path to pursue after graduation.
Other highlights of your time at U of T?
During my undergraduate studies, I participated in several organizations. At St. Michael's College, I served on the Student Philanthropy Council. Between 2012 and 2015, I served in various roles with the History Students' Association, including as President.
I was also actively involved in Model United Nations competitions. I served on the executive of U of T's United Nations Society for three consecutive years, and was President my graduating year.
Finally, I participated in the work of the CCR2P. Based at the Munk School of Global Affairs, the CCR2P exists to conduct research and advocacy to further the implementation of the Responsibility to Protect principle that the international community has a responsibility to protect vulnerable populations from mass atrocity crimes. I joined CCR2P as a junior analyst in 2012, and currently serve as its Director of Graduate Research.