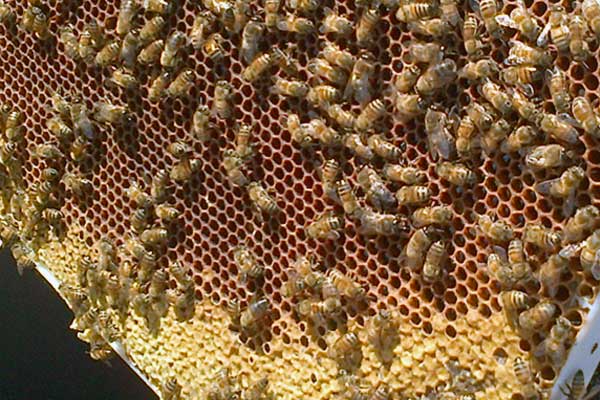 Urban beekeeping at U of T
The Faculty Club at the University of Toronto is a heritage landmark, best known today for its ambiance and exquisite dining. So, why has it become the home for some 150,000 bees?
"Beekeeping is a new and growing phenomenon in Toronto and beyond," says Alissa Saieva, president of the University of Toronto Beekeeping Education Enthusiast Society (B.E.E.S.).
The student-run club aims to spread the importance of honeybees while providing hands-on beekeeping experience – and the three hives installed in June on the rooftop of the Faculty Club are just the latest example. The U of T B.E.E.S. is also in charge of maintaining two hives at Trinity College and one at the Earth Sciences Centre.
Urban beekeeping is very much an active way to save the bee population, as they experience a decline in numbers due to unsustainable agricultural practices and global climate change, Saieva says.
"There's been a real push to the concern of the loss of the bees," says Sandy Smith, professor at the Faculty of Forestry. "[Urban beekeeping] makes people more aware about questions on pesticide use, which is one of the big concerns for the loss of bees around the world." 
Smith also believes the growing desire for locally grown and organic food makes urban beekeeping very attractive.
"Honeybees are an integral part of healthy ecosystems; they are responsible for the pollination of 1 out of every 3 bites of food you take," adds Saieva, a fourth-year undergraduate student in political science and environmental studies.
The U of T B.E.E.S. isn't alone in its commitment to beekeeping at the university. More U of T beehives can be found at the Sky Garden, New College, Earth Sciences Centre and at the University of Toronto Scarborough's Social Sciences Building. (Read more about the Sky Garden.)
Having so many hives on campus may cause unrest among pedestrians who may fear being stung, but Saieva says this is a common misconception due to confusion between honeybees and wasps.
"Unlike wasps, honeybees are 'vegetarians' in the sense that they are only interested in nectar, not artificial sweets. This means that those unwelcomed guests at BBQs and picnics are typically wasps," she explains.
"Although honeybees do have stingers, there are only used when a honeybee feels threatened, after which they die. Wasps, on the other hand, can sting you repeatedly."
Pieter Basedow, Science for Peace treasurer, works closely with the student club. He hopes the new beehives at the Faculty Club would help generate interest and lead to additional beehives.
And at the heart of Toronto, the St. George campus provides an ideal location.
"We have Philosopher's Walk, Queen's Park and a great selection of plants on campus, green spaces and lots of trees," explains Basedow, who adds the bees can fly within a five kilometer radius of their hives.
"Hopefully we can get together with the property managers and some faculty within the different departments and see how we can expand."
But for the time being, the Faculty Club is ecstatic about their new rooftop instalments.
"It's a real pleasure working with the U of T B.E.E.S.," says Leanne Pepper, Faculty Club general manager. "We are very proud to be part of the urban bee keeping.
"The chef is looking forward to creating fabulous dishes with the honey!"
Gavin Au-Yeung is a writer with University Relations at the University of Toronto.