#UofTGrad2016: Oxford-bound grad found time to do nearly everything at U of T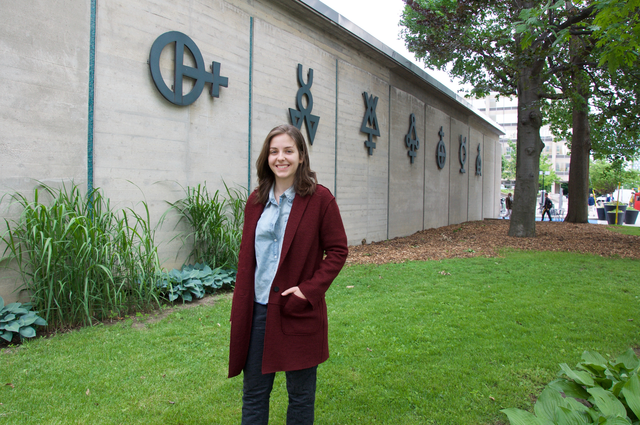 Theodora Bruun says she'll never stop learning (Diana Tyszko photo)
Before beginning her studies at U of T a few years ago, Theodora Bruun may have been advised to take full advantage of the many opportunities available or she may just have figured it out for herself. Either way, she certainly made the most of her time as an undergrad.
Now Bruun is graduating with a resume bursting with a variety of both on- and off-campus activities. The sum of them tells the story of someone who gets great joy from from learning and delights in finding the connections between seemingly unrelated experiences.
For example, a social justice course at New College led to volunteer work with a Regent Park music program. Those combined experiences in turn, informed her perspective when she was researching organ donation — she noticed an underrepresentation of certain populations in receiving and donating organs, and nuanced differences in the way health-care workers educated different populations about the risks and benefits of organ donation.
A Victoria College student, Bruun's undergraduate studies were a combination of science and humanities, specifically chemistry, human biology as well as Italian studies.
"I was attracted to U of T because of its reputation for excellence both nationally and internationally," Bruun said. "I was especially interested in the Augusta Stowe Gullen stream of Victoria College's Vic One program for first-year students, for the chance to study the sciences in a multidisciplinary way, and to do so in a small classroom setting."
"Exploring the interdisciplinary aspects of the arts and the sciences is very important to me," said Bruun, who is going next to Oxford University to pursue a master's degree in biochemistry. "We tend to think of them as different disciplines, but in fact, they're interrelated. It's valuable for anyone working in science or health care to understand ethics and social justice issues."
Two summers as an undergraduate research assistant – first in the Department of Chemistry and then in the Department of Pharmaceutical Sciences — prepared her to take on a research assistant position at the Hospital for Sick Children. In the course of doing research on environmental ethics, organic chemistry and genetics, she received several awards for conference presentations and co-authored four research papers — two already published, with another two currently under review.
Outside the classroom and lab, Bruun pursued a variety of interests. She volunteered at a physiotherapy clinic, served as program coordinator for U of T's chapter of health literacy charity Health Out Loud, and was a member of the Varsity rugby team.
Bruun recently received the John H. Moss Scholarship from the U of T Alumni Association for her outstanding academic and extra-curricular leadership. The award recognized her work as vice-president of Victoria College's International Students' Association, as editor of two student publications — U of T International Health Program and neuroscience magazine The Interneuron — and as a mentor to first-year students.
Bruun attributes her seemingly boundless enthusiasm and energy to those close to her.
"I've been so fortunate to have really great mentors, like my parents, teachers and peers who have encouraged me to not be narrow in my pursuits, and to explore anything that piques my interest," said Bruun. "I'll never stop learning for my whole life."