#UofTGrad18 and Toronto Pride: Check out these June events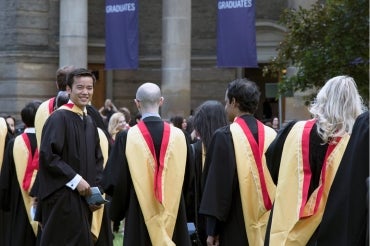 In less than a week, the University of Toronto will once again be abuzz with students from all three campuses, sporting robes of all stripes, as they mark an important milestone in their academic career: convocation.
At the same time, LGBTQ Torontonians and their allies will be painting the city rainbow as they kick off this year's Pride festivities, taking place at U of T and beyond.
There's much to celebrate this month and plenty of events to choose from. Here are just a few of them:
June 1
It's the beginning of Pride month in Toronto – launching on all three campuses with the raising of the Pride flag.
Attend the ceremony on your campus: downtown Toronto and U of T Mississauga, with a transgender flag-raising ceremony at U of T Scarborough on Saturday.
Catch up with old classmates at this year's Alumni Reunion, taking place from now until June 3, featuring lunches and brunches galore and stress-free lectures on everything from dinosaurs to life on other planets. 
June 2
U of T's Faculty of Medicine is diving deep into the issue of the health implications of cannabis at a panel event in conjunction with the launch of UofTMed magazine's latest edition.
June 3
Throughout the month, graduate students are invited to share their accomplishments on a chalkboard at the Grad Room on 66 Harbord St. as a way of reflecting on all of the great achievements and hard work that goes into graduate studies. Give yourself a pat on the back while you're at it!
June 5
More than 1,000 elementary school students will be descending on U of T's downtown Toronto campus for Go North Youth – the largest STEM event in Canada. Fifty classes from across the GTA of students from Grades 3 to 8 will be participating in a day of fun and learning with experts from U of T's Faculty of Applied Science & Engineering and the department of computer science in the Faculty of Arts & Science, Google and Actua, Canada's largest STEM outreach charity.
June 7
It's the first day of convocation – check the events calendar for the full list of ceremony dates.
Make sure you head to the polls today to join Ontarians in deciding who will become our next premier. Haven't made your mind up yet? U of T Libraries has rounded up 10 tips to help you make an informed vote. Be sure to drop by the engagement station on the second floor of Robarts Library.
Head to the Jackman Law Building for a tour of its public spaces, including the Bora Laskin Law Library, classrooms and meeting rooms.
June 8
The annual Pride pub takes place this evening in the Hart House Quad. Come for the BBQ, drinks and good company and dance the night away with DJs and performers.
You'll hear the carillon bells during convocation, but this tour of Soldiers' Tower is a chance to see them up close and meet a carillonneur.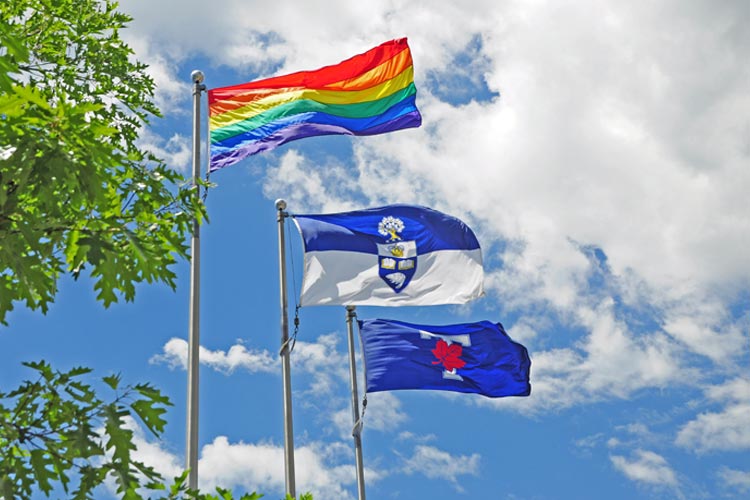 The Pride, U of T and Varsity flags flying together on the downtown Toronto campus (photo by Romi Levine)
June 10
Need to get away from Front Campus crowds? Come to the Grad Escape spring hike at Evergreen Brick Works for some fresh air and tasty treats at the farmers' market.
June 11
U of T Mississauga's International Education Centre global mobility co-ordinator Andrew Sedmihradsky and his eight-year-old son Max will stop at the Mississauga campus on their journey from Hamilton to Ottawa. The fourth annual father-son trip aims to help find a cure for Duchenne Muscular Dystrophy, in partnership with Professor Patrick Gunning and the Centre for Medicinal Chemistry at U of T Mississauga.
June 13
U of T Scarborough alumnus Tenniel Chu, vice chairman of Mission Hills Group, will share his success story as he transitioned from management classes at U of T to working in the sports management industry. Chu holds the Guinness World Record for owning/running the world's largest golf resort. He also gave the University of Toronto a $1.675-million gift in November to establish a sports management program at U of T Scarborough.   
June 14
For new grads and current students alike, it's tough to start the job search. There are plenty of sessions hosted by the Career Centre to help you on your journey, such as one taking place today on how to motivate yourself in the job search process.  
June 20
Today's the day to #DisplayYourPride. Every year, students, staff and faculty at all three campuses are encouraged to wear bright colours, decorate their work spaces, and share photos on all social media outlets using #displayyourpride.
June 21
Spend some time with U of T Scarborough Principal Bruce Kidd as he hosts his last Healthy Campus Walk. Tour through the ravine lands and to other notable locations, including the Lash Miller House. Meet at noon on the Humanities Wing Patio (HW).
June 22
Join U of T friends and colleagues for the Trans March at 8 p.m. 
June 23
Lace up your shoes and join U of T's team for the Pride & Remembrance Run, supporting and raising money for local LGBTQ organizations.  
June 24
The Pride parade – Toronto Pride month's grand finale – takes place today. Cheer on members of the U of T community and wave hello to Pride's honoured guest Scott Jones and honoured youth Cho Chua – both U of T students.  
June 26
The second-annual Black Graduation will be celebrating the achievements of Black-identifying students at the University of Toronto who are a part of the Class of 2018. The Black Graduation celebration allows for students, family and friends to come together in one setting to celebrate their hard work and dedication.
UTC