$1.7-million gift will help U of T become a player in sports management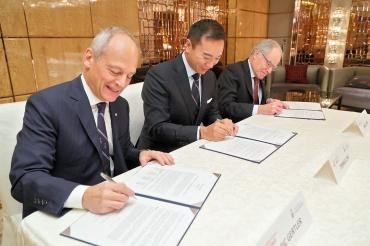 The University of Toronto is establishing a new sports management program, courtesy of a $1.675-million gift from alumnus and entrepreneur Tenniel Chu.   
Chu's donation will establish the Tenniel Chu Chair in Sports Management, as well as a fund to support programming and an annual lecture series in sports management. The new program will be at U of T Scarborough.
"It is my pleasure to give back to UTSC, a university which gave me so much and where I started this wonderful journey into the world of business and sport," said Chu, who is vice-chairman of Mission Hills Group, which owns and operates the world's largest golf and leisure resort in China.
"Sport is at the heart of the Mission Hills philosophy and is what enables us to bring China to the world and the world to China. This is why I am so eager to support the growth of sports management at UTSC.  I hope we can create opportunities for international business students to study and work in China, but also for more young Chinese people to study and work around the world."     
Chu's gift will allow U of T Scarborough to recruit and retain a leading scholar in sports management – the Tenniel Chu Chair – who will head programming that includes an annual lecture series and  workshops designed to educate students and bring together academics and practitioners in the field.
"Tenniel Chu is an outstanding business leader and a distinguished alumnus of the University of Toronto," said U of T President Meric Gertler. "Through his generous and forward-thinking gift to UTSC's department of management, he is helping to propel us to a new level of impact in the growing field of sports management.  He is also building on UTSC's wonderful record of leadership in experiential learning, by providing opportunities for our students to apply what they have learned through local and international work placements."
The gift also establishes the Tenniel Chu Management and International Business Awards, which will provide scholarships for management and international business (MIB) students to help gain the global experience they need for their careers. The MIB program is the only one of its kind in Canada, offering both work-abroad and study-abroad components.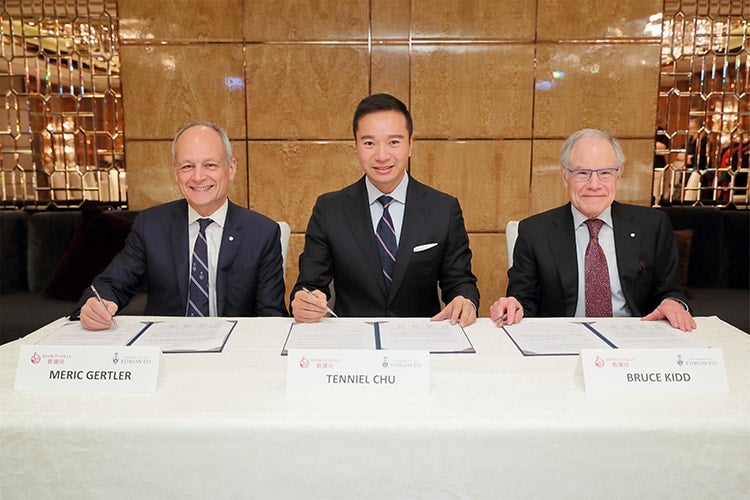 From left : Gertler, Chu and Kidd (photo by Vincent Chu)
The gift is the largest ever given from an individual to U of T Scarborough's department of management.
"Today's announcement shows how management continues to grow and evolve in innovative ways that provide our students with experience to become future leaders," said David Zweig, chair of the department of management at U of T Scarborough.  "We look forward to unveiling our first Tenniel Chu Limited Term Chair and our first lecture series speaker, and we're excited by these new opportunities for management students to participate in international study and work."
U of T Scarborough is growing in importance as a hub for sports and already has significant experience in programs that combine study with work. Since opening the Toronto Pan Am Sports Centre in 2014, the campus has been a training ground for many of Canada's top athletes, becoming connected to many top sports organizations.
"UTSC is thrilled that Tenniel Chu has chosen to champion our sports management programming," said Bruce Kidd, vice-president and principal of U of T Scarborough. "His investment in sports management makes us unique in U of T's tri-campus system as the only place to study and apply what is learned in this discipline through experiential learning."
Chu graduated from U of T Scarborough with a bachelor's degree in economics in 1999. In 2001, he joined Mission Hills Group, where he now oversees the operations and development of Mission Hills Shenzhen, the world's largest golf facility, which has played an important role in attracting the world's biggest stars and international tournaments.
In addition to his duties with Mission Hills, Chu is actively involved in charitable organizations in Hong Kong and mainland China, including the United Nations golf charity event.
UTSC