#UofTGrad17: Three things you should know about honorary grad John Cassaday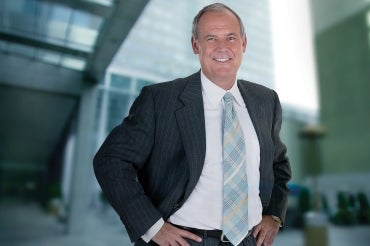 The University of Toronto is recognizing 16 remarkable people with honorary degrees in 2017.
Today, John Cassaday, the founding CEO of Corus Entertainment, receives a Doctor of Laws, honoris causa, for his excellence in the profession and as a businessman "who has shaped the landscape of the Canadian television industry" and for his outstanding service to the local community.
U of T News asked each of the honorary graduates to share an iconic Canadian moment – a feeling or experience they wish each of their fellow graduates could share.
Below, are three things you should know about Cassaday, who received his MBA from the Rotman School of Management in 1981, including his proudest Canadian moment.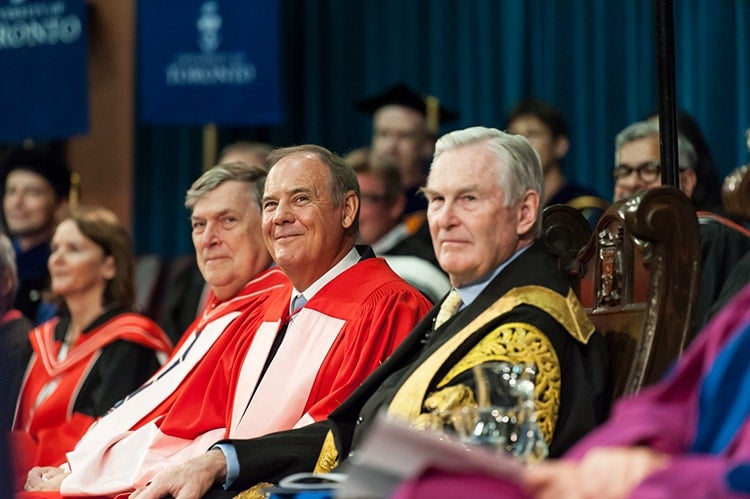 John Cassaday, the former CEO of Corus Entertainment, recieved an honorary degree from U of T on Tuesday (photo by Lisa Sakulensky)
---
He helped build a Canadian media giant:
Under his leadership, Corus Entertainment went from an initial startup to a Canadian leader in radio and cable television, as well as one of the world's leading producers of children's entertainment. 
The investment in kids' TV shows turned out to be particularly inspired move as the TV industry undergoes a significant shift thanks to Internet services like Netflix. 
"One of Warren Buffett's lessons is that you should invest in businesses with moats around them," Cassaday told the Globe and Mail shortly after he stepped down as Corus's CEO in 2015. "Corus has been effective in doing that with our children's business. The difference between this company and every other broadcaster in Canada is we actually own something that is exportable." 
Prior to Corus, Cassaday was president and CEO of CTV Television Network. He's also served as a senior executive at Campbell Soup and General Foods in Canada and internationally.
He's an active member of the community:
Cassaday has served on the boards of Manulife Financial, Sysco, Irving Oil, Sleep Country Canada, Canadian Airlines and Loblaw Companies, among others. 
He's also chaired the United Way campaign in Toronto, served on the board of the Canadian Council of Chief Executives, chaired the board of St. Michael's Hospital and chaired the Dean's Advisory Council of the University of Toronto's Rotman School of Management.
His proudest Canadian moment occured at a time when constitutional reform was a hot topic: 
"My mother and father were touring western Canada around the time of the Meech Lake Accord," recalls Cassaday.  "On the day they drove the Icefields Parkway from Jasper to Lake Louise, my dad called and in tears said to me, 'Anyone that wants to leave this country has not seen what we saw today.' I was never prouder to be Canadian."
UTC