#UofTGrad17: Three things you should know about honorary grad André Picard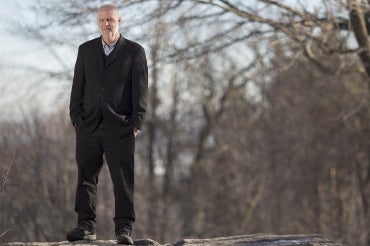 The University of Toronto is recognizing 16 remarkable people with honorary degrees in 2017.
Today, journalist and author André Picard receives a Doctor of Laws, honoris causa, for his outstanding service for the public good, as Canada's most influential and respected health-care journalist. 
U of T News asked each of the honorary graduates to share an iconic Canadian moment – a feeling or experience they wish each of their fellow graduates could share.
Below, are three things you should know about Picard, including his Canadian moment.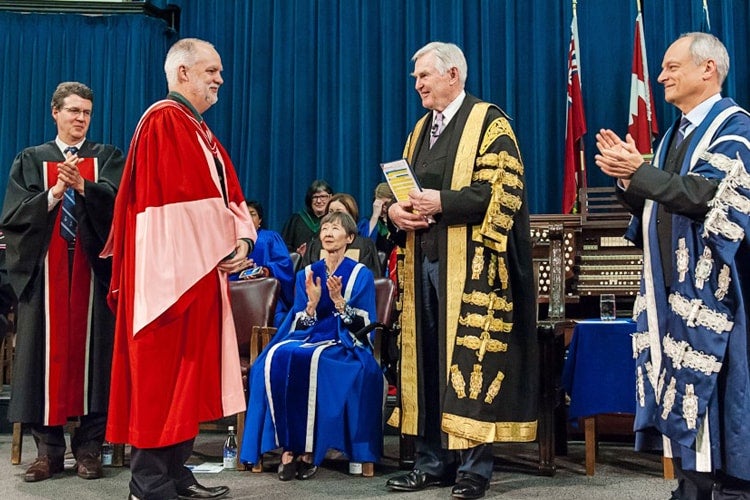 André Picard accepts his honorary degree at U of T's Convocation Hall (photo by Lisa Sakulensky)
---
He's spent more than 30 years writing about health issues in Canada:
A staff writer at the Globe and Mail since 1987, André Picard is an award-winning health journalist and a best-selling author. He has written insightfully about everything from the HIV/AIDS crisis in the 1980s to the health-care system's current nursing shortage. 
Picard's work on HIV began while he was editor-in-chief of the University of Ottawa's student newspaper and continued during his early days at the Globe – a time when many reporters shied away from the issue. They found it "icky," Picard once told the Canadian University Press.
His work on HIV and AIDS led him directly to another national health crisis in the 1980s: the tainted blood scandal, which he ended up writing a book on. A dark time in Canada's health-care history, it was ultimately revealed that thousands of Canadians had been infected with HIV and possibly tens of thousands infected with hepatitis C. 
Picard, who lives in Montreal but is originally from North Bay, Ont., has been awarded the Michener Award for meritorious public service journalism and is an eight-time finalist for the National Newspaper Awards. 
He never planned on being a journalist:
"I actually studied accounting," Picard told the website nineteenquestions.com, a project of the University of British Columbia's creative writing program, earlier this year. "I only got involved in my student newspaper because I'm a big music fan so I ended up being a record reviewer – that's how my stellar career began."
Once at the paper, however, he found himself drawn deep into its inner workings – an attraction he attributed to being a business student and the fact that "student newspapers always have money problems."
Picard's introduction to health reporting also had an element of luck. He told the same website that he started writing about AIDS for the Globe in the 1980s, when he was a summer student at the newspaper.
"The Globe's medical reporter at the time was actually not interested in covering it because there were a lot of protests and obnoxious people and such," he said. So the Globe's editors sent Picard to cover the protests instead. "I just started writing about AIDS, and it became a bigger and bigger story. I still write a lot about AIDS, and it's 30 years later."
His most Canadian moment:
"When I was 21, and in university, I took the train from Sudbury, Ont., to Vancouver, B.C. There's nothing like five days and four nights on a train to give you a true sense of the vastness, the beauty and the variety of the country – especially when you're in a coach seat on the milk run. Seeing, for the first time, wheat fields as far as the eye can see, the pristine waters of Lake Louise, or a moose sauntering by the train in northwestern Ontario is an unforgettable experience. Sitting up in the dome car, chatting with strangers, also provides you with insight into the nature of Canadians – reserved but always kind, generous and proud of where they come from.  
"Back then, the train was utilitarian, not luxury travel. It stopped everywhere, and you could even flag it down. I learned that when, during a stop somewhere on the Prairies, a small group of us wandered down the street to find food, and we were a few blocks away from the train station when we heard the 'all aboard' whistle blow. We ran like hell but missed it; before we had time to panic – after all, all our worldly possessions were on the train – a friendly local piled us in the back of his pickup and drove at breakneck speed to the next crossing, where we saw the train chug by; undaunted, he drove even faster to the next crossing. Then he took out his hanky and waved down the train. 
"Canadians travelling vast expanses now have little choice but to fly. That's a shame; they don't know what they're missing." 
UTC