Eli Jenkins became fascinated with animated films when he started taking cinema studies courses (photo by Romi Levine)
Growing up with a dad who worked in the entertainment industry, Eli Jenkins spent a lot of time on television and film sets – but he never had the intention of following in his father's footsteps.
He came to the University of Toronto to study English, but after taking a few cinema studies courses, he was wooed by the power of the medium.
"It's the place where we confront our everyday notions of self, identity, questions of normalcy – all of these things are dealt with in cinema," says Jenkins, who graduates this month from the Cinema Studies Institute in the Faculty of Arts & Science. Next year, he'll continue his studies at the institute as a graduate student in the master's program. 
Cinema studies is celebrating its 40th anniversary this year, and its positive impact on students, faculty and alumni is widespread. 
It began as an undergraduate program taught by faculty members from language departments who had an interest in cinema, says Charlie Keil, principal of Innis College and former director of the Cinema Studies Institute.
"There were a few stalwart core members of the faculty who were integral to its development for several decades – Joe Medjuck, Kay Armatage and Bart Testa (who still teaches at U of T) – those three people were the foundational members," says Keil.
In an interview with U of T News last year, alumna and honorary grad Linda Schuyler, co-creator of the beloved Degrassi series, recalled film classes in the 1970s where students could relax on a carpeted floor covered in throw cushions and watch films on a 16-mm projector. 
"It was very of its time," Schuyler said. "It was a very alternative college."
The program slowly grew to include graduate studies and in 2012 became a freestanding institute.
This past weekend, alumni came together at Innis College to celebrate the landmark anniversary.
"The idea behind this alumni event is to get together people who have been witnesses to this growth and who have been participants in the cinema studies program in all of its various incarnations together for the first time – this is something we've never done before," says Corinn Columpar, associate professor and director of the Cinema Studies Institute.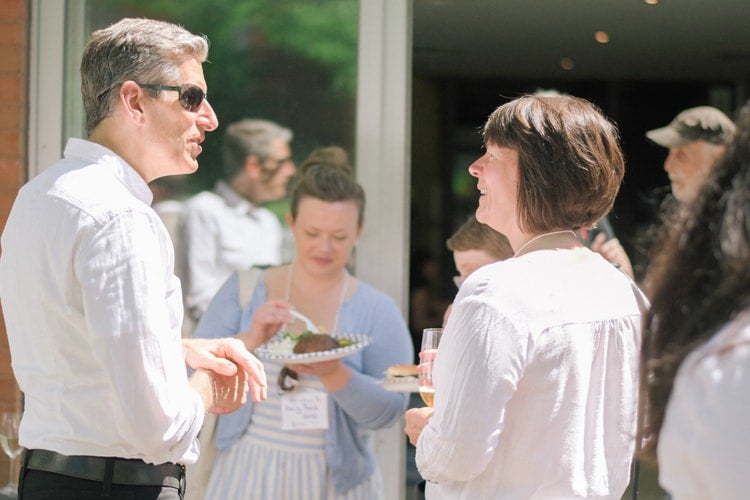 Charlie Keil speaks to cinema studies alumni at a reunion event (photo by Jen Su)
As the Institute continues to grow, Keil says he owes its success to the high calibre of its faculty.
"Your program is only as good as the sum total of your faculty's research and teaching abilities – we've always only hired the best candidates," he says.
Alumni and students agree wholeheartedly.
"[Associate Professor] Kass Banning has really taken me under her wing," says Jenkins. "I'm a first-generation student so having a professor like that to help me out has been really, really great."
Banning also introduced Erin Ray, graduand and former Cinema Studies Student Union president, to production company Jam3 where she landed a job while still studying at U of T.
"The program for me was life-changing," she says.
Alumna Theresa Scandiffio still remembers her intro course taught by Keil.
"It made me really think and analyze and focus about the different components of film. It was such an eyeopener for me, says Scandiffio, who is now the director of adult learning at TIFF.
"University of Toronto was one of my first opportunities to get a sense of what it meant to be part of a larger community," she says.
Scandiffio believes learning about cinema goes deeper than just learning about film theory.
"For me, film is a change agent – you can see film as a springboard to be thinking about climate change or what's going on with murdered and missing Aboriginal women and what's going on with larger subjects around the world," she says. "It's an emphatic tool to look and see the world through someone else's eyes and do right by them and pay it forward."
Programs like cinema studies can also give students context to a changing social and political landscape, says alumna Shelley Stamp, who is now a professor of film and digital media at University of California, Santa Cruz.
"Media literacy is the No. 1 skill we need in the 21st century. It's important that an institution of U of T's calibre has a top program," she says.
Stamp hopes this year's graduating students utilize this skill.
"You are armed with incredibly powerful information and incredibly powerful skill to analyze film and popular media, and the skills you have learned at U of T are going to serve you for the rest of your lives whatever you end up doing."