#UofTGrad16: Six ways to thrive at U of T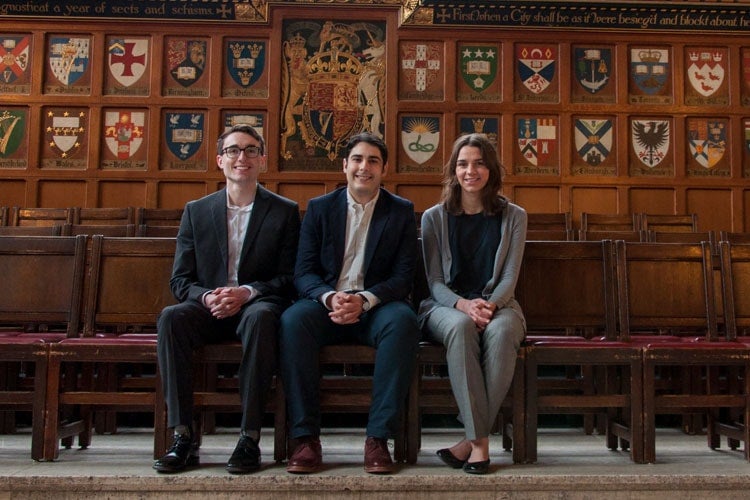 James Flynn, Kaleem Hawa and Jessica Phillips share their secrets to success at university (Diana Tyszko photo)
Balancing academic, social and family life can be difficult for university students, but U of T's latest Rhodes Scholars – James Flynn, Kaleem Hawa and Jessica Phillips – have some suggestions for making the U of T experience enjoyable and rewarding.
Flynn, Hawa and Phillips are all graduating this spring and will start studying at Oxford University in October. (Read more about them, their accomplishments and their dreams here). They shared their secrets to U of T success with U of T News writer Arthur Kaptainis.
1. Seek a community
 All the Rhodes Scholars agreed on the importance of regular contact with peers. Hawa, in residence for all four of his undergraduate years, relied on Trinity College and Hart House Debates for friends and fellowship.
Flynn's major community was The Varsity, where he served as news and online editor. Phillips, who grew up in Beijing, cultivated friends and kept up her other language the U of T Mandarin Debate Association.
"U of T is obviously a big school," says Flynn, who came to U of T from St. John's, Newfoundland. "It can be hard to find your place. On the flip side, there are so many opportunities, so many clubs and groups. There is something for everyone."
2. Organize your time
Flynn recommends a big wall calendar that you cannot ignore. Pencil in those essay deadlines and exam dates. "That way you can visualize when you are going to be busy and know when to start."
Hawa compares a clear calendar to an opt-out organ donation program. "Once it's there, it's harder to cancel it."
3. Choose a physical recreation
Phillips took full advantage of sports programs, registering for modern dance, archery, springboard diving, ice skating, fencing and gymnastics. "It was fun stepping out of my comfort zone to try sports I'd never done before," she says. "And the weekly classes provided a nice change of pace from doing course work."
Not that sporting activities have to be organized. Hawa enjoys wall ball, the venerable but informal Trinity College handball game that takes place under Henderson Tower. Flynn lifts weights and works the treadmill. "If I'm feeling groggy," he says, "just one hour can totally clear my mind."
Walks also can help, Flynn adds.
4. Regularize study habits
Preferences on where, when and how to study vary, but some steadiness is desirable. Phillips, with her strong interest in zoology, did most of her work in the sympathetic environment of the Ramsey Wright Zoological Laboratories. Flynn was a study-at-home type. Hawa, a morning man, could often be found at the Starbucks at Bloor Street and Bedford Road – not long after it opened.
As a journalist, Flynn took lecture notes on his laptop. Typing was the natural thing. Hawa preferred the pen-and-pencil method. "It's neater on the laptop, and faster, but you're distracted," he said. "I'll start checking my email."
5. Take fun electives
Programs vary in their mandatory requirements, but if there is room for an elective, go nuts. Flynn had fun in his final year learning about the Beatles. "It was a great course," he said of MUS 321 with Professor James Kippen. "One of the best I've had."
6. Get into research
Not all undergraduates are ready for research, but for those who are, U of T offers many opportunities.
"Getting involved in research really enriched my time as an undergrad at U of T," says Phillips, who did field work on Vancouver Island and in Churchill, Manitoba as part of her academic studies.
"If you want to get involved in research, talk to the people you would like to work with and let them know. If you get rejected, then talk to some more people."