Three U of T undergrads win Rhodes Scholarships
"It is an extraordinary achievement to have three Rhodes scholars from one Faculty," says David Cameron, dean of Faculty of Arts & Science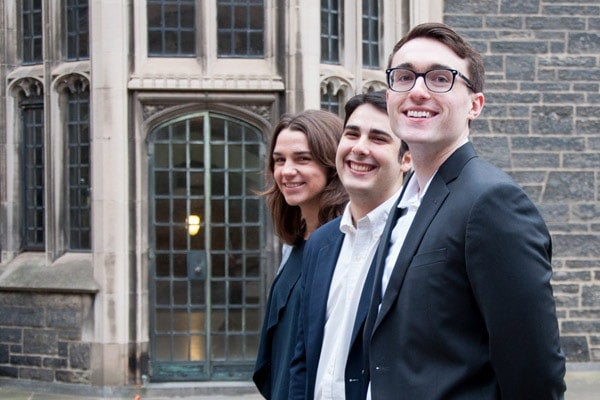 Jessica Phillips, Kaleem Hawa and James Flynn will be attending the University of Oxford as Rhodes Scholars next year (all photos by Diana Tyszko)
The University of Toronto is sending three undergraduates from the Faculty of Arts & Science to the University of Oxford as Rhodes Scholars next October.
"It is a privilege and an honour to represent U of T, my home province of Newfoundland and Labrador, and Canada at Oxford next year," said James Flynn, a double major in political science and economics from Trinity College
Flynn, 22, who is managing online editor and former news editor of the Varsity, expects to pursue a master of science in social science of the Internet as well as a master of public policy degree.
In 2011, Flynn (pictured below) won the Bank of Montreal University of Toronto National Scholarship, which covers four years of study and is valued at approximately $50,000.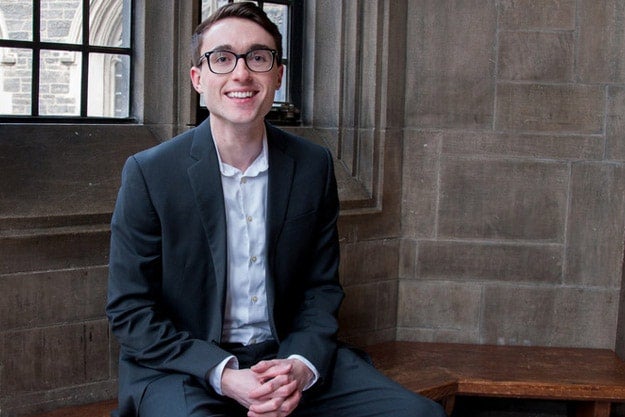 Jessica Phillips of University College – a specialist in ecology and evolutionary biology with a major in biodiversity and conservation biology and a minor in psychology – hopes to study penguins in Antarctica. Details have not been ironed out, but her zoology research would involve fieldwork on the coldest continent.
Kaleem Hawa, 21, a double major in international relations and global health, also from Trinity College, was named a BMO Loran Scholar in 2012 – an honour that brought him approximately $26,000 in tuition waivers from the university along with annual stipends and enrichment opportunities from the Loran Scholars Foundation. Hawa said he is looking forward to acquiring master's degrees at Oxford in both integrated immunology and global governance and diplomacy.
"My interest is in pandemic threats – such as Ebola virus, SARS, Middle East respiratory syndrome – and the intersection of these diseases with foreign policy and national security," Hawa said. The Torontonian was born in Edmonton to parents who were refugees from Lebanon.
"James, Jessica and Kaleem have shown tremendous engagement as undergraduates, and each has an outstanding record of leadership outside the classroom," said President Meric Gertler. "We are immensely proud of them and look forward to hearing about their accomplishments at Oxford and for many years to come."
Sporting sidelines are no longer required of Rhodes Scholars – Flynn would admit only to an enthusiasm for ballroom dancing – but they do not hurt. Phillips, 22, oversees hiking and camping expeditions as president of the Duke of Edinburgh's Award Club.
Community service and engagement are also typical for Rhodes Scholars. Flynn is the founder of Code NL, an initiative dedicated to improving computer education in Newfoundland and Labrador, and he tutors and mentors underprivileged students with Project: Universal Minds. Hawa has worked at the World Health Organization in Geneva, the Center for Strategic and International Studies in Washington, and McKinsey & Company in Toronto. He is the past president of the Hart House Debates Committee, U of T Liberals, and U of T International Relations Society. An avid photographer, Phillips, who was born in Hong Kong, raised in Beijing and identifies as Torontonian, has been a member of the U of T Mandarin Debate Club.
"It is an extraordinary achievement to have three Rhodes scholars from one Faculty," said David Cameron, dean of the Faculty of Arts & Science."James in political science and economics, Jessica in ecology and evolutionary biology and  Kaleem in international relations and global health represent the breadth of academic opportunities and excellence available to arts and science students and they are stellar examples of how this institution prepares global leaders." 
Rhodes representatives interviewed Hawa and Phillips in person on Saturday at Toronto's University Club and informed them of the good news a few hours later. "It was quite a whirlwind," said Hawa (pictured below).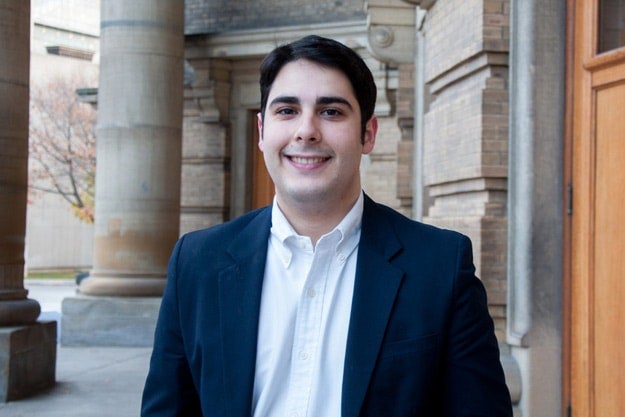 While study abroad at Oxford is inevitably a special thing, it is also something of a U of T tradition.
"The Rhodes Scholarship is the most prestigious international honour for graduating students," said Professor Donald Ainslie, principal of University College. "Jessica Phillips will be following in the footsteps of prior UC Rhodes Scholars, such as former U of T president David Naylor and former Ontario premier Bob Rae.
"The research she does at Oxford on climate change and the Antarctic will continue the UC tradition of using academic studies to make the world a better place."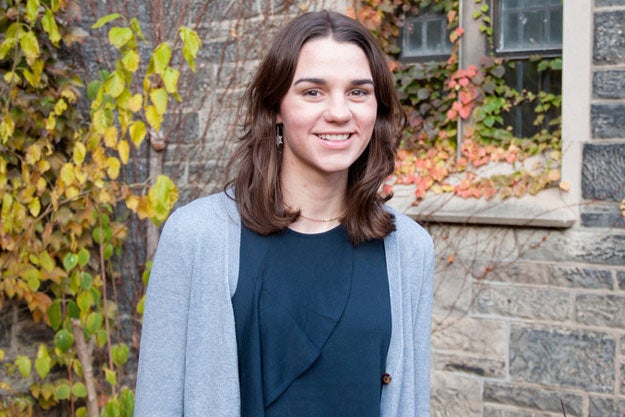 "We are very proud of Kaleem and James – they are indeed exceptional students who understand the importance of giving back," said Mayo Moran, provost and vice-chancellor, Trinity College. "Besides their outstanding academic accomplishments, they demonstrate a devotion to community service and leadership."
"Trinity College has a stellar record of producing leaders who go on to make a difference. James and Kaleem join an impressive list of Trinity students awarded Rhodes Scholarships – they are our 42nd and 43rd scholars."
Eleven Canadians are among the 89 Rhodes Scholars named annually. Only certain countries are among those whose citizens are eligible to apply.
The rules governing the Rhodes Scholarships from Canada (which is described by the Rhodes Trust as a "partnership" between the trust and the Canadian philanthropist John McCall MacBain) stipulate one candidate from British Columbia, three from the Prairie provinces, two from Ontario, two from Quebec, two from the Maritimes and one from Newfoundland. Candidates from the territories apply from the province in which they are enrolled.