#UofTGrad16: Fresh water saviour David Schindler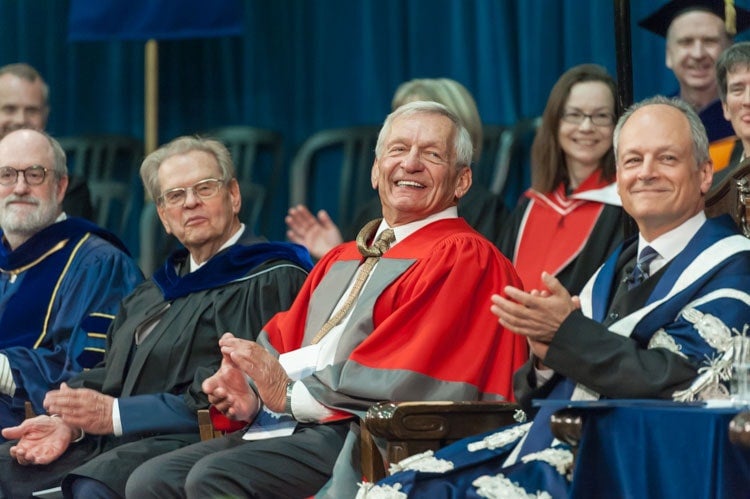 (photo by Lisa Sakulensky)
They say a photo is worth a thousand words. David Schindler can point to one that has likely saved a thousand lakes.
Four decades ago, an aerial photo of a remote Ontario lake known only as 226 showed the evidence in stark contrast: on one side, pristine water, on the other a green algal soup nourished by phosphates found in common household products like detergents.
It was a photo that couldn't be ignored. And it pushed policymakers in Canada and several American states to finally get tough and force companies to reformulate their products.
The person heading up the experiment was Schindler, the first director of the Experimental Lakes Area (ELA) where the famous divided lake experiment took place.
It was just the first success in a remarkable career that U of T will celebrate on June 16 by awarding him with a Doctor of Science, honoris causa.
"When I turned 18, I knew I wanted to be an ecologist. I knew someone had to do something and I knew I had to do it," says the famed limnologist who grew up in northwestern Minnesota, became a Rhodes scholar and is a professor of ecology (emeritus) at the University of Alberta
He empathizes with the young graduates he's standing with today. With a world facing climate change and other massive environmental issues the future looks bleak.
"I remember when I graduated the world looked pretty hopeless," he says. "There were a lot of huge problems at that point that looked unsolvable."
One of those problems was the aforementioned eutrophication, which causes plant growth to explode and oxygen levels to drop in fresh water, essentially choking the life out of fish and other organisms. In the 1960s, the situation in the Great Lakes was so bad experts thought Lake Erie was dying.
But no one could agree on the cause. Schindler recalls attending a symposium after graduating with his PhD with all the preeminent minds in the field in attendance.
"There was no consensus. Pick any element on the periodic table and people would have a theory," he says.
But instead of getting discouraged, the meeting turned into a positive. While there, Schindler met Swiss eutrophication expert Richard Vollenweider, as well as prominent ecologist Jack Vallentyne, of the newly opened Freshwater Institute in Winnipeg. Both of them would eventually work with Vallentyne in Canada.
The work they accomplished was tremendous and had a huge impact not only on science but on ground breaking legislation and agreements to protect fresh water resources and habitats.
Following the success of the lake phosphate tests, Schindler decided to tackle acid rain and was able to demonstrate how water acidity levels have a profound impact on the ability of aquatic species to reproduce and survive. His work once again pushed governments to take the problem seriously.
The cri de coeur of the 1980s environmental movement, acid rain now seems like a rare triumph, one we no longer need to worry or talk about. Industries cut their emissions in the 1970s and '80s and installed scrubbers to reduce sulphur dioxide emissions. Case closed, right?
Not at all, Schindler warns. The problem hasn't gone away. Emissions remain a concern and there is also a legacy of calcium depletion in soil that has a profound impact on healthy forests.
"The clues that helped me understand weren't out of textbooks," he says. "They were things I learned directly from nature."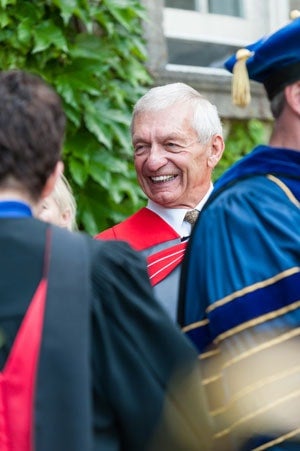 Like nature, things in science also go in cycles, he says. In Canada, the leadership role of scientists seems to have diminished when it comes to helping shape public policy. But he's hopeful, there's positive change coming.
"Maybe we've lost touch with the outdoors," he muses. "Certainly, scientists today don't spend as much time outdoors. Ecology was a blue collar job with mosquito bites and dirt under the nails. They rarely go out into the field anymore — they send their grad students."
But we also need leadership "someone who understands scientists — who can speak to them directly. I think that used to happen in the 1970s. We used to have politicians visit and discuss our experiments. That era is long over."
Most of all, Schindler says, he wants Canada — and U of T's new graduates — to push hard again to be a leader on the world stage when it comes to global environmental issues like it was when he was starting his career. Stop thinking small. Stop being small. Act big. Think big.
"We have to redevelop that confidence," he says. "Back in those days, Canada felt confident that it was a leader… We didn't sit around and say 'when will other countries make the move?' And we didn't talk about how it would impact the great god economy.
"If I can reach a half-dozen minds in that audience [today] to turn back the clock and redevelop that confidence then I'll feel like I've accomplished something."
Professor David Schindler will speak today at the 2:30 p.m. ceremony for graduands from the School of Graduate Studies, Faculty of Information and the John H. Daniels Faculty of Architecture, Landscape and Design.
A video of his speech will be available on U of T's YouTube channel following the event.