New graduates from the Munk School of Global Affairs and the Faculty of Law stream out of Convocation Hall after their ceremony on June 3, 2016 (Johnny Guatto photo)
Whether socializing with other students at Clinton's Tavern on Bloor Street, discussing policy with bureaucrats in Brussels or eating sushi in Japan, the graduates of the Munk School of Global Affairs Master's program made the most of their time at U of T. Crossing the stage at Convocation Hall on June 3 was just the first step on the next stage of their journey.
Below, meet just a few of U of T's newest alumni and global citizens, already making an impact on the world.
---
Meghan King:
Meghan King had an interest in conflict studies prior to joining the MGA program, but she never studied terrorism or counterterrorism. Through coursework on security and her summer internship as a Research Fellow at the NATO Defense College in Rome, it became her primary focus – she even went to NATO HQ in Brussels to meet with senior officials to discuss her research. During her second year, she continued to study terrorism with a research assistantship with the Egmont Group, where she worked directly with a MGA colleague on an operational project tracking facilitation networks, and worked on a capstone project about returning foreign fighters. She remembers the many long days and nights with her capstone group, whose members have since become like a second family. "It was an incredible bonding experience. It ended with an amazing trip to Ottawa where we presented to the Royal Canadian Mounted Police and Global Affairs Canada. The RCMP told us that it was one of the best student presentations they had ever seen – I am very proud of our group and what we accomplished."
"The emphasis on group projects helps us be better prepared for the professional world. I gained a lot in terms of learning how to divide tasks in order to capitalize on the different strengths and skills that different group members bring to the table."
"Enjoy every minute of the program and get to know your peers," is her advice to new students. "A group of MGA students who work together and support one another is unstoppable. And never miss a group outing to Clinton's on a Thursday night if you can!"
Bushra Ebadi: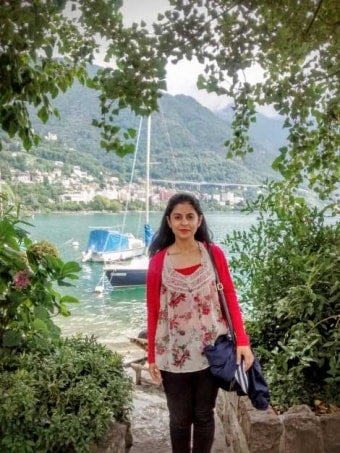 As soon as Bushra Ebadi began the Munk Orientation boot camp during the summer before she started the program, she knew she was at the right place. "The individuals I met during the first couple of weeks in the MGA program continue to inspire me today and push me to strive for my dreams."
She also forged strong and lasting friendships with many people outside the classroom. Her internship with the UN Inter-Agency Standing Committee in Geneva allowed her to learn more about humanitarian practice, refugee issues, and the way human rights and women's issues play out in international organizations. She also took part in a Kakehashi Cultural Exchange in Japan, which opened her eyes to a world of possibilities.
"I am very passionate about food the culinary arts; trying new foods and eating sushi in Japan was phenomenal to say the least. But what truly stuck out for me was the hospitality of my Japanese host family. The memories I made with my fellow MGA students during the exchange will stay with me forever."
She believes the program has taught her the power of networks and the importance of making real connections with people across different disciplines and sectors. She developed a diverse set of skills to better position herself in the job market and to add value to any projects she'll be taking on in the future. "I have become incredibly resilient and remain ambitious moving forward; I strongly believe that I can enact positive change globally."
Hannah Cohen:
"If you have a specific interest and only want to study that one thing, the MGA program isn't for you," says Hannah Cohen, who entered the program with an interest in migration and citizenship. "This is a program for people who want to learn about pretty much everything, since everything is global affairs."
Cohen spent the summer of 2015 interning at the Foundation for Education and Development in southern Thailand and notes it as the highlight of her MGA experience. "There were many elements of my summer that were really special – living in a small village, working with all Burmese co-workers, and and having the independence to design my own programs, to name a few. However, the best part of working at FED actually took place after work: teaching English to the Rohingya refugee children who had arrived in Thailand on boats escaping Burma just a few weeks before I started work at FED. It was really rewarding, and I loved that I got to do things at my internship that weren't part of my job description."
Cohen currently works at the Institute for Canadian Citizenship in Toronto and says that in the future, she would like to work in teams in which each person has a different area of expertise – much like she did in the MGA program.
Adam Barrett:
Adam Barrett recalls many standout moments from his MGA experience. There was his capstone project, where he worked with the City of Toronto to recommend ways to facilitate emissions reduction. And there was his time working at the Centre for Financial Regulation and Inclusion (Cenfri) in Cape Town, where he helped to launch insight2impact, a resource centre aimed to improve financial inclusion. But of all his experiences, Barrett says the most valuable assets he acquired during his time at the Munk School were amazing friends.
Currently interning at the MasterCard Foundation, Barrett says the MGA program's integrated approach is what makes it unique. "Many programs make a big deal of being interdisciplinary, but the MGA walks the walk. Other programs might be content with looking at one big issue at a time in isolation (or, more likely, only looks at one big issue at all), like climate change, or global health, or conflict. The MGA makes you look at how those problems are interconnected, and gives you tools to try and untangle and address them."
Christopher Villegas-Cho:
During his time in the MGA program, Christopher Villegas-Cho's passion for economic development took him all the way to Dubai. Villegas-Cho (at left in the photo above) and his teammates from across the University of Toronto competed for the Hult Prize, a social entrepreneurship competition that brings together students from around the world to come up with game-changing solutions to a host of problems. "When I heard that this year's challenge was doubling income in crowded urban spaces, I knew immediate this was something I had to get involved in."
Sponsored by Hult International Business School and the Clinton Global Initiative, the Hult Prize sees more than 20,000 university students compete each year. Only 300 teams make it to the regional rounds, including Villegas-Cho's Team Vicis, who came up with the idea to leverage existing informal savings networks and make them something more. "Currently, most informal savings groups provide individuals' limited security with little to no interest gained on savings. By tapping into existing mobile technologies, NIMO (Network of Investors, Mobilizing Opportunity) provides net-zero savers the opportunity to pool their money together in a safe and efficient manner. The money saved through NIMO is then reinvested into communities, promoting the growth of local businesses."