#UofTGrad16: Engineering leader Cynthia Barnhart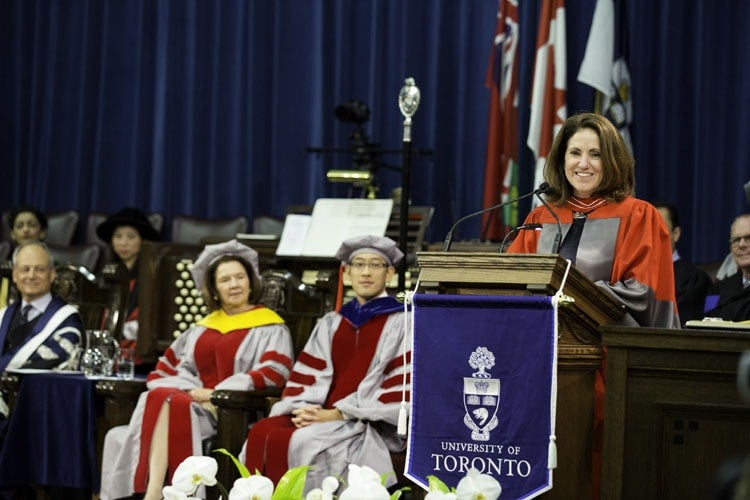 Honorary Degree recipient Cyntha Barnhart wants engineers to be known for their diversity as well as their creativity (Johnny Guatto photo)
Engineers are known for their creativity. But it's the hope of leaders like Professor Cynthia Barnhart, the first female chancellor of the Massachusetts Institute of Technology (MIT), that soon they'll be known just as much for their diversity.
Charged with reimagining student life and learning at one of the top ranked universities in the world, Barnhart plays a leading role in such areas as strategic planning and faculty appointments, and recently released a campus campaign to prevent sexual misconduct.
She's also played a huge role in helping transform the science and technology giant, which was "almost essentially all men" not so very long ago, into a place that puts an emphasis on embracing diversity, especially in recruiting students and hiring faculty.
Today, the University of Toronto will recognize her with a Doctor of Science, honoris causa.
Professor Barnhart "is an outstanding role model for our young graduands," says Cristina Amon, dean of U of T's Faculty of Applied Science & Engineering. She has "excelled as an engineer and an academic leader and leveraged her success to champion diversity in engineering."
The two first met at MIT in the 1980s when both were pursuing engineering degrees – Amon is known as a computational fluid dynamics pioneer, while Barnhart is a leader in transportation and operations research.
Their paths have continued to cross in the years since as members of the prestigious National Academy of Engineering and they've followed each other's careers. In particular, Barnhart's success in increasing MIT's diversity, starting during her time as associate and acting dean of MIT's School of Engineering, has been of great interest to Amon.
It's an area MIT has excelled at. In comparison, Canadian universities have been a bit slower off the mark, Amon says, but things are changing. This fall, about 39 per cent of first-year students accepted into engineering at U of T will be female – a huge increase, she says proudly.
"Cindy has worked hard at MIT to boost females in engineering," she says. "We need more engineers and we can't leave half the population outside of the field. Diversity of all sorts enhances our creativity."
In MIT's School of Engineering, Barnhart worked with hiring committees which were enthusiastic in finding ways to improve their process to attract as diverse set of faculty as possible. Some years they had great success, others not as much. The pipeline remains narrow at more advanced degree levels for women and visible minorities.
That's why increasing diversity is an ongoing effort, Barnhart admits. "It's not something you get to check off and you're done. You have to keep working at it and be very proactive. You can't just sit back and wait for people to apply – even at MIT."
A few years ago, MIT conducted an analysis of the incoming test scores and GPAs of all of their students as they progressed towards achieving their degrees. Interestingly, they found women who were admitted had equal test scores but were outperforming the GPAs of their male colleagues at MIT. More women were then admitted – they've hovered around parity for several years – and even now "their GPAs are still slightly higher," says Barnhart.
It's a wonderful time to be graduating with an engineering degree, Barnhart says. "It's one of the most valuable degrees in today's time. They [graduates] are in a great position to actually change the world. And we need them to do that.
"You can go anywhere with this," she says. "The value of the degree and the knowledge you have is recognized as something essential to trying to make the world a better place. It's not a geeky degree where you sit in a cubicle, crunching numbers. Think about climate change, traffic congestion, clean water... The impact you can have is much more broadly thought of than when I was graduating. That's incredibly exciting!"
MIT Chancellor Barnhart will speak today at the 2:30 p.m. ceremony for graduands from the Faculty of Applied Science and Engineering. A video of her speech is available below and on U of T's YouTube channel