#UofTGrad16: Business legend Gerry Schwartz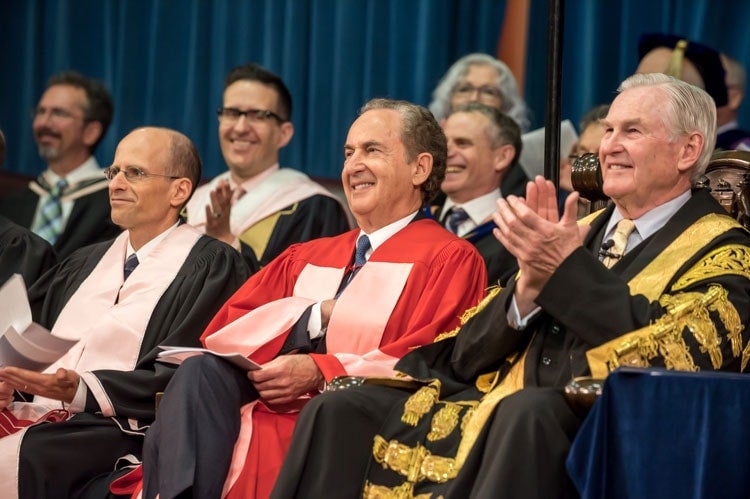 (all photos by Steve Frost: Frost Photo)
You'd think the board room would be the preferred location of choice for a captain of industry. But for Gerry Schwartz, the energizing nature of university campuses is a magnet. They keep drawing him back.
From helping hand-pick provocative works of art to adorn the walls of Harvard's business school to providing advice to past presidents of U of T, Schwartz has, in many ways, never left school.
Today, U of T will recognize him with a Doctor of Laws, honoris causa for his tremendous business and philanthropic achievements in Canada and abroad, as well as his longstanding close relationship with U of T — including a daughter who is an alumnus.
"It's wonderful to be recognized by something that I really care about," explains the chairman of the board, president and CEO of Onex, one of Canada's largest and most successful private equity firms.
"U of T is it for Toronto. It is the intellectual heart of the city. It's where I am, if not who I am," says the graduate of the University of Manitoba and Harvard.
The honorary degree is Schwartz's fourth but "I have no desire to collect degrees. The ones I have are from institutions that are very special to me — only — and that's all I want."
His contributions to U of T's vision and success have been far reaching. From 1986 to 1994, he served on the university's Governing Council and provided valuable counsel to the president as a member of the Executive Committee from 1992 to 1995.
In 1996, he and his wife Heather Reisman, the founder, chair and CEO of Canadian book giant Indigo, also supported Canada's first endowed chair for nursing research, in partnership with the University of Toronto and Mount Sinai Hospital.
"I grew up in Winnipeg in a pretty socialist family," Schwartz says. "The idea of helping people and reaching out — not just reaching in — was how I grew up. It's not very special. It was just part of life.
"Heather and I have just come to find that supporting something financially . . . we get more out of it than we put in."
In particular, Schwartz is deeply involved with U of T's Faculty of Law. He provided valuable support for the construction of the new Rosalie Silberman Abella Classroom, has enriched the experience of countless students of constitutional law with his support for the annual visits of Justice Aharon Barak of the Supreme Court of Israel and supported the endowment of the Prichard Wilson Chair in Law and Public Policy.
"Gerry Schwartz has made contributions to business and community that are each remarkable in their own right, and collectively are nothing short of exceptional," says Ed Iacobucci, dean of U of T's Faculty of Law. "We are very pleased to be able to bestow this honour on someone who so deeply deserves it."
He also tries to make it back every year to personally meet the three recipients of the Gerald W. Schwartz Medals, which are awarded by the Faculty of Law to JD/MBA students with the highest overall academic achievement in a combined program.
Some of those students, like gold medal winner Mark Wiseman, best known as president and CEO of the Canada Pension Plan Investment Board, have even become his good friends, Schwartz says.
"When I went to law school . . . I didn't intend to be a lawyer long term," he says.
But in looking back, he says he can see how the lessons he learned in law school have had a profound impact on how he's approached his business and his life. It's made him "more measured" in his decision-making and taught him that life is full of unintended consequences.
Asked what wisdom he'll share today in his convocation speech, he politely declines, preferring to save his thoughts for his fellow graduating students. But he promises to be quick — no hook will be needed to drag him off the stage!
Gerry Schwartz will speak today at the 10 a.m. ceremony for graduands from the Faculty of Law, Munk School of Global Affairs and School of Graduate Studies. A video of his speech will be available on U of T's YouTube channel following the event.